~
Here's the compiled list of all new Magic: the Gathering spoilers and previews for the M14 Core Set. This list along with (rare / mythic rare) card images will be continually updated

, so check back often.
Set Name: Magic 2014 Core Set
Three-Letter Abbreviation: M14
Twitter Hashtag: #MTGM14
Number of Cards: 249
Rarity Distribution: 15 Mythic, 53 Rare, 60 Uncommon, 101 Common, 20 Basic Land
Release Date:July 19, 2013
Prerelease Events: July 13-14, 2013
Magic Online Release Date: July 29, 2013
Game Day: August 10-11, 2013
Launch Promo: Unknown
Buy a Box Promo: Ratchet Bomb
Game Day: full-art Hive Stirrings
Game Day (Top 8): full-art Goblin Diplomats
Core set league: alternate-art Sliver token
This pages is generously sponsored by MTG Madness. MTG Madness is the best Magic: the Gathering singles site who focus on giving the best service at comfortable prices. They promote pro play in Europe and all over the world and MTG Madness features excellent content from several of the best players in world like Uri Peleg and Samuele Estratti.
White (41)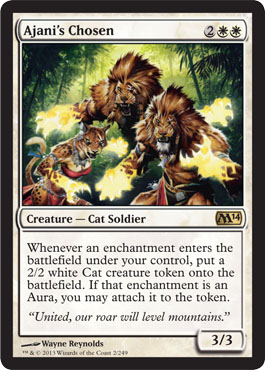 Name: Ajani's Chosen
Cost: 2ww
Type: Creature - Cat Soldier
Pow/Tgh: 3/3
Rules Text: Whenever an enchantment enters the battlefield under your control, put a 2/2 white Cat creature token onto the battlefield. If that enchantment is an Aura, you may attach it to the token.
Flavor Text: "United, our roar will level mountains."
Illus. Wayne Reynolds
Name: Ajani, Caller of the Pride
Cost: 1ww
Type: Planeswalker - Ajani
Pow/Tgh: 4
Rules Text: +1: Put a +1/+1 counter on up to one target creature.
-3: Target creature gains flying and double strike until end of turn.
-8: Put X 2/2 white Cat creature tokens onto the battlefield, where X is your life total.
Illus. D. Alexander Gregory
Rarity: Mythic Rare
Set Number: #1/249
Name: Angelic Accord
Cost: 3W
Type: Enchantment
Rules Text: At the beginning of each end step, if you gained 4 or more life this turn, put a 4/4 white Angel creature token with flying onto the battlefield.
Flavor Text: As demons are drawn to suffering, angels are drawn to acts of benevolence.
Illus. Michael C. Hayes
Rarity: Uncommon
Set Number: #3/249

Name: Angelic Wall
Cost: 1w
Type: Creature - Wall
Pow/Tgh: 0/4
Rules Text: Defender, flying
Rarity: Common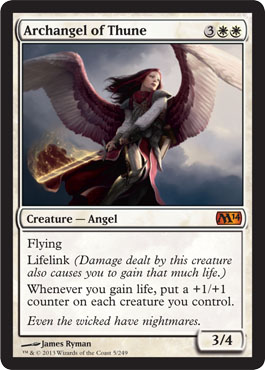 Name: Archangel of Thune
Cost: 3WW
Type: Creature - Angel
Pow/Tgh: 3/4
Rules Text: Flying, lifelink
Whenever you gain life, put a +1/+1 counter on each creature you control.
Flavor Text: Even the wicked have nightmares.
Illus. James Ryman
Rarity: Mythic Rare
Set Number: #5/249

Name: Auramancer
Cost: 2w
Type: Creature - Human Wizard
Pow/Tgh: 2/2
Rules Text: When Auramancer enters the battlefield, you may return target enchantment card from your graveyard to your hand.
Illus. Rebecca Guay
Rarity:

Common
Name: Banisher Priest
Cost: 1ww
Type: Creature - Human Cleric
Pow/Tgh: 2/2
Rules Text: When Banisher Priest enters the battlefield, exile target creature an opponent controls until Banisher Priest leaves the battlefield.
Flavor Text: "Oathbreaker, I cast you out!"
Illus. William Murai
Rarity: Uncommon
Set Number: #7/249
Name: Blessing
Cost: WW
Type: Enchantment - Aura
Rules Text: Enchant creature
{w}: Enchanted creature gets +1/+1 until end of turn.
Flavor Text: "Virtue can't survive without strength."
—Ardanna of the Angelic Council
Illus. Jason A. Engle
Rarity: Uncommon
Set Number: #8/249
Name: Bonescythe Sliver
Cost: 3w
Type: Creature - Sliver
Pow/Tgh: 2/2
Rules Text: Sliver creatures you control have double strike.
Flavor Text: "Their appendages are sharper than our words and quicker than our bows."
Illus. Brad Rigney
Rarity: Rare

Name: Brave the Elements
Cost: w
Type: Instant
Rules Text: Choose a color. White creatures you control gain protection from the chosen color until end of turn.
Illus. Goran Josic
Rarity: Uncommon

Name: Capashen Knight
Cost: 1w
Type: Creature - Human Knight
Pow/Tgh: 1/1
Rules Text: First strike
{1}{W}: Capashen Knight gets +1/+0 until end of turn.
Rarity: Common

Name: Celestial Flare
Cost: ww
Type: Instant
Rules Text: Target player sacrifices an attacking or blocking creature.
Rarity: Common
Name: Charging Griffin
Cost: 3w
Type: Creature - Griffin
Pow/Tgh: 2/2
Rules Text: Flying
Whenever Charging Griffin attacks, it gets +1/+1 until end of turn.
Flavor Text: Four claws, two wings, one beak, no fear.
Illus. Erica Yang
Rarity: Common

Name: Congregate
Cost: 3W
Type: Instant
Rules Text: Target player gains 2 life for each creature on the battlefield.
Flavor Text: "In the gathering there is strength for all who founder, renewal for all who languish, love for all who sing."
—Song of All, canto 642
Illus. Mark Zug
Rarity: Uncommon
Set Number: #14/249
Name: Dawnstrike Paladin
Cost: 3ww
Type: Creature - Human Knight
Pow/Tgh: 2/4
Rules Text: Vigilance, lifelink
Flavor Text: Crushing darkness beneath her charger's hooves.
Rarity: Common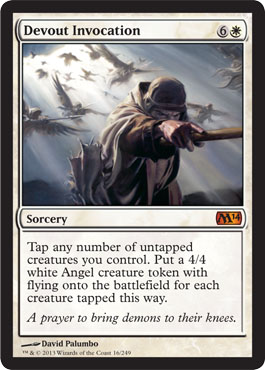 Name: Devout Invocation
Cost: 6w
Type: Sorcery
Rules Text: Tap any number of untapped creatures you control. Put a 4/4 white Angel creature token with flying onto the battlefield for each creature tapped this way.
Flavor Text: A prayer to bring demons to their knees.
Illus. David Palumbo
Rarity: Mythic Rare

Name: Divine Favor
Cost: 1w
Type: Enchantment - Aura
Rules Text: Enchant creature
When Divine Favor enters the battlefield, you gain 3 life.
Enchanted creature gets +1/+3.
Flavor Text: With an armory of light, even the squire may champion her people.
Illus. Allen Williams
Rarity: Common
Name: Fiendslayer Paladin
Cost: 1ww
Type: Creature - Human Knight
Pow/Tgh: 2/2
Rules Text: First strike, lifelink
Fiendslayer Paladin can't be the target of black or red spells your opponents control.
Illus. Wesley Burt
Rarity: Rare
Set Number: #18/249

Name: Fortify
Cost: 2W
Type: Instant
Rules Text: Choose one " Creatures you control get +2/+0 until end of turn; or creatures you control get +0/+2 until end of turn.
Flavor Text: "Where metal is tainted and wood is scarce, we are best armed by faith."


~

"Tavalus, acolyte of Korlis
Illus. Christopher Moeller
Rarity: Common
Set Number: #19/249
Name: Griffin Sentinel
Cost: 2W
Type: Creature - Griffin
Pow/Tgh: 1/3
Rules Text: Flying, vigilance
Rarity: Common

Name: Hive Stirrings
Cost: 2W
Type: Sorcery
Rules Text: Put two 1/1 colorless Sliver creature tokens onto the battlefield.
Flavor Text: Sliver young are sorted into clutches according to their potential and their future role. Human scholars can only guess how those are determined.
Illus. Maciej Kuciara
Rarity: Common
Set Number: #21/249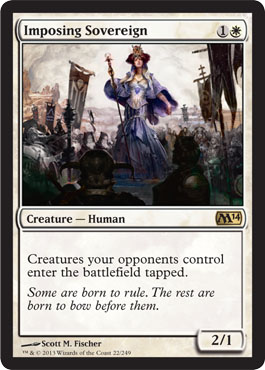 Name: Imposing Sovereign
Cost: 1W
Type: Creature - Human
Pow/Tgh: 2/1
Rules Text: Creatures your opponents control enter the battlefield tapped.
Flavor Text: Some are born to rule. The rest are born to bow before them.
Illus. Scott M. Fischer
Rarity: Rare
Set Number: #22/249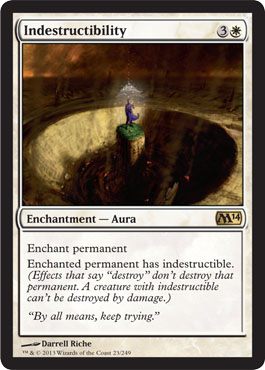 Name: Indestructibility
Cost: 3W
Type: Enchantment - Aura
Rules Text: Enchant permanent
Enchanted permanent has indestructible. (Effects that say "destroy" don't destroy that permanent. An indestructible creature can't be destroyed by damage.)
Flavor Text: "By all means, keep trying."
Illus. Darrell Riche
Rarity: Rare
Set Number: #23/249
Name: Master of Diversion
Cost: 2w
Type: Creature - Human Scout
Pow/Tgh: 2/2
Rules Text: Whenever Master of Diversion attacks, tap target creature defending player controls.
Flavor Text: Choose your battles carefully. For example, avoid the big guy.
Illus. Michael Komarck
Rarity: Commo
Name: Pacifism
Cost: 1w
Type: Enchantment - Aura
Rules Text: Enchant creature
Enchanted creature can't attack or block.
Flavor Text: For the first time in his life, Grakk felt a little warm and fuzzy inside.
Illus. Robert Bliss
Rarity: Common
Set Number: #25/249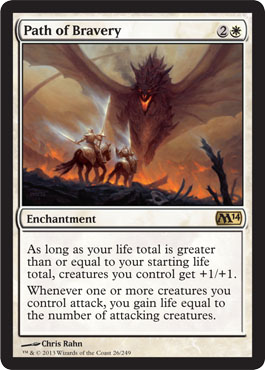 Name: Path of Bravery
Cost: 2W
Type: Enchantment
Rules Text: As long as your life total is greater than or equal to your starting life total, creatures you control get +1/+1.
Whenever one or more creatures you control attack, you gain life equal to the number of attacking creatures.
Illus. Chris Rahn
Rarity: Rare
Set Number: #26/249
Name: Pay No Heed
Cost: W
Type: Instant
Rules Text: Prevent all damage a source of your choice would deal this turn.
Flavor Text: "Out of this nettle, danger, we pluck this flower, safety."
~"William Shakespeare,
King Henry IV, Part I
Illus. Adam Rex
Rarity: Common
Set Number: #27/249

Name: Pillarfield Ox
Cost: 3W
Type: Creature - Ox
Pow/Tgh: 2/4
Flavor Text: "You old, immobile clod! If I could stuff your doltish head with knowledge, I'd do it just so someone else could fully comprehend what your stubbornness has cost me!"
~"Bruse Tarl, Goma Fada nomad
Illus. Andrew Robinson
Rarity: Common
Set Number: #28/249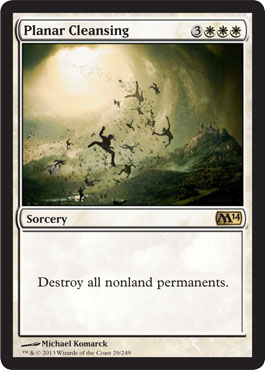 Name: Planar Cleansing
Cost: 3WWW
Type: Sorcery
Rules Text: Destroy all nonland permanents.
Illus. Michael Komarck
Rarity: Rare
Set Number: #29/249
Name: Sentinel Sliver
Cost: 1w
Type: Creature - Sliver
Pow/Tgh: 2/2
Rules Text: Sliver creatures you control have vigilance.
Flavor Text: Through its watchful gaze, all slivers may see.
Illus. Maciej Kuciara
Rarity: Common
Set Number: #30/249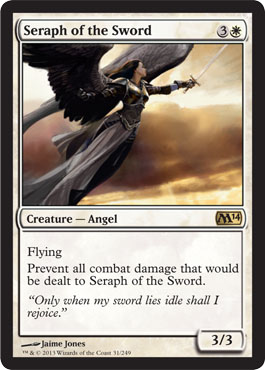 Name: Seraph of the Sword
Cost: 3w
Type: Creature - Angel
Pow/Tgh: 3/3
Rules Text: Flying
Prevent all combat damage that would be dealt to Seraph of the Sword.
Flavor Text: "Only when my sword lies idle shall I rejoice."
Illus. Jaime Jones
Rarity: Rare

Name: Serra Angel
Cost: 3WW
Type: Creature - Angel
Pow/Tgh: 4/4
Rules Text: Flying, vigilance
Rarity: Uncommon

Name: Show of Valor
Cost: 1w
Type: Instant
Rules Text: Target creature gets +2/+4 until end of turn.
Illus. Anthony Palumbo
Rarity:

Common



Name: Siege Mastodon
Cost: 4W
Type: Creature - Elephant
Pow/Tgh: 3/5
Flavor Text: "The walls of the wicked will fall before us. Ready the siege engines. We proceed to war!"
~"General Avitora
Illus. Matt Cavotta
Rarity: Common
Set Number: #34/249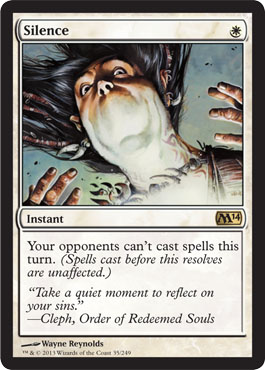 Name: Silence
Cost: W
Type: Instant
Rules Text: Your opponents can't cast spells this turn. (Spells cast before this resolves are unaffected.)
Flavor Text: "Take a quiet moment to reflect on your sins."
~"Cleph, Order of Redeemed Souls
Illus. Wayne Reynolds
Rarity: Rare
Set Number: #35/249

Name: Solemn Offering
Cost: 2W
Type: Sorcery
Rules Text: Destroy target artifact or enchantment. You gain 4 life.
Flavor Text: "You will be reimbursed for your donation."
"The reimbursement is spiritual."
~"Temple signs
Illus. Sam Wood
Rarity: Common
Set Number: #36/249
Name: Soulmender
Cost: w
Type: Creature - Human Cleric
Pow/Tgh: 1/1
Rules Text: {T}: You gain 1 life.
Flavor Text: "Healing is more art than magic. Well, there's still quite a bit of magic."
Illus. James Ryman
Rarity: Common
Name: Steelform Sliver
Cost: 2w
Type: Creature - Sliver
Pow/Tgh: 2/2
Rules Text: Sliver creatures you control get +0/+1.
Flavor Text: "Though the slivers may sometimes resemble us, they are not human. Anyone who fights them must remember this."
—Sarlena, paladin of the Northern Verge
Illus. Chase Stone
Rarity: Uncommon
Set Number: #38/249
Name: Stonehorn Chanter
Cost: 5w
Type: Creature - Rhino Cleric
Pow/Tgh: 4/4
Rules Text: {5}{w}: Stonehorn Chanter gains vigilance and lifelink until end of turn.
Flavor Text: With the Stonehorn, piety and power are one.
Illus. Raymond Swanland
Rarity: Uncommon
Name: Suntail Hawk
Cost: W
Type: Creature - Bird
Pow/Tgh: 1/1
Rules Text: Flying
Flavor Text: "They are the finest companions in the realm. Swift, clever, and easily trained to hunt intruders."
~"Almira, falconer
Illus. Heather Hudson
Rarity: Common
Set Number: #40/249

Name: Wall of Swords
Cost: 3W
Type: Creature - Wall
Pow/Tgh: 3/5
Rules Text: Defender
Flying
Flavor Text: "When I said we needed more swords to protect the realm, thus was not quite what I had in mind."
~"Olander, tactician of the Northern Verge
Illus. Zoltan Boros & Gabor Szikszai
Rarity: Uncommon
Set Number: #41/249
Blue (41)

Name: Air Servant
Cost: 4u
Type: Creature - Elemental
Pow/Tgh: 4/3
Rules Text: Flying
{2}{U}: Tap target creature with flying.
Illus. Lars Grant-West
Rarity:

Uncommon



Name: Archaeomancer
Cost: 2uu
Type: Creature - Human Wizard
Pow/Tgh: 1/2
Rules Text: When Archaeomancer enters the battlefield, return target instant or sorcery card from your graveyard to your hand.
Illus. Zoltan Boros
Rarity:

Common



Name: Armored Cancrix
Cost: 4U
Type: Creature - Crab
Pow/Tgh: 2/5
Flavor Text: Creatures displaced from time still turn up every year, stranded by the temporal disaster that once swept across Dominaria.
Illus. Tomasz Jedruszek
Rarity: Common
Set Number: #44/249
Name: Cancel
Cost: 1uu
Type: Instant
Rules Text: Counter target spell
Illus. David Palumbo
Rarity: Common

Name: Claustrophobia
Cost: 1uu
Type: Enchantment - Aura
Rules Text: Enchant creature
When Claustrophobia enters the battlefield, tap enchanted creature.
Enchanted creature doesn't untap during its controller's untap step.
Illus. Ryan Pancoast
Rarity: Common
Name: Clone
Cost: 3U
Type: Creature - Shapeshifter
Pow/Tgh: 0/0
Rules Text: You may have Clone enter the battlefield as a copy of any creature on the battlefield.
Flavor Text: He knows your strengths, your weaknesses, and the shape of that unfortunate birthmark on your backside.
Illus. Kev Walker
Rarity: Rare
Set Number: #47/249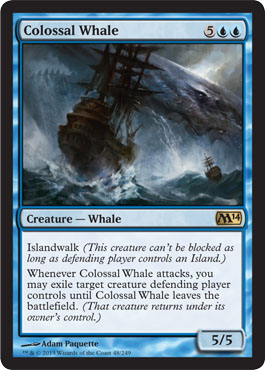 Name: Colossal Whale
Cost: 5{U}{U}
Type: Creature - Whale
Pow/Tgh: 5/5
Rules Text: Islandwalk
Whenever Colossal Whale attacks, you may exile target creature defending player controls until Colossal Whale leaves the battlefield.
Illus. Adam Paquette
Rarity: Rare
Set Number: #48/249

Name: Coral Merfolk
Cost: 1u
Type: Creature - Merfolk
Pow/Tgh: 2/1
Rarity: Common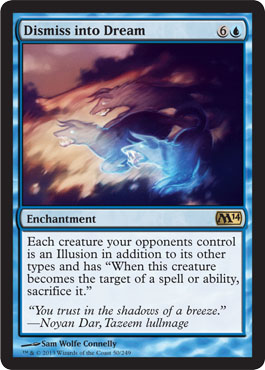 Name: Dismiss into Dream
Cost: 6U
Type: Enchantment
Rules Text: Each creature your opponents control is an Illusion in addition to its other types and has "When this creature becomes the target of a spell or ability, sacrifice it."
Flavor Text: "You trust in the shadows of a breeze."
—Noyan Dar, Tazeem lullmage
Illus. Sam Wolfe Connelly
Rarity: Rare
Name: Disperse
Cost: 1u
Type: Instant
Rules Text: Return target nonland permanent to its owner's hand.
Illus. Adrian Smith
Rarity:

Common



Name: Divination
Cost: 2U
Type: Sorcery
Rules Text: Draw two cards.
Rarity: Common
Name: Domestication
Cost: 2UU
Type: Enchantment - Aura
Rules Text: Enchant creature
You control enchanted creature.
At the beginning of your end step, if enchanted creature's power is 4 or greater, sacrifice Domestication.
Illus. Jesper Ejsing
Rarity: Rare
Set Number: #53/249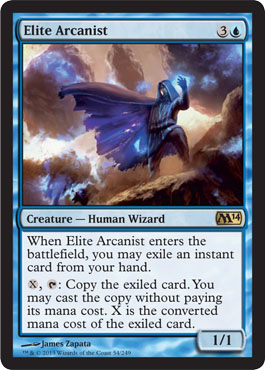 Name: Elite Arcanist
Cost: 3U
Type: Creature - Human Wizard
Pow/Tgh: 1/1
Rules Text: When Elite Arcanist enters the battlefield, you may exile an instant card from your hand.
{X}, {T}: Copy the exiled card. You may cast the copy without paying its mana cost. X is the converted mana cost of the exiled card.
Illus. James Zapata
Rarity: Rare
Set Number: #54/249
Name: Essence Scatter
Cost: 1u
Type: Instant
Rules Text: Counter target creature spell.
Illus. Jon Foster
Rarity: ?

Name: Frost Breath
Cost: 2u
Type: Instant
Rules Text: Tap up to two target creatures. Those creatures don't untap during their controller's next untap step.
Illus. Mike Bierek
Rarity: Common
Name: Galerider Sliver
Cost: u
Type: Creature - Sliver
Pow/Tgh: 1/1
Rules Text: Sliver creatures you control have flying.
Flavor Text: Masters of adaptation, galeriders serve multiple purposes useful to the hive. When they're not patrolling their territories, their majestic wings serve to circulate cool air through the vast hive chambers.
Illus. James Zapata
Rarity: Rare
Set Number: #57/249
Name: Glimpse the Future
Cost: 2u
Type: Sorcery
Rules Text: Look at the top three cards of your library. Put one of them into your hand and the rest into your graveyard.
Flavor Text: "No simple coin toss can solve this riddle. You must think and choose wisely."
—Shai Fusan, archmage
Illus. Andrew Robinson
Rarity: Uncommon

Name: Illusionary Armor
Cost: 4U
Type: Enchantment - Aura
Rules Text: Enchant Creature
Enchanted creature gets +4/+4.
When enchanted creature becomes the target of a spell or ability, sacrifice Illusionary Armor.
Illus. Mathias Kollros
Rarity: Uncommon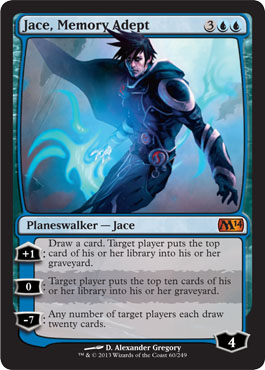 Name: Jace's Mindseeker
Cost: 4uu
Type: Creature - Fish Illusion
Pow/Tgh: 4/4
Rules Text: Flying
When Jace's Mindseeker enters the battlefield, target opponent puts the top five cards of his or her library into his or her graveyard. You may cast an instant or sorcery card from among them without paying its mana cost.
Illus. Greg Staples
Rarity: Rare

Name: Jace, Memory Adept
Cost: 3uu
Type: Planeswalker - Jace
Pow/Tgh: 4
Rules Text: +1: Draw a card. Target player puts the top card of his or her library into his or her graveyard.
0: Target player puts the top ten cards of his or her library into his or her graveyard.
-7: Any number of target players each draw twenty cards.
Illus. D. Alexander Gregory
Rarity: Mythic Rare
Name: Merfolk Spy
Cost: U
Type: Creature - Merfolk Rogue
Pow/Tgh: 1/1
Rules Text: Islandwalk
Whenever Merfolk Spy deals combat damage to a player, that player reveals a card at random from his or her hand.
Illus. Matt Cavotta & Richard Whitters
Rarity: Common
Set Number: #62/249
Name: Messenger Drake
Cost: 3uu
Type: Creature - Drake
Pow/Tgh: 3/3
Rules Text: Flying
When Messenger Drake dies, draw a card.
Flavor Text: The more important the message, the larger the messenger.
Illus. Yeong-Hau Han
Rarity: Common

Name: Negate
Cost: 1U
Type: Instant
Rules Text: Counter target noncreature spell.
Flavor Text: Masters of the arcane savor a delicious irony. Their study of deep and complex arcana leads to such a simple end: the ability to say merely yes or no.
Illus. Jeremy Jarvis
Rarity: Common
Set Number: #64/249

Name: Nephalia Seakite
Cost: 3U
Type: Creature - Bird
Pow/Tgh: 2/3
Rules Text: Flash
Flying
Flavor Text: "Keep one eye on the cliff road or you may fall to your death. Keep one eye on the sky or your death may fall on you."
~"Manfried Ulmach, Elgaud Master-at-Arms
Illus. Wayne England
Rarity: Common
Set Number: #65/249
Name: Opportunity
Cost: 4uu
Type: Instant
Rules Text: Target player draws four cards.
Illus. Allen Williams
Rarity: Uncommon
Set Number: #66/249

Name: Phantom Warrior
Cost: 1uu
Type: Creature - Illusion Warrior
Pow/Tgh: 2/2
Rules Text: Phantom Warrior can't be blocked.
Illus. Greg Staples
Rarity:

Uncommon



Name: Quicken
Cost: U
Type: Instant
Rules Text: The next sorcery card you cast this turn can be cast as though it had flash.
Draw a card.
Flavor Text: A skilled Izzet chronarch can carry out an epic vendetta between the fall of one hourglass grain and the next.
Illus. Aleksi Briclot
Rarity: Rare
Set Number: #68/249
Name: Rewind
Cost: 2UU
Type: Instant
Rules Text: Counter target spell. Untap up to four lands.
Illus. Dermot Power
Rarity: Uncommon
Name: Scroll Thief
Cost: 2u
Type: Creature - Merfolk Rogue
Pow/Tgh: 1/3
Rules Text: Whenever Scroll Thief deals combat damage to a player, draw a card.
Illus. Alex Horley-Orlandelli
Rarity:

Common



Name: Seacoast Drake
Cost: 1u
Type: Creature - Drake
Pow/Tgh: 1/3
Rules Text: Flying
Flavor Text: Seacoast drakes have been known to follow ships for hundreds of miles, waiting to snap up garbage, bait, and the occasional sailor.
Illus. Scott Chou
Rarity: Common
Name: Sensory Deprivation
Cost: U
Type: Enchantment - Aura
Rules Text: Enchant creature
Enchanted creature gets -3/-0.
Flavor Text: They call it "stitcher's anesthesia," a spell to deaden the senses while the mad doctors begin their grisly work.
Illus. Steven Belledin
Rarity: Common
Set Number: #71/249

Name: Spell Blast
Cost: XU
Type: Instant
Rules Text: Counter target spell with converted mana cost X. (For example, if that spell's mana cost is {3}{U}{U}, X is 5.)
Flavor Text: "Perhaps you could try throwing a rock? That might be better suited to your intellect.
Illus. Jaime Jones
Rarity: Uncommon
Set Number: #72/249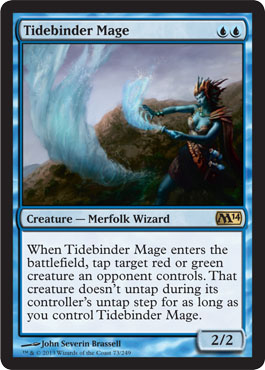 Name: Tidebinder Mage
Cost: UU
Type: Creature - Merfolk Wizard
Pow/Tgh: 2/2
Rules Text: When Tidebinder Mage enters the battlefield, tap target red or green creature an opponent controls. That creature doesn't untap during its controller's untap step for as long as you control Tidebinder Mage.
Illus. John Severin Brassell
Rarity: Rare
Set Number: #73/249
Name: Time Ebb
Cost: 2u
Type: Sorcery
Rules Text: Put target creature on top of its owner's library.
Illus. Alan Rabinowitz
Rarity: Common
Name: Tome Scour
Cost: U
Type: Sorcery
Rules Text: Target player puts the top five cards of his or her library into his or her graveyard.
Flavor Text: "I hope none of those were important!"
Illus. Steven Belledin
Rarity: Common
Set Number: #75/249
Name: Trained Condor
Cost: 2u
Type: Creature - Bird
Pow/Tgh: 2/1
Rules Text: Flying
Whenever Trained Condor attacks, another target creature you control gains flying until end of turn.
Flavor Text: "They're smart enough to understand that war means lots of carrion."
—Griv, condor rider
Illus. Alex Horley-Orlandelli
Rarity: Common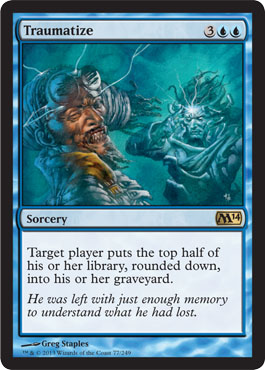 Name: Traumatize
Cost: 3UU
Type: Sorcery
Rules Text: Target player puts the top half of his or her library, rounded down, into his or her graveyard.
Flavor Text: He was left with just enough memory to understand what he had lost.
Illus. Greg Staples
Rarity: Rare
Set Number: #77/249

Name: Wall of Frost
Cost: 1UU
Type: Creature - Wall
Pow/Tgh: 0/7
Rules Text: Defender
Whenever Wall of Frost blocks a creature, that creature doesn't untap during its controller's next untap step.
Flavor Text: "I have seen countless petty warmongers gaze on it for a time before turning away."
~"Sarlena, paladin of the Northern Verge
Illus. Mike Bierek
Rarity: Uncommon
Set Number: #78/249
Name: Warden of Evos Isle
Cost: 2u
Type: Creature - Bird Wizard
Pow/Tgh: 2/2
Rules Text: Flying
Creature spells with flying you cast cost {1} less to cast.
Flavor Text: On Evos Isle, the swift and formidable aven enforce the will of the ruling sphinxes.
Illus. Nils Hamm
Rarity: Uncommon
Name: Water Servant
Cost: 2UU
Type: Creature - Elemental
Pow/Tgh: 3/4
Rules Text: {U}: Water Servant gets +1/-1 until end of turn.
{U}: Water Servant gets -1/+1 until end of turn.
Rarity: Uncommon

Name: Windreader Sphinx
Cost: 5uu
Type: Creature - Sphinx
Pow/Tgh: 3/7
Rules Text: Flying
Whenever a creature with flying attacks, you may draw a card.
Flavor Text: "Your mind is too filled with foolish concerns to hear the subtle whispers that the breeze brings."
Illus. Min Yum
Rarity: Mythic Rare
Name: Zephyr Charge
Cost: 1U
Type: Enchantment
Rules Text: {1}{u}: Target creature gains flying until end of turn.
Flavor Text: "All armies prefer high ground to low and sunny places to dark."
—Sun Tzu, Art of War, trans. Giles
Illus. Steve Prescott
Rarity: Common
Set Number: #82/249

Black (41)



Name: Accursed Spirit
Cost: 3B
Type: Creature - Spirit
Pow/Tgh: 3/2
Rules Text: Intimidate
Flavor Text: Many have heard the slither of dragging armor and the soft squelch of its voice. But only its victims ever meet its icy gaze.
Illus. Kev Walker
Rarity: Common
Name: Altar's Reap
Cost: 1B
Type: Instant
Rules Text: As an additional cost to cast Altar's Reap, sacrifice a creature.
Draw two cards.
Flavor Text: "Don't worry, your death will be as informative as possible."
~"Gorghul, augur of skulls
Illus. Donato Giancola
Rarity: Common
Set Number: #84/249

Name: Artificer's Hex
Cost: B
Type: Enchantment - Aura
Rules Text: Enchant Equipment
At the beginning of your upkeep, if enchanted Equipment is attached to a creature, destroy that creature.
Flavor Text: "Some treasures aren't worth finding, let alone stealing."
~"Dack Fayden
Illus. Franz Vohwinkel
Rarity: Uncommon
Set Number: #85/249
Name: Blightcaster
Cost: 3B
Type: Creature - Human Wizard
Pow/Tgh: 2/3
Rules Text: Whenever you cast an enchantment spell, you may have target creature get -2/-2 until end of turn.
Flavor Text: "Your flesh is unprepared for my gifts."
Illus. Winona Nelson
Rarity: Uncommon
Name: Blood Bairn
Cost: 2B
Type: Creature - Vampire
Pow/Tgh: 2/2
Rules Text: Sacrifice another creature: Blood Bairn gets +2/+2 until end of turn.
Flavor Text: The travelers were warned to watch out for children on the road.
Illus. Ryan Yee
Rarity: Common
Set Number: #87/249
Name: Bogbrew Witch
Cost: 3{B}
Type: Creature - Human Wizard
Pow/Tgh: 1/3
Rules Text: {2}, {T}: Search your library for a card named Festering Newt or Bubbling Cauldron, put it onto the battlefield tapped, then shuffle your library.
Flavor Text: "The hardest thing is finding the right ingredients."
Illus. Eric Deschamps
Rarity: Rare
Set Number: #88/249
Name: Child of Night
Cost: 1b
Type: Creature - Vampire
Pow/Tgh: 2/1
Rules Text: Lifelink
Illus. Ash Wood
Rarity:

Common



Name: Corpse Hauler
Cost: 1b
Type: Creature - Human Rogue
Pow/Tgh: 2/1
Rules Text: {2}{b}, Sacrifice Corpse Hauler: Return another target creature card from your graveyard to your hand.
Flavor Text: "He expects a reward, but the only piece of silver he'll get from me is my blade in his gut."
- Shelac, necromancer
Illus. Jesper Ejsing
Rarity: Common

Name: Corrupt
Cost: 5b
Type: Sorcery
Rules Text: Corrupt deals damage equal to the number of Swamps you control to target creature or player. You gain life equal to the damage dealt this way.
Rarity:

Uncommo
Name: Dark Favor
Cost: 1B
Type: Enchantment - Aura
Rules Text: Enchant creature
When Dark Favor enters the battlefield, you lose 1 life.
Enchanted creature gets +3/+1.
Flavor Text: When he began to curse what he held holy, his strength grew unrivaled.
Illus. Allen Williams
Rarity: Common
Set Number: #92/249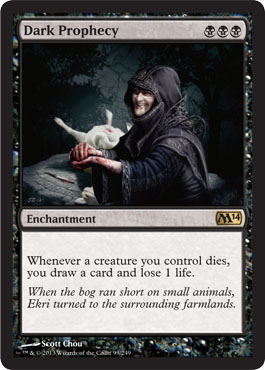 Name: Dark Prophecy
Cost: BBB
Type: Enchantment
Rules Text: Whenever a creature you control dies, you draw a card and lose 1 life.
Flavor Text: When the bog ran short on small animals, Ekri turned to the surrounding farmlands.
Illus. Scott Chou
Rarity: Rare
Name: Dark Prophecy
Cost: BBB
Type: Enchantment
Rules Text: Whenever a creature you control dies, you draw a card and lose 1 life.
Flavor Text: When the bog ran short on small animals, Ekri turned to the surrounding farmlands.
Illus. Scott Chou
Rarity: Rare
Name: Deathgaze Cockatrice
Cost: 2bb
Type: Creature - Cockatrice
Pow/Tgh: 2/2
Rules Text: Flying, deathtouch
Flavor Text: "Sometimes I come across a stone finger or foot and I know I'm in cockatrice territory."
—Rulak, bog guide
Illus. Kev Walker
Rarity: Common

Name: Diabolic Tutor
Cost: 2BB
Type: Sorcery
Rules Text: Search your library for a card and put that card into your hand. Then shuffle your library.
Flavor Text: The wise always keep an ear open to the whispers of power.
Illus. Greg Staples
Rarity: Uncommon
Set Number: #95/249

Name: Doom Blade
Cost: 1B
Type: Instant
Rules Text: Destroy target nonblack creature.
Rarity: Common
Name: Duress
Cost: b
Type: Sorcery
Rules Text: Target opponent reveals his or her hand. You choose a noncreature, nonland card from it. That player discards that card.
Rarity: Common
Name: Festering Newt
Cost: B
Type: Creature - Lizard
Pow/Tgh: 1/1
Rules Text: When Festering Newt dies, target creature an opponent controls gets -1/-1 until end of turn. That creature gets -4/-4 instead if you control a creature named Bogbrew Witch.
Flavor Text: Its back bubbles like a witch's cauldron, and it smells just as vile.
Illus. Eric Deschamps
Rarity: Common
Set Number: #98/24

9
Name: Gnawing Zombie
Cost: 1B
Type: Creature - Zombie
Pow/Tgh: 1/3
Rules Text: {1}{b}, Sacrifice a creature: Target player loses 1 life and you gain 1 life.
Flavor Text: On still nights you can hear its rotted teeth grinding tirelessly on scavenged bones.
Illus. Greg Staples
Rarity: Uncommon
Set Number: #99/249
Name: Grim Return
Cost: 2b
Type: Instant
Rules Text: Choose target creature card in a graveyard that was put there from the battlefield this turn. Put that card onto the battlefield under your control.
Flavor Text: The necromancer's touch strips away memory and loyalty, so oncorally strength and malice remain.
Illus. Seb McKinnon
Rarity: Rare
Name: Lifebane Zombie
Cost: 1BB
Type: Creature - Zombie
Pow/Tgh: 3/1
Rules Text: Intimidate
When Lifebane Zombie enters the battlefield, target opponent reveals his or her hand. You choose a green or white creature card from it and exile that card.
Illus. Min Yum
Rarity: Rare
Set Number: #101/249
Name: Liliana of the Dark Realms
Cost: 2bb
Type: Planeswalker - Liliana
Pow/Tgh: 3
Rules Text: +1: Search your library for a Swamp card, reveal it, and put it into your hand. Then shuffle your library.
-3: Target creature gets +X/+X or -X/-X until end of turn, where X is the number of Swamps you control.
-6: You get an emblem with "Swamps you control have 'Tap: Add {B}{B}{B}{B} to your mana pool.'"
Illus. D. Alexander Gregory
Rarity: Mythic Rare
Set Number: #102/249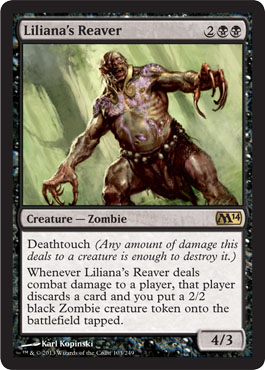 Name: Liliana's Reaver
Cost: 2bb
Type: Creature - Zombie
Pow/Tgh: 4/3
Rules Text: Deathtouch
Whenever Liliana's Reaver deals combat damage to a player, that player discards a card and you put a 2/2 black Zombie creature token onto the battlefield tapped.
Illus. Karl Kopinski
Rarity: Rare

Name: Liturgy of Blood
Cost: 3BB
Type: Sorcery
Rules Text: Destroy target creature. Add {B}{B}{B} to your mana pool.
Flavor Text: "You harbor such vast potential. It would be such a shame to let you die of old age."
~"Zul Ashur, lich lord
Illus. Zack Stella
Rarity: Common
Set Number: #104/249
Name: Mark of the Vampire
Cost: 3b
Type: Enchantment - Aura
Rules Text: Enchant creature
Enchanted creature gets +2/+2 and has lifelink.
Illus. Winona Nelson
Rarity:

Common



Name: Mind Rot
Cost: 2b
Type: Sorcery
Rules Text: Target player discards two cards.
Illus. Steve Luke
Rarity: Common
Name: Minotaur Abomination
Cost: 4bb
Type: Creature - Zombie Minotaur
Pow/Tgh: 4/6
Flavor Text: "Look at that. Shuffling, wobbling, entrails placed haphazardly. It's shameful. Who would let that kind of work flap about for all of us to see?"
—Lestin, necromancer
Illus. Karl Kopinski
Rarity: Common

Name: Nightmare
Cost: 5B
Type: Creature - Nightmare Horse
Pow/Tgh: */*
Rules Text: Flying
Nightmare's power and toughness are each equal to the number of Swamps you control.
Flavor Text: The thunder of its hooves beats dreams into despair.
Illus. vance Kovacs
Rarity: Rare
Set Number: #108/249
Name: Nightwing Shade
Cost: 4b
Type: Creature - Shade
Pow/Tgh: 2/2
Rules Text: Flying
{1}{B}: Nightwing Shade gets +1/+1 until end of turn.
Illus. Lucas Graciano
Rarity:

Common



Name: Quag Sickness
Cost: 2B
Type: Enchantment - Aura
Rules Text: Enchant creature
Enchanted creature gets -1/-1 for each Swamp you control.
Rarity: Common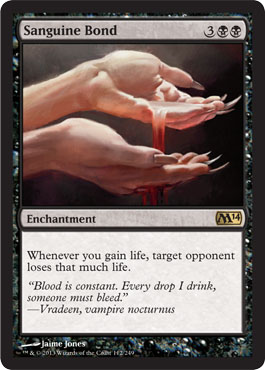 Name: Rise of the Dark Realms
Cost: 7bb
Type: Sorcery
Rules Text: Put all creature cards from all graveyards onto the battlefield under your control.
Flavor Text: "For every living person there are generations of dead. Which realm would you rather rule?"
—Liliana Vess
Illus. Michael Komarck
Rarity: Mythic Rare

Name: Sanguine Bond
Cost: 3BB
Type: Enchantment
Rules Text: Whenever you gain life, target opponent loses that much life.
Flavor Text: "Blood is constant. Every drop I drink, someone must bleed."
—Vradeen, vampire nocturnus
Illus. Jaime Jones
Rarity: Rare
Set Number: #112/249
Name: Sengir Vampire
Cost: 3bb
Type: Creature - Vampire
Pow/Tgh: 4/4
Rules Text: Flying
Whenever a creature dealt damage by Sengir Vampire this turn dies, put a +1/+1 counter on Sengir Vampire.
Illus. Kev Walker
Rarity: Uncommon
Name: Shadowborn Apostle
Cost: B
Type: Creature - Human Cleric
Pow/Tgh: 1/1
Rules Text: A deck can have any number of cards named Shadowborn Apostle.
{B}, Sacrifice six creatures named Shadowborn Apostle: Search your library for a Demon creature and put it onto the battlefield. Then shuffle your library.
Illus. Lucas Graciano
Rarity: Common

Name: Shadowborn Demon
Cost: 3bb
Type: Creature - Demon
Pow/Tgh: 5/6
Rules Text: Flying
When Shadowborn Demon enters the battlefield, destroy target non-Demon creature.
At the beginning of your upkeep, if there are fewer than six creatures in your graveyard, sacrifice a creature.
Illus. Lucas Graciano
Rarity: Mythic Rare
Name: Shrivel
Cost: 1B
Type: Sorcery
Rules Text: All creatures get -1/-1 until end of turn.
Flavor Text: "Do not weep for the frail. Their time couldn't have been that far off."
~"Nathrac, plaguesower
Illus. Jung Park
Rarity: Common
Set Number: #116/249
Name: Sign in Blood
Cost: BB
Type: Sorcery
Rules Text: Target player draws two cards and loses 2 life.
Illus. Howard Lyon
Rarity: Common
Name: Syphon Sliver
Cost: 2B
Type: Creature - Sliver
Pow/Tgh: 2/2
Rules Text: Sliver creatures you control have lifelink.
Flavor Text: When the hive must feed, every appendage becomes an additional mouth.
Illus. Tyler Jacobson
Rarity: Rare
Set Number: #117/249
Name: Undead Minotaur
Cost: 2B
Type: Creature - Zombie Minotaur
Pow/Tgh: 2/3
Rarity: Common

Name: Vampire Warlord
Cost: 4b
Type: Creature - Vampire Warrior
Pow/Tgh: 4/2
Rules Text: Sacrifice another creature: Regenerate Vampire Warlord.
Rarity: Uncommon

Name: Vile Rebirth
Cost: B
Type: Instant
Rules Text: Exile target creature card from a graveyard. Put a 2/2 black Zombie creature token onto the battlefield.
Flavor Text: Grave robbers digging down cautiously listen for anything digging up.
Illus. Erica Yang
Rarity: Common
Set Number: #121/249
Name: Wring Flesh
Cost: b
Type: Instant
Rules Text: Target creature gets -3/-1 until end of turn.
Rarity: Common
Name: Xathrid Necromancer
Cost: 2B
Type: Creature - Human Wizard
Pow/Tgh: 2/2
Rules Text: Whenever Xathrid Necromancer or another Human creature you control dies, put a 2/2 black Zombie creature token onto the battlefield tapped.
Flavor Text: "My commands shall echo forever in their dusty skulls."
Illus. Maciej Kuciara
Rarity: Rare
Set Number: #123/249
Red (40)

Name: Academy Raider
Cost: 2R
Type: Creature - Human Warrior
Pow/Tgh: 1/1
Rules Text: Intimidate
Whenever Academy Raider deals combat damage to a player, you may discard a card. If you do, draw a card.
Illus. Karl Kopinski
Rarity: Common
Set Number: #124/249
Name: Act of Treason
Cost: 2r
Type: Sorcery
Rules Text: Gain control of target creature until end of turn. Untap that creature. It gains haste until end of turn.
Illus. Eric Deschamps
Rarity: Common
Name: Awaken the Ancient
Cost: 1rrr
Type: Enchantment - Aura
Rules Text: Enchant Mountain
Enchanted Mountain is a 7/7 red Giant creature with haste. It's still a land.
Flavor Text: Some days you stand to greet the horizon Other days the horizon stands to greet you.
Illus. Jaime Jones
Rarity: Rare
Set Number: #126/249

Name: Barrage of Expendables
Cost: R
Type: Enchantment
Rules Text: {R}, Sacrifice a creature: Barrage of Expendables deals 1 damage to target creature or player.
Flavor Text: Goblin generals don't distinguish between troops and ammunition.
Illus. Trevor Claxton
Rarity: Uncommon
Name: Battle Sliver
Cost: 4r
Type: Creature - Sliver
Pow/Tgh: 3/3
Rules Text: Sliver creatures you control get +2/+0.
Illus. Slawomir Maniak
Rarity: Uncommon
Set Number: #128/249

Name: Blur Sliver
Cost: 2r
Type: Creature - Sliver
Pow/Tgh: 2/2
Rules Text: Sliver creatures you control have haste.
Flavor Text: They move in a synchronized swarm, turning entire squads into heaps of bloody rags and bones in an instant.
Illus. Daarken
Rarity: Common
Set Number: #129/249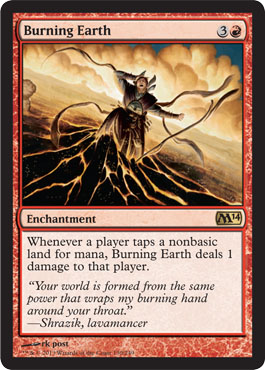 Name: Burning Earth
Cost: 3R
Type: Enchantment
Rules Text: Whenever a player taps a nonbasic land for mana, Burning Earth deals 1 damage to that player.
Rarity: Rare

Name: Canyon Minotaur
Cost: 3r
Type: Creature - Minotaur Warrior
Pow/Tgh: 3/3
Illus. Steve Prescott
Rarity:

Common



Name: Chandra's Outrage
Cost: 2rr
Type: Instant
Rules Text: Chandra's Outrage deals 4 damage to target creature and 2 damage to that creature's controller.
Illus. Christopher Moeller
Rarity: Common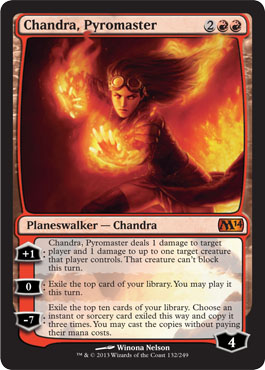 Name: Chandra's Phoenix
Cost: 1RR
Type: Creature - Phoenix
Pow/Tgh: 2/2
Rules Text: Flying, haste
Whenever an opponent is dealt damage by a red instant or sorcery spell you control or by a red planeswalker you control, return Chandra's Phoenix from your graveyard to your hand.
Rarity: Rare

Name: Chandra, Pyromaster
Cost: 2RR
Type: Planeswalker - Chandra
Pow/Tgh: 4
Rules Text: +1: Chandra, Pyromaster deals 1 damage to target player and 1 damage to up to one target creature that player controls. That creature can't block this turn.
0: Exile the top card of your library. You may play it this turn.
-7: Exile the top ten cards of your library. Choose an instant or sorcery card exiled this way and copy it three times. You may cast the copies without paying their mana costs.
Illus. Winona Nelson
Rarity: Mythic Rare
Set Number: #132/249
Name: Cyclops Tyrant
Cost: 5R
Type: Creature - Cyclops
Pow/Tgh: 3/4
Rules Text: Intimidate
Cyclops Tyrant can't block creatures with power 2 or less.
Flavor Text: A single eye, blinded by rage.
Illus. Zack Stella
Rarity: Common
Set Number: #135/249

Name: Demolish
Cost: 3R
Type: Sorcery
Rules Text: Destroy target artifact or land.
Flavor Text: "This is why I hate settlements. They lull you into a false sense of security."
~"Yon Basrel, Oran-Rief survivalist
Illus. John Avon
Rarity: Common
Set Number: #136/249

Name: Dragon Egg
Cost: 2R
Type: Creature - Dragon
Pow/Tgh: 0/2
Rules Text: Defender
When Dragon Egg dies, put a 2/2 red Dragon creature token with flying onto the battlefield. It has "{R}: This creature gets +1/+0 until end of turn".
Flavor Text: Dragon birth lairs are littered with treasure to entice the young from their eggs.
Illus. Jack Wang
Rarity: Uncommon
Set Number: #137/249
Name: Dragon Hatchling
Cost: 1r
Type: Creature - Dragon
Pow/Tgh: 0/1
Rules Text: Flying
{R}: Dragon Hatchling gets +1/+0 until end of turn.
Rarity:

Common



Name: Flames of the Firebrand
Cost: 2R
Type: Sorcery
Rules Text: Flames of the Firebrand deals 3 damage divided as you choose among one, two, or three target creatures and/or players.
Rarity: Uncommon
Name: Fleshpulper Giant
Cost: 5RR
Type: Creature - Giant
Pow/Tgh: 4/4
Rules Text: When Fleshpulper Giant enters the battlefield, you may destroy target creature with toughness 2 or less.
Flavor Text: He doesn't hate small folk. He just likes the squishing sound they make.
Illus. Alex Horley-Orlandelli
Rarity: Uncommon
Name: Goblin Diplomats
Cost: 1R
Type: Creature - Goblin
Pow/Tgh: 2/1
Rules Text: {T}: Each creature attacks this turn if able.
Illus. Jesper Ejsing
Rarity: Rare

Name: Goblin Shortcutter
Cost: 1r
Type: Creature - Goblin Scout
Pow/Tgh: 2/1
Rules Text: When Goblin Shortcutter enters the battlefield, target creature can't block this turn.
Illus. Jesper Ejsing
Rarity:

Common



Name: Lava Axe
Cost: 4r
Type: Sorcery
Rules Text: Lava Axe deals 5 damage to target player.
Rarity: Common
Name: Lightning Talons
Cost: 2R
Type: Enchantment - Aura
Rules Text: Enchant Creature
Enchanted creature gets +3/+0 and has first strike.
Flavor Text: "The victim was either clawed to death or struck by lightning. Possibly both."
—Pel Javya, Wojek investigator
Illus. Johann Bodin
Rarity: Common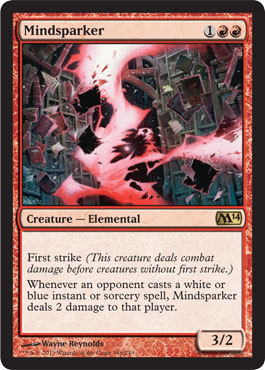 Name: Marauding Maulhorn
Cost: 2rr
Type: Creature - Beast
Pow/Tgh: 5/3
Rules Text: Marauding Maulhorn attacks each combat if able unless you control a creature named Advocate of the Beast.
Flavor Text: "It's not just you. Everyone makes it angry."
—Ardenoth, elvish nature advocate
Illus. Jesper Ejsing
Rarity: Common

Name: Mindsparker
Cost: 1RR
Type: Creature - Elemental
Pow/Tgh: 3/2
Rules Text: First strike
Whenever an opponent casts a white or blue instant or sorcery spell, Mindsparker deals 2 damage to that player.
Illus. Wayne Reynolds
Rarity: Rare
Set Number: #146/249
Name: Molten Birth
Cost: 1rr
Type: Sorcery
Rules Text: Put two 1/1 red Elemental creature tokens onto the battlefield. Then flip a coin. If you win the flip, return Molten Birth to its owner's hand.
Flavor Text: "Few can coax the creatures within the magma to be cooled and take form."
—Koth of the Hammer
Illus. Jaime Jones
Rarity: Uncommon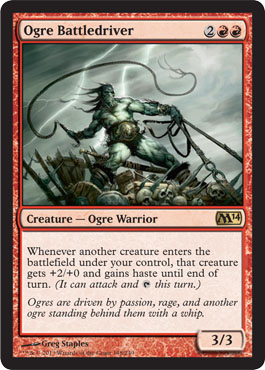 Name: Ogre Battledriver
Cost: 2rr
Type: Creature - Ogre Warrior
Pow/Tgh: 3/3
Rules Text: Whenever another creature enters the battlefield under your control, that creature gets +2/+0 and gains haste until end of turn.
Flavor Text: Ogres are driven by passion, rage, and another ogre standing behind them with a whip.
Illus. Greg Staples
Rarity: Rare

Name: Pitchburn Devils
Cost: 4r
Type: Creature - Devil
Pow/Tgh: 3/3
Rules Text: When Pitchburn Devils dies, it deals 3 damage to target creature or player.
Rarity: Common
Name: Regathan Firecat
Cost: 2r
Type: Creature - Elemental Cat
Pow/Tgh: 4/1
Flavor Text: It stalks the Regathan highlands, leaving behind melted snow, scorched earth and the charred corpses of would-be temple robbers.
Rarity: Common

Name: Scourge of Valkas
Cost: 2rrr
Type: Creature - Dragon
Pow/Tgh: 4/4
Rules Text: Flying
Whenever Scourge of Valkas or another Dragon enters the battlefield under your control, it deals X damage to target creature or player, where X is the number of Dragons you control.
{r}: Scourge of Valkas gets +1/+0 until end of turn.
Illus. Lucas Graciano
Rarity: Mythic Rare

Name: Seismic Stomp
Cost: 1r
Type: Sorcery
Rules Text: Creatures without flying can't block this turn.
Flavor Text: "It is not in me to tread lightly."
—Ryda, geomancer
Illus. Chase Stone
Rarity: Common

Name: Shiv's Embrace
Cost: 2rr
Type: Enchantment - Aura
Rules Text: Enchant creature
Enchanted creature gets +2/+2 and has flying.
{R}: Enchanted creature gets +1/+0 until end of turn.
Rarity: Uncommon
Name: Shivan Dragon
Cost: 4rr
Type: Creature - Dragon
Pow/Tgh: 5/5
Rules Text: Flying
{r}: Shivan Dragon gets +1/+0 until end of turn.
Rarity: Rare
Name: Shock
Cost: R
Type: Instant
Rules Text: Shock deals 2 damage to target creature or player.
Rarity: Common
Name: Smelt
Cost: R
Type: Instant
Rules Text: Destroy target artifact.
Flavor Text: "Looks like that wasn't darksteel after all."
-Koth of the Hammer
Illus. Zoltan Boros
Rarity: Common
Set Number: #156/249
Name: Striking Sliver
Cost: R
Type: Creature - Sliver
Pow/Tgh: 1/1
Rules Text: Sliver creatures you control have first strike.
Flavor Text: You're too busy recoiling in fear to realize that it's already hit you.
Illus. Maciej Kuciara
Rarity: Common
Set Number: #157/249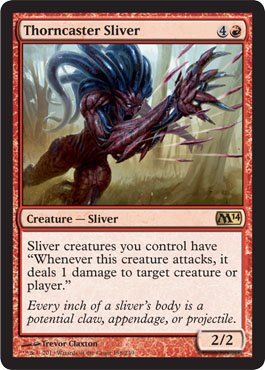 Name: Thorncaster Sliver
Cost: 4r
Type: Creature - Sliver
Pow/Tgh: 2/2
Rules Text: Sliver creatures you control have "Whenever this creature attacks, it deals 1 damage to target creature or player."
Flavor Text: Every inch of a sliver's body is a potential claw, appendage, or projectile.
Illus. Trevor Claxton
Rarity: Rare

Name: Thunder Strike
Cost: 1r
Type: Instant
Rules Text: Target creature gets +2/+0 and gains first strike until end of turn.
Rarity:

Common



Name: Volcanic Geyser
Cost: xrr
Type: Instant
Rules Text: Volcanic Geyser deals X damage to target creature or player.
Illus. Clint Cearley
Rarity: Uncommon
Name: Wild Guess
Cost: RR
Type: Sorcery
Rules Text: As an additional cost to cast Wild Guess, discard a card.
Draw two cards.
Flavor Text: No guts, no glory.
Illus. Lucas Graciano
Rarity: Common
Set Number: #161/249

Name: Wild Ricochet
Cost: 2RR
Type: Instant
Rules Text: You may choose new targets for target instant or sorcery spell. Then copy that spell. You may choose new targets for the copy.
Flavor Text: "May your day never match your expectations."
~"Scriptus Fleen, flectomancer
Illus. Dan Scott
Rarity: Rare
Set Number: #162/249
Name: Young Pyromancer
Cost: 1r
Type: Creature - Human Shaman
Pow/Tgh: 2/1
Rules Text: Whenever you cast an instant or sorcery spell, put a 1/1 red Elemental creature token onto the battlefield.
Flavor Text: Immolation is the sincerest form of flattery.
Illus. Cynthia Sheppard
Rarity: Uncommon
Green (40)

Name: Advocate of the Beast
Cost: 2G
Type: Creature - Elf Shaman
Pow/Tgh: 2/3
Rules Text: At the beginning of your end step, put a +1/+1 counter on target Beast creature you control.
Flavor Text: "I am neither their drover nor their leader. To these majestic beasts, I am simply their herdmate and nothing more."
Rarity: Common
Name: Bramblecrush
Cost: 2GG
Type: Sorcery
Rules Text: Destroy target noncreature permanent.
Flavor Text: Nature abhors a lot of things.
Illus. Drew Baker
Rarity: Uncommon
Set Number: #165/249
Name: Briarpack Alpha
Cost: 3G
Type: Creature - Wolf
Pow/Tgh: 3/3
Rules Text: Flash
When Briarpack Alpha enters the battlefield, target creature gets +2/+2 until end of turn.
Illus. Daarken
Rarity: Uncommon

Name: Brindle Boar
Cost: 2g
Type: Creature - Boar
Pow/Tgh: 2/2
Rules Text: Sacrifice Brindle Boar: You gain 4 life.
Illus. Dave Allsop
Rarity:

Common



Name: Deadly Recluse
Cost: 1g
Type: Creature - Spider
Pow/Tgh: 1/2
Rules Text: Reach, deathtouch
Rarity:

Common



Name: Elvish Mystic
Cost: G
Type: Creature - Elf Druid
Pow/Tgh: 1/1
Rules Text: {T}: Add {G} to your mana pool.
Rarity: Common
Name: Enlarge
Cost: 3GG
Type: Sorcery
Rules Text: Target creature gets +7/+7 and gains trample until end of turn. It must be blocked this turn if able.
Illus. Michael Komarck
Rarity: Uncommon

Name: Fog
Cost: g
Type: Instant
Rules Text: Prevent all combat damage that would be dealt this turn.
Rarity: Common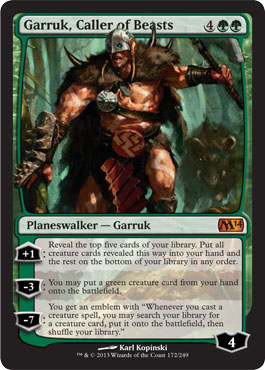 Name: Garruk's Horde
Cost: 5GG
Type: Creature - Beast
Pow/Tgh: 7/7
Rules Text: Trample
Play with the top card of your library revealed.
You may cast the top card of your library if it's a creature card. (Do this only any time you could cast that creature card. You still pay the spell's costs.)
Rarity: Rare

Name: Garruk, Caller of Beasts
Cost: 4{G}{G}
Type: Planeswalker - Garruk
Pow/Tgh: 4
Rules Text: +1: Reveal the top 5 cards of your library. Put all creature cards revealed this way into your hand and the rest on the bottom of your library in any order.
-3: You may put a Green creature card from your hand onto the battlefield.
-7: You get an emblem with "Whenever you cast a creature spell, you may search your library for a creature card, put it onto the battlefield, then shuffle your library."
Illus. Karl Kopinski
Rarity: Mythic Rare
Set Number: #172/249
Name: Giant Growth
Cost: G
Type: Instant
Rules Text: Target creature gets +3/+3 until end of turn.
Rarity: Common
Name: Giant Spider
Cost: 3g
Type: Creature - Spider
Pow/Tgh: 2/4
Rules Text: Reach
Rarity: Common
Name: Gladecover Scout
Cost: G
Type: Creature - Elf Scout
Pow/Tgh: 1/1
Rules Text: Hexproof
Illus. Allen Williams
Rarity: Common
Name: Groundshaker Sliver
Cost: 6g
Type: Creature - Sliver
Pow/Tgh: 5/5
Rules Text: Sliver creatures you control have trample.
Illus. Chase Stone
Rarity: Common
Set Number: #177/249

Name: Howl of the Night Pack
Cost: 6G
Type: Sorcery
Rules Text: Put a 2/2 green Wolf creature token onto the battlefield for each Forest you control.
Flavor Text: The murderous horrors of Raven's Run are legendary, but even that haunted place goes quiet when the night wolves howl.
Illus. Lars Grant-West
Rarity: Uncommon
Set Number: #178/249
Name: Hunt the Weak
Cost: 3G
Type: Sorcery
Rules Text: Put a +1/+1 counter on target creature you control. Then that creature fights target creature you don't control.
Flavor Text: He who hesitates is lunch.
Rarity: Common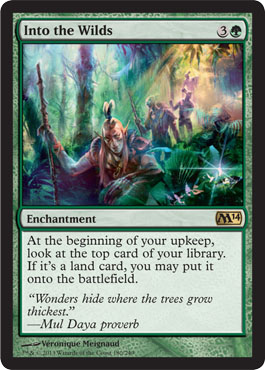 Name: Into the Wilds
Cost: 3g
Type: Enchantment
Rules Text: At the beginning of your upkeep, look at the top card of your library. If it's a land card, you may put it onto the battlefield.
Flavor Text: "Wonders hide where the trees grow thickest."
- Mul Daya proverb
Rarity: Rare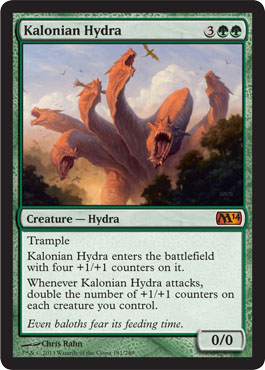 Name: Kalonian Hydra
Cost: 3GG
Type: Creature - Hydra
Pow/Tgh: 0/0
Rules Text: Trample
Kalonian Hydra enters the battlefield with four +1/+1 counters on it.
Whenever Kalonian Hydra attacks, double the number of +1/+1 counters on each creature you control.
Flavor Text: Even baloths fear its feeding time.
Illus. Chris Rahn
Rarity: Mythic Rare
Set Number: #181/249
Name: Kalonian Tusker
Cost: GG
Type: Creature - Beast
Pow/Tgh: 3/3
Flavor Text: "And all this time I thought we were tracking it."
—Oslyn, Kalonian tracker
Illus. Svetlin Velinov
Rarity: Uncommon

Name: Lay of the Land
Cost: G
Type: Sorcery
Rules Text: Search your library for a basic land card, reveal that card, and put it into your hand. Then shuffle your library.
Rarity: Common
Name: Manaweft Sliver
Cost: 1G
Type: Creature - Sliver
Pow/Tgh: 1/1
Rules Text: Sliver creatures you control have "{T}: Add one mana of any color to your mana pool."
Flavor Text: "I see in their interconnectedness a strange embodiment of the natural order."
—Dionus, elvish archdruid
Illus. Trevor Claxton
Rarity: Uncommon
Set Number: #184/249
Name: Megantic Sliver
Cost: 5{G}
Type: Creature - Sliver
Pow/Tgh: 3/3
Rules Text: Sliver creatures you control get +3/+3.
Flavor Text: Even the thrums, the lowliest of slivers, become deadly in its presence.
Illus. Ryan Barger
Rarity: Rare
Set Number: #185/249
Name: Naturalize
Cost: 1g
Type: Instant
Rules Text: Destroy target artifact or enchantment.
Illus. Tim Hildebrandt
Rarity: Common
Name: Oath of the Ancient Wood
Cost: 2{G}
Type: Enchantment
Rules Text: Whenever
Oath of the Ancient Wood

or another enchantment enters the battlefield under your control, you may put a +1/+1 counter on target creature.
Flavor Text: Some look at the forest and see trees. I see true might.
Illus. Dan Scott
Rarity: Rare
Set Number: #187/249

Name: Plummet
Cost: 1G
Type: Instant
Rules Text: Destroy target creature with flying.
Illus. Pete Venters
Rarity: Common
Name: Predatory Sliver
Cost: 1g
Type: Creature - Sliver
Pow/Tgh: 1/1
Rules Text: Sliver creatures you control get +1/+1.
Flavor Text: No matter how much the slivers change, their collective might remains.
Illus. Mathias Kollros
Rarity: Common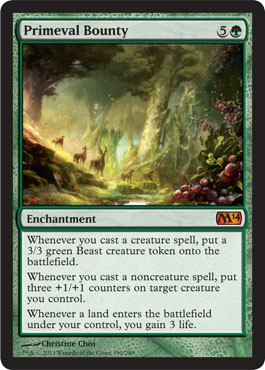 Name: Primeval Bounty
Cost: 5g
Type: Enchantment
Rules Text: Whenever you cast a creature spell, put a 3/3 green Beast creature token onto the battlefield.
Whenever you cast a noncreature spell, put three +1/+1 counters on target creature you control.
Whenever a land enters the battlefield under your control, you gain 3 life.
Illus. Christine Choi
Rarity: Mythic Rare

Name: Rootwalla
Cost: 2g
Type: Creature - Lizard
Pow/Tgh: 2/2
Rules Text: {1}{G}: Rootwalla gets +2/+2 until end of turn. Activate this ability only once each turn.
Illus. Roger Raupp
Rarity: Common
Name: Rumbling Baloth
Cost: 2gg
Type: Creature - Beast
Pow/Tgh: 4/4
Flavor Text: In the dim light beneath the vast trees of Deepglade, baloths prowl in search of prey. Their guttural calls are more felt than heard, but their attack scream carries for miles.
Illus. Jesper Ejsing
Rarity: Common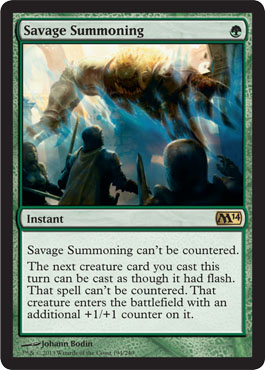 Name: Savage Summoning
Cost: g
Type: Instant
Rules Text: Savage Summoning can't be countered.
The next creature card you cast this turn can be cast as though it had flash. That spell can't be countered. That creature enters the battlefield with an additional +1/+1 counter on it.
Illus. Johann Bodin
Rarity: Rare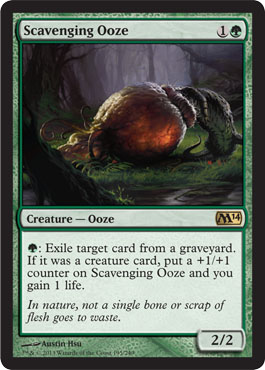 Name: Scavenging Ooze
Cost: 1G
Type: Creature - Ooze
Pow/Tgh: 2/2
Rules Text: {G}: Exile target card from a graveyard. If it was a creature card, put a +1/+1 counter on Scavenging Ooze and you gain 1 life.
Rarity: Rare

Name: Sporemound
Cost: 3gg
Type: Creature - Fungus
Pow/Tgh: 3/3
Rules Text: Whenever a land enters the battlefield under your control, put a 1/1 green Saproling creature token onto the battlefield.
Illus. Svetlin Velinov
Rarity: Commo
Name: Trollhide
Cost: 2g
Type: Enchantment - Aura
Rules Text: Enchant creature
Enchanted creature gets +2/+2 and has "{1}{G}: Regenerate this creature."
Illus. Steven Belledin
Rarity: Common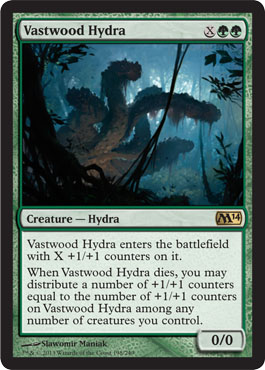 Name: Vastwood Hydra
Cost: XGG
Type: Creature- Hydra
Pow/Tgh: 0/0
Rules Text: Vastwood Hydra enters the battlefield with X +1/+1 counters on it.
When Vastwood Hydra dies, you may distribute a number of +1/+1 counters equal to the number of +1/+1 counters on Vastwood Hydra among any number of creatures you control.
Illus. Slawomir Maniak
Rarity: Rare
Set Number: #198/249

Name: Verdant Haven
Cost: 2G
Type: Enchantment - Aura
Rules Text: Enchant land
When Verdant Haven enters the battlefield, you gain 2 life.
Whenever enchanted land is tapped for mana, its controller adds one mana of any color to his or her mana pool (in addition to the mana the land produces).
Illus. Daniel Ljunggren
Rarity: Common

Name: Voracious Wurm
Cost: 1G
Type: Creature - Wurm
Pow/Tgh: 2/2
Rules Text: Voracious Wurm enters the battlefield with X +1/+1 counters on it, where X is the amount of life you've gained this turn.
Flavor Text: Shepherds in Kalonia know it's better to let sheep roam than have them be trapped when the wurms are feeding.
Illus. Igor Kieryluk
Rarity: Uncommon
Name: Windstorm
Cost: XG
Type: Instant
Rules Text: Windstorm deals X damage to each creature with flying.
Flavor Text: "We don't like interlopers and thieves cluttering our skies."
—Dionus, elvish archdruid
Illus. Rob Alexander
Rarity: Uncommon
Set Number: #201/249
Name: Witchstalker
Cost: 1GG
Type: Creature - Wolf
Pow/Tgh: 3/3
Rules Text: Hexproof
Whenever an opponent casts a blue or black spell during your turn, put a +1/+1 counter on Witchstalker.
Illus. Christopher Möeller
Rarity: Rare
Set Number: #202/249
Name: Woodborn Behemoth
Cost: 3gg
Type: Creature - Elemental
Pow/Tgh: 4/4
Rules Text: As long as you control eight or more lands, Woodborn Behemoth gets +4/+4 and has trample.
Rarity: Uncommon
Artifact (23)



Name: Accorder's Shield
Cost: 0
Type: Artifact - Equipment
Rules Text: Equipped creature gets +0/+3 and has vigilance.
Equip {3}
Rarity: Common

Name: Bubbling Cauldron
Cost: 2
Type: Artifact
Rules Text: {1}, {T}, Sacrifice a creature: You gain 4 life.
{1}, {T}, Sacrifice a creature named Festering Newt: Each opponent loses 4 life. You gain life equal to the life lost this way.
Illus. Eric Deschamps
Rarity: Uncommon
Set Number: #205/249
Name: Darksteel Forge
Cost: 9
Type: Artifact
Rules Text: Artifacts you control have indestructible.
Flavor Text: "It is as if this world has been expecting our blessings."
~"Elesh Norn, Grand Cenobite
Illus. Martina Pilcerova
Rarity: Mythic Rare
Name: Darksteel Ingot
Cost: 3
Type: Artifact
Rules Text: Indestructible
{T}: Add one mana of any color to your mana pool.
Flavor Text: "It reflects the purity of Mirrodin-that-was."
~"Koth of the Hammer
Illus. Martina Pilcerova
Rarity: Common
Set Number: #207/249
Name: Door of Destinies
Cost: 4
Type: Artifact
Rules Text: As Door of Destinies enters the battlefield, choose a creature type.
Whenever you cast a spell of the chosen type, put a charge counter on Door of Destinies.
Creatures you control of the chosen type get +1/+1 for each charge counter on Door of Destinies.
Illus. Larry MacDougall
Rarity: Rare
Set Number: #208/249
Name: Elixir of Immortality
Cost: 1
Type: Artifact
Rules Text: {2}, {T}: You gain 5 life. Shuffle Elixir of Immortality and your graveyard into their owner's library.
Rarity: Uncommon
Name: Fireshrieker
Cost: 3
Type: Artifact - Equipment
Rules Text: Equipped creature has double strike.
Equip {2}
Illus. Christopher Möeller
Rarity: Uncommon
Set Number: #210/249
Name: Guardian of the Ages
Cost: 7
Type: Artifact Creature - Golem
Pow/Tgh: 7/7
Rules Text: Defender
Whenever a creature attacks you or a planeswalker you control, if Guardian of the Ages has defender, it loses defender and gains trample.
Rarity: Rare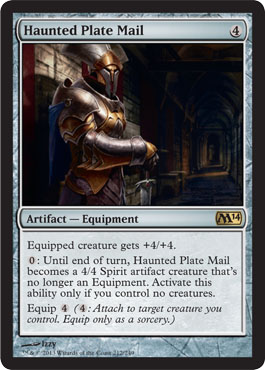 Name: Haunted Plate Mail
Cost: 4
Type: Artifact - Equipment
Rules Text: Equipped creature gets +4/+4.
{0}: Until end of turn, Haunted Plate Mail becomes a 4/4 Spirit artifact creature that's no longer an Equipment. Activate this ability only if you control no creatures.
Equip {4}
Illus. Izzy
Rarity: Rare
Set Number: #212/249
Name: Millstone
Cost: 2
Type: Artifact
Rules Text: {2}, {T}: Target player puts the top two cards of his or her library into his or her graveyard.
Rarity:

Uncommon
Name: Pyromancer's Gauntlet
Cost: 5
Type: Artifact
Rules Text: If a red instant or sorcery spell you control or a red planeswalker you control would deal damage to a permanent or player, it deals that much damage plus 2 to that permanent or player instead.
Flavor Text: An inferno is just a gesture away.
Illus. Christine Choi
Rarity: Rare
Set Number: #214/249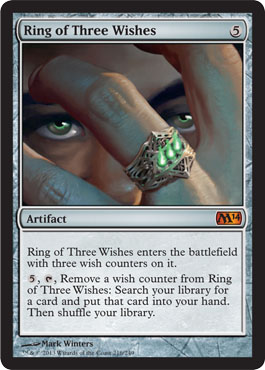 Name: Ratchet Bomb
Cost: 2
Type: Artifact
Rules Text: {t}: Put a charge counter on Ratchet Bomb.
{t}, Sacrifice Ratchet Bomb: Destroy each nonland permanent with converted mana cost equal to the number of charge counters on Ratchet Bomb.
Rarity: Rare

Name: Ring of Three Wishes
Cost: 5
Type: Artifact
Rules Text: Ring of Three Wishes enters the battlefield with three wish counters on it.
{5}, {T}, Remove a wish counter from Ring of Three Wishes: Search your library for a card and put that card into your hand. Then shuffle your library.
Illus. Mark Winters
Rarity: Mythic Rare

Name: Rod of Ruin
Cost: 4
Type: Artifact
Rules Text: {3}, {T}: Rod of Ruin deals 1 damage to target creature or player.
Flavor Text: The good news is it's so simple a goblin could use it. The bad news is it's so simple a goblin could use it.
Illus. Mark Zug
Rarity: Uncommon
Set Number: #217/249
Name: Sliver Construct
Cost: 3
Type: Artifact Creature - Sliver Construct
Pow/Tgh: 2/2
Flavor Text: Slivers destroy those who come close to the Skep, the central hive. Shards of torn metal litter the ground as a warning to any artificers inquisitive about the hive's inner workings.
Illus. Mathias Kollros
Rarity: Common

Name: Staff of the Death Magus
Cost: 3
Type: Artifact
Rules Text: Whenever you cast a black spell or a Swamp enters the battlefield under your control, you gain 1 life.
Flavor Text: A symbol of ambition in ruthless times.
Illus. Daniel Ljunggren
Rarity: Uncommon

Name: Staff of the Flame Magus
Cost: 3
Type: Artifact
Rules Text: Whenever you cast a red spell or a Mountain enters the battlefield under your control, you gain 1 life.
Flavor Text: A symbol of passion in indifferent times.
Illus. Daniel Ljunggren
Rarity: Uncommon

Name: Staff of the Mind Magus
Cost: 3
Type: Artifact
Rules Text: Whenever you cast a blue spell or an Island enters the battlefield under your control, you gain 1 life.
Flavor Text: A symbol of sagacity in bewildering times.
Illus. Daniel Ljunggren
Rarity: Uncommon
Set Number: #221/249

Name: Staff of the Sun Magus
Cost: 3
Type: Artifact
Rules Text: Whenever you cast a white spell or a Plains enters the battlefield under your control, you gain 1 life.
Flavor Text: A symbol of conviction in uncertain time.
Illus. Daniel Ljunggren
Rarity: Uncommon

Name: Staff of the Wild Magus
Cost: 3
Type: Artifact
Rules Text: Whenever you cast a green spell or a Forest enters the battlefield under your control, you may gain 1 life.
Flavor Text: A symbol of ferocity in opportune times.
Illus. Daniel Ljunggren
Rarity: Uncommon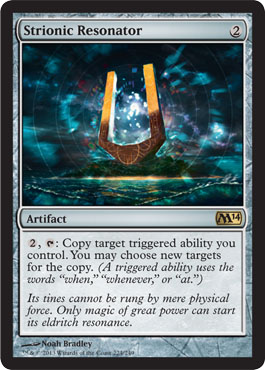 Name: Strionic Resonator
Cost: 2
Type: Artifact
Rules Text: {2}, {T}: Copy target triggered ability you control. You may choose new targets for the copy. (A triggered ability uses the words "when", "whenever" or "at".)
Flavor Text: Its tines cannot be rung by mere physical force. Only magic of great power can start its eldritch resonance.
Illus. Noah Bradley
Rarity: Rare
Set Number: #224/249

Name: Trading Post
Cost: 4
Type: Artifact
Rules Text: {1}, {T}, Discard a card: You gain 4 life.
{1}, {T}, Pay 1 life: Put a 0/1 white Goat creature token onto the battlefield.
{1}, {T}, Sacrifice a creature: Return target artifact card from your graveyard to your hand.
{1}, {T}, Sacrifice an artifact: Draw a card.
Illus. Adam Paquette
Rarity: Rare
Set Number: #225/249
Name: Vial of Poison
Cost: 1
Type: Artifact
Rules Text: {1}, Sacrifice Vial of Poison: Target creature gains deathtouch until end of turn.
Flavor Text: There are worse ways to die, but not many.
Illus. Franz Vohwinkel
Rarity: Uncommon
Land (3)
Name: Encroaching Wastes
Type: Land
Rules Text: {T}: Add {1} to your mana pool.
{4}, {T}: Sacrifice Encroaching Wastes: Destroy target nonbasic land.
Flavor Text: Every world is a work in progress, constantly reshaped by time, disasters, and even the powerful magic of Planeswalkers.
Illus. Noah Bradley
Rarity: Uncommon
Name: Mutavault
Type: Land
Rules Text: {T}: Add {1} to your mana pool.
{1}: Mutavault becomes a 2/2 creature with all creature types until end of turn. It's still a land.
Rarity: Rare
Set Number: #228/249

Name: Shimmering Grotto
Type: Land
Rules Text: {T}: Add {1} to your mana pool.
{1}, {T}: Add one mana of any color to your mana pool.
Rarity: Common
Set Number: #229/249
Basic Land (20)
~