~
Happy Tuesday MTG peeps,
Today, WoTC Monty provided the Magic 2013 core set Event Deck lists. These products are typically released on 'Game Day' which is approximately three weeks after a set's release date. Newer players who have 'cut their teeth' on Intro Packs may now be ready to advance and get themselves into a more competitive preconstructed build such as Event decks. These decks may be further upgraded to taste - we suggest you click on over to MTG Mint Card.
The 2013 Core Set Event Decks are Repeat Performance (
/

) and Sweet Revenge (

/
/

). These will have an MSRP of $24.99 and go on sale August 3, 2012. Each Event Deck contains one 60-card deck, one 15-card sideboard, one Spindown life counter, one strategy insert, and a handy card box to house your new card goodness in.
~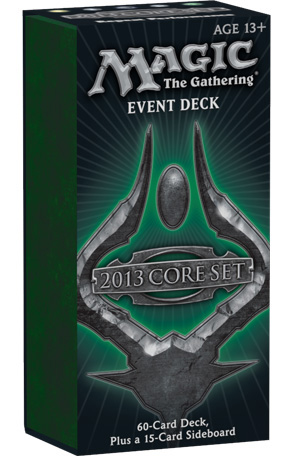 Repeat Performance - Magic 2013 Event Deck

22 lands : 12 Forest, 8 Plains, 2 Razorverge Thicket (R)

33 creatures : 1 Acidic Slime, 2 Arbor Elf, 3 Attended Knight, 4 Avacyn's Pilgrim, 1 Blade Splicer (R), 3 Borderland Ranger, 1 Brutalizer Exarch, 2 Elvish Visionary, 1 Fiend Hunter, 1 Geist-Honored Monk (R), 1 Glimmerpoint Stag, 4 Llanowar Elves, 1 Mwonvuli Beast Tracker, 4 Roaring Primadox, 1 Stingerfling Spider, 1 Stonehorn Dignitary, 1 Sunblast Angel (R), 1 Thragtusk (R)

5 other spells : 1 Green Sun's Zenith (R), 4 Lead the Stampede

15 sideboard cards : 3 Cloudshift, 2 Dismember, 3 Kemba's Skyguard, 4 Oblivion Ring, 3 War Priest of Thune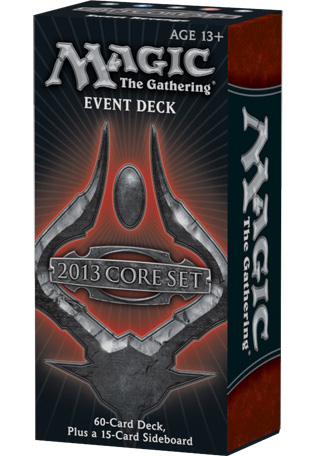 Sweet Revenge - Magic 2013 Event Deck

24 lands : 1 Darkslick Shores (R), 1 Desolate Lighthouse (R), 4 Evolving Wilds, 7 Island, 9 Mountain, 1 Sulfur Falls (R), 1 Swamp

7 creatures : 2 Armored Skaab, 4 Fettergeist, 1 Firewing Phoenix (R)

29 other spells : 4 Burning Vengeance, 4 Desperate Ravings, 4 Faithless Looting, 3 Forbidden Alchemy, 2 Geistflame, 3 Pillar of Flame, 1 Red Sun's Zenith (R), 1 Rolling Temblor, 1 Silent Departure, 2 Slagstorm (R), 4 Think Twice

15 sideboard cards : 2 Arc Trail, 4 Bloodcrazed Neonate, 2 Dismember, 4 Screeching Skaab, 3 Secrets of the Dead

~