~
Happy Tuesday MTG peeps,


You may recall a post we did about the MTG player's toolkit way back in May, 2010 (HERE) - well WoTC has a product refresh for you - here's version '2.0'.

Anywhoos - early last week, we came across images and product descriptions for the new 2011 Magic the Gathering Deck Builder's Toolkit. The only piece of information we did not have was the release date. We eMailed Wizards who indicated to us that the announcement was forthcoming this week . . . and apparently, here it is.


MTG DECK BUILDER'S TOOLKIT 2011

Jump-start your Magic: The Gathering collection with battle-tested cards, perfect for building several different decks!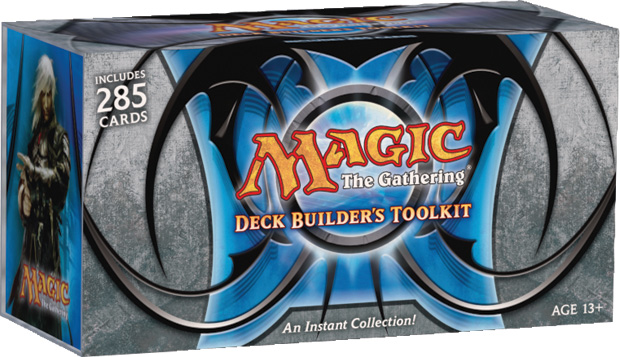 This box also includes a guide containing dueling tips and expert advice on how to custom-build the deadliest and most effective decks possible.

Each Deck Builder's Kit contains:
125 semi-randomized cards suitable for building several different Magic decks; four booster packs from a variety of recent Magic: The Gathering sets (Magic 2011, Rise of the Eldrazi, Worldwake, and Zendikar);
100 basic land cards to help you cast your spells;
a Magic "Learn to Play" Guide; and
This is scheduled to ship to a local games store in March 11, 2011. The product code is 'WOC 34357' and the manufacturer's suggested retail price is pegged at $19.99. Also - The Deck Builder's Toolkit was originally available in English only, but this one will also be in French, German, and Spanish as well.
~

One of the most epic unboxing vids was by Evan Erwin aka Star City Games minion and 'The Magic Show' host of note. Right - he did get a booster pack of Worldwake in his toolkit and was struck by lightning when this pack produced a Jace, the Mind Sculptor. Now kids, we should talk about gambling here - the chances of that happening to mere mortals the like of us are slim to none and we suspect Slim left town already.

This makes a great gift for a player just starting their Magic the Gathering collection. We suggest that if you've been playing for more than a couple of months, just head down to your local store and buy a whole bunch of boosters instead.


~
Les dernières nouvelles à Geek Fest Montréal Grand Prix Trial DALLAS (Samedi 26 Fevrier, Standard MTG) - On dirait que caw- go c'est bon avec 57 joueurs. Prix: 1ere place : 3 "BYES" pour le Grand Prix à Dallas -

1-2 Eric Gaudreault - Caw GB
1-2 Thomas Marsan - Caw Go
3-4 Justin Richardson - Caw Go
3-4 James Neumann - Boros
5-8 Joey Smith - Grixis Tezz Forgemaster
5-8 Eugene Ho - Valakut
5-8 Frederic Mercier - Caw Go
5-8 Jonathan Office Caw GB

Eric Gaudreault a choisi de prendre le billet d'avion pour Dallas
~


Lastly,

MTG Mint Card has Knights vs. Dragons Duel Deck Box for the upcoming Duel Deck. This most excellent product from UltraPro has 1 full colour duel deck box, 2 full colour deck boxes, 2 full colour dividers, and a Write-on Strip to ensure your name is on it and prevent it from being claimed by your envious friends.

~