~
Happy Friday MTG peeps,

From the title of today's post, it appears that we are having another Magic the Gathering Friday Potpourri . . . we're thinking that this is becoming habit forming. Anywhoos - we have several new 'Action' wallpapers from the Mirrodin site as well as Friday Night Magic promo cards we're certain that players would love to game with. Let's go . . .

First up - FNM promos -


Wall of Omens

, 1W
Creature - Wall
Rise of the Eldrazi Uncommon
Defender
When Wall of Omens enters the battlefield, draw a card.


Flavor Text:

"I search for a vision of Zendikar that does not include the Eldrazi."

- Expedition journal entry


0 / 4



Artisan of Kozilek

, 9
Creature - Eldrazi
ise of the Eldrazi Uncommon
When you cast Artisan of Kozilek, you may return target creature card from your graveyard to the battlefield.
Annihilator 2 (Whenever this creature attacks, defending player sacrifices two permanents.)
10 / 9


~
Next up -
We have several new Magic the Gathering wallpapers to pimp up your desktop background or mobile device. These image spoilers are all part of the next MTG set, code-named 'Action'. The final set name will be 'New Phyrexia' (very likely), or 'Mirrodin Pure' (not likely).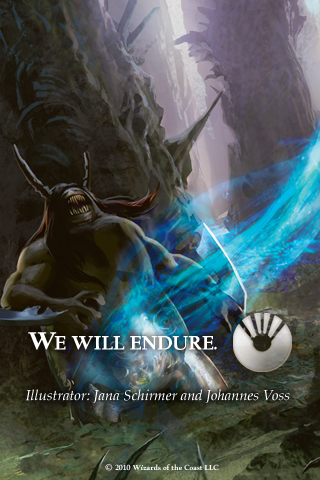 Argent Mutation Wallpaper



iPhone
1024x768
1280x1024
1600x1200



"There is always a point in a father's life when he sees his child so far down a path that the potential to take another road is no longer a possibility. I wonder when my creator first looked at me with jubilation and regret, seeing me unable to become anything more than what I was. I think about that now, because I feel that way when I look upon my world." – Karn


~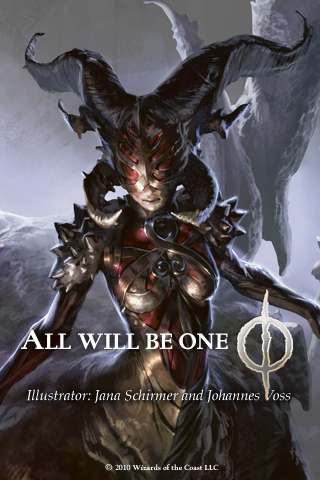 Sheoldred, Whispering One Wallpaper
iPhone
1024x768
1280x1024
1600x1200
Sheoldred's request and thinly veiled threats echoed like thunder in my ears, even though she spoke in whispers and I had to lean in closer than was comfortable to hear these dreaded words. I knew this day would come – The Whispering One's knowledge of the goings-on inside and outside her domain is vast. I was foolish to believe I could escape her notice for long. . .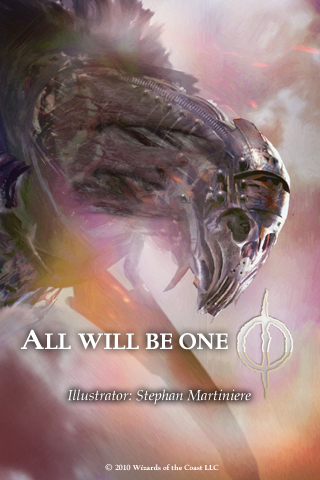 Chancellor of the Dross Wallpaper
iPhone
1024x768
1280x1024
1600x1200
Jedrin: I write to you from a tree hollow somewhere in the Tangle. I'm hungry and tired, but I must write this and pray (to what gods, I wonder?) that you receive this.
I'll cut to the chase: Rey-Goor is near death. The Phyrexians... they... But I should start from the beginning.
All of Rey-Goor has been taut like a wire ready to snap, ever since the Gloom Coven disappeared. I know you must have felt it; perhaps that's why you volunteered for the duties that took you away from me. Backbiting and infighting reached fevered proportions not long after you left. Something had to give . . .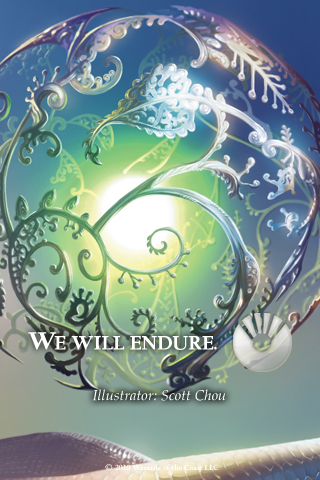 Caged Sun Wallpaper



iPhone
1024x768
1280x1024
1600x1200



From the journal of Jian, Sylvok healer:

I've seen so much pain, but that Auriok's still haunts me most.

I don't even know his name. He was just one of many who arrived all at once - just a small part of a constant wave of dead and dying. When I reached his bedside, his breathing was shallow, his eyes wide and glassy, head tilted away from me. He had no apparent wounds, but in these days of Phyrexian poisons, I knew that meant little. "How are you feeling?" I asked. He just continued staring. I gently touched his shoulder. His face jerked towards me as he sat up, his body spasming in panic... He probably would have jumped to his feet and ran had he the strength . . .



~

In other news,

MTG Mint Card is running yet another giveaway contest ending soon on March 14th.

This time, it is for a very lovely Mirrodin Besieged Fat Pack.

Click on over to their Facebook page and follow the instructions there.
~