~
Happy Wednesday MTG Peeps,

Today we have news which may make electronic gamers who love Magic the Gathering very happy as well as some potential New Phyrexia art spoilers.

First up - for those who have just recently acquired electrical power at their abode and have the appropriate devices to operate electronic games, there's a very cool game to play - Duels of the Planeswalkers. Wizards of the Coast and their gaming partners will release Duels of the Planeswalkers 2012 on Xbox LIVE© Arcade, PC/Steam and PlayStation® Network in summer of 2011. Features announced will include all new game modes, Planeswalker opponents, decks, puzzle challenges and other exciting new features including a new-to-digital multiplayer game mode called Archenemy where players gather up to two allies and team up against the AI (artificial intellegence). Let's check out the corporate announcement . . .



Are you ready for a new wave of Magic: The Gathering players? Duels of the Planeswalkers 2012, the hit Magic: The Gathering digital game, refreshes this summer with Magic: The Gathering - 2012 Core Set content. The two create a powerful alliance to drive new players to your store. Best of all, the simultaneous release on Xbox LIVE®, Playstation® Network and Steam™ for PC means the widest swath of gamers will receive the call to head to their local hobby store.

All eligible players that purchase Magic: The Gathering – Duels of the Planeswalkers 2012 for their Xbox®, PS3 or PC receive a code to redeem at Duels of the Planeswalkers : Digital Games : Magic: The Gathering. This gives them a voucher to take to their nearest retail location (your store!) to receive an exclusive

alternate art premium foil

promo card. Each platform will have a different card: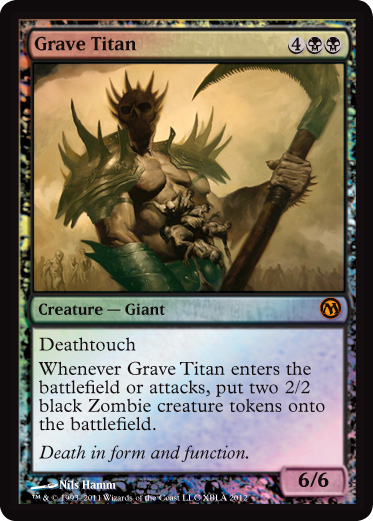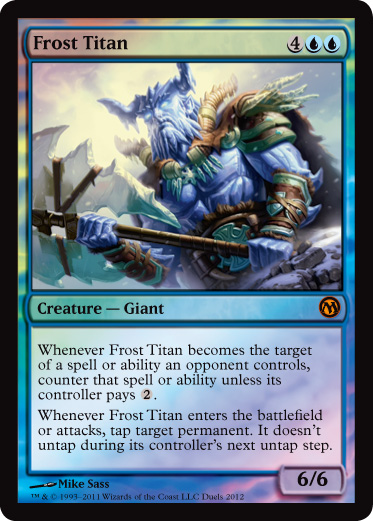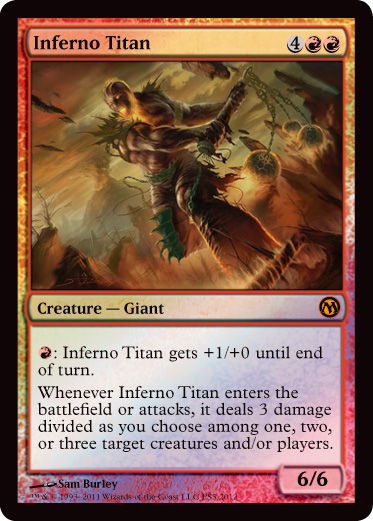 Xbox® - Grave Titan (Lucas Graciano) / Playstation 3® - Inferno Titan (Sam Burley) / Steam™ (PC) - Frost Titan (Mike Sass)



Stores in North America and Asia-Pacific for the Duels of the Planeswalkers can sign up to receive promotional kit containing the three foils and kits will also come with an updated M12 Demo Guide, quick reference cards, and Magic 2012 (M12) Sample decks. Stores in the EU will automatically receive the kit.
~

Next up -

We strongly suggest you check out today's Savour the Flavour article on Wizards. In it, MTG resident art guru, Richard Whitters sits down with MTG artists Jana Schirmer & Johannes Voss for some milk and cookies. Here at MTG Realm we are of course all about casual Magic the Gathering but we have to admit we have a love for flavour / storyline and of course the amazing art that Wizards puts on their cards. We will also admit playing sub-optimal cards in a 60-card build based soley on art or how coo the card name is . . . it just looks sooo good sometimes on a game table.

Anywhoos - back onto the point - in today's article, there are some arts (from Jana Schirmer & Johannes Voss) which we really do not recognise at all and strongly suspect are from the upcoming New Phyrexia set . . . we smell spoilers. Richard indicates that although Janna and Hannes have only completed five Magic cards for Wizards to date, they have 17 either in the works or already completed.

Here are three arts we strongly suspect will belong to cards in New Phryexia . . . speculate away !