~
BORN OF THE GODS SPOILER LIST
Set Name: Born of the Gods
Block: Set 2 of 3 in the Theros block
Three-Letter Abbreviation: BNG
Number of Cards: 165
Rarity Distribution: unknown
Release Date: February 7, 2014
Prerelease Events: February 1-2, 2014

Prerelease Promos: Silent Sentinel, Arbiter of the Ideal, Eater of Hope, Forgestoker Dragon and Nessian Wilds Ravager
Launch Promo: Tromokratis
Buy a Box Promo: Nefarious Burn
Game Day: full-art Kiora's Follower
Game Day (Top 8): full-art foil Pain Seer

This Born of the Gods Magic: the Gathering Spoiler List page has been

sponsored

by Power 9 Pro, delivering the best products for organizing, storing, and transporting CCG cards. Dragon's Egg MTG Tournament Bag, N-Dexers CCG tabbed dividers. Power 9 Pro has also developed 'Magpie' software tailored to the MTG gamer and collector for monitoring Magic: the Gathering card prices. Find, Track and Graph Magic card prices in a personal account.
~
Born of the Gods Spoiler 1

69

/165
This List is continually updated
Last Update : 1.2

4

.2014
White (29/29)
Name: Acolyte's Reward
Cost: 1w
Type: Instant
Rules Text: Prevent the next X damage that would be dealt to target creature this turn, where X is your devotion to white. If damage is prevented this way, Acolyte's Reward deals that much damage to target creature or player.
Illus. Slawomir Maniak
Rarity: Uncommon
Set Number: #1/165

Name: Akroan Phalanx
Cost: 3w
Type: Creature - Human Soldier
Pow/Tgh: 3/3
Rules Text: Vigilance
{2}{R}: Creatures you control get +1/+0 until end of turn.
Flavor Text: Shields up, spears out, heels set, hearts firm.
Illus. Steve Prescott
Rarity: Uncommon
Set Number: #2/165

Name: Akroan Skyguard
Cost: 1w
Type: Creature - Human Soldier
Pow/Tgh: 1/1
Rules Text: Flying
Heroic - Whenever you cast a spell that targets Akroan Skyguard, put a +1/+1 counter on Akroan Skyguard.
Flavor Text: "Trust me. When you have earned a god's favor, you'll know."
Illus. Mark Winters
Rarity: Common
Set Number: #3/165
Name: Archetype of Courage
Cost: 1WW
Type: Enchantment Creature - Human Soldier
Pow/Tgh: 2/2
Rules Text: Creatures you control have first strike.
Creatures your opponents control lose first strike and can't have or gain first strike.
Flavor Text: "It has been my experience that soldiers most fervently follow generals who lead by example."
- Elspeth
Illus. William Murai
Rarity: Uncommon
Set Number: #4/165
Name: Brimaz, King of Oreskos
Cost: 1ww
Type: Legendary Creature - Cat Soldier
Pow/Tgh: 3/4
Rules Text: Vigilance
Whenever Brimaz, King of Oreskos attacks, put a 1/1 white Cat Soldier creature token with vigilance onto the battlefield attacking.
Whenever Brimaz blocks a creature, put a 1/1 white Cat Soldier creature token with vigilance onto the battlefield blocking that creature.
Illus. Peter Mohrbacher
Rarity: Mythic Rare
Set Number: #5/165
Name: Dawn to Dusk
Cost: 2ww
Type: Sorcery
Rules Text: Choose one or both — Return target enchantment card from your graveyard to your hand; and/or destroy target enchantment.
Flavor Text: "The numbers of Nyxborn among us have swelled. Is this a sign of the gods' favor, or does it portend something else?"
Illus. Robbie Trevino
Rarity: Uncommon
Set Number: #6/165
Name: Eidolon of Countless Battles
Cost: 1ww
Type: Enchantment Creature — Spirit
Pow/Tgh: 0/0
Rules Text: Bestow {2}{W}{W}
Eidolon of Countless Battles and enchanted creature get +1/+1 for each creature you control and +1/+1 for each Aura you control.
Illus. Raymond Swanland
Rarity: Rare
Set Number: #7/165
Name: Elite Skirmisher
Cost: 2w
Type: Creature - Human Soldier
Pow/Tgh: 3/1
Rules Text: Heroic — Whenever you cast a spell that targets Elite Skirmisher, you may tap target creature.
Flavor Text: Some adopted the tactics of the leonin to combat the ferocity of the minotaurs.
Illus. Mark Winters
Rarity: Common
Set Number: #8/165

Name: Ephara's Radiance
Cost: w
Type: Enchantment - Aura
Rules Text: Enchant creature
Enchanted creature has "{1}{W}, {T}: You gain 3 life."
Flavor Text: "Civilization is the sum of Ephara's gifts."
—Olexa of the Twelve
Illus. James Ryman
Rarity: Common
Set Number: #9/165

Name: Excoriate
Cost: 3w
Type: Sorcery
Rules Text: Exile target tapped creature.
Flavor Text: The demon had flown past the reach of Erebos's whip but not the point of the sun god's spear.
Illus. Johann Bodin
Rarity: Common
Set Number: #10/165
Name: Fated Retribution
Cost: 4WWW
Type: Instant
Rules Text: Destroy all creatures and planeswalkers. If it's your turn, scry 2.
Rarity: Rare
Name: Ghostblade Eidolon
Cost: 2w
Type: Enchantment Creature - Spirit
Pow/Tgh: 1/1
Rules Text: Bestow {5}{W}
Double strike
Enchanted creature gets +1/+1 and has double strike.
Illus. Ryan Yee
Rarity: Uncommon
Set Number: #12/165

Name: Glimpse the Sun God
Cost: XW
Type: Instant
Rules Text: Tap X target creatures. Scry 1.
Flavor Text: Better to be beneath Heliod's notice than beneath his heel.
Illus. Aleksi Briclot
Rarity: Uncommon
Set Number: #13/165
Name: God-Favored General
Cost: 1W
Type: Creature - Human Soldier
Pow/Tgh: 1/1
Rules Text: Inspired - Whenever God-Favored General becomes untapped, you may pay {2}{W}. If you do, put two 1/1 white Soldier enchantment creature tokens onto the battlefield.
Flavor Text: Someone had to be the first to attack, but he was not alone for long.
Illus. David Palumbo
Rarity: Uncommon
Set Number: #14/165
Name: Great Hart
Cost: 3w
Type: Creature — Elk
Pow/Tgh: 2/4
Flavor Text: The great hart stood like a statue, its hide painted gold by the dawn. The Champion laid down her weapons and stepped forward within an arm's length of the beast. The hart, sacred to Heliod and bathed in the god's own light, bowed to the Champion, marking her as the Chosen of the Sun God.
—The Theriad
Illus. Christopher Moeller
Rarity: Common
Set Number: #15/165

Name: Griffin Dreamfinder
Cost: 3ww
Type: Creature — Griffin
Pow/Tgh: 1/4
Rules Text: Flying
When Griffin Dreamfinder enters the battlefield, return target enchantment card from your graveyard to your hand.
Flavor Text: Some griffins are able to pluck mystic auras from the Æther that are hidden from other mortals.
Illus. Adam Paquette
Rarity: Common
Set Number: #16/165
Name: Hero of Iroas
Cost: 1W
Type: Creature - Human Soldier
Pow/Tgh: 2/2
Rules Text: Aura spells you cast cost {1} less to cast.
Heroic — Whenever you cast a spell that targets Hero of Iroas, put a +1/+1 counter on Hero of Iroas.
Flavor Text: "My left has felled a cyclops. My right has slain a giant. I bring both to every fight."
Illus. Willian Murai
Rarity: Rare
Set Number: #17/165
Name: Hold at Bay
Cost: 1w
Type: Instant
Rules Text: Prevent the next 7 damage that would be dealt to target creature or player this turn.
Flavor Text: It was Daeron's bravery that brought him to Odunos. But it was the magic of Meletis that brought him home.
Illus. Nils Hamm
Rarity: Common
Set Number: #18/16
Name: Loyal Pegasus
Cost: w
Type: Creature - Pegasus
Pow/Tgh: 2/1
Rules Text: Flying
Loyal Pegasus can't attack or block alone.
Flavor Text: "Even if I should die in the saddle, she will not let me fall to the ground."
—Hypatia of the Winged Horse
Illus. John Severin Brassell
Rarity: Common
Set Number: #19/165
Name: Mortal's Ardor
Cost: w
Type: Instant
Rules Text: Target creature gets +1/+1 and gains lifelink until end of turn.
Flavor Text: "Such deeds should be common fare for such as us."
—Anax, king of Akros
Illus. Kev Walker
Rarity: Common
Set Number: #20/165
Name: Nyxborn Shieldmate
Cost: W
Type: Enchantment Creature - Human Soldier
Pow/Tgh: 1/2
Rules Text: Bestow {2}{W}
Enchanted creature gets +1/+2.
Flavor Text: In Meletis, the walls have ears. In Akros, they have blades.
Illus. Eric Deschamps
Rarity: Common
Set Number: #21/165

Name: Oreskos Sun Guide
Cost: 1W
Type: Creature - Cat Monk
Pow/Tgh: 2/2
Rules Text: Inspired - Whenever Oreskos Sun Guide becomes untapped, you gain 2 life.
Flavor Text: "Let the humans have their pantheon. We need no gods to thrive. Even a mortal such as I can capture a part of the sun's power."
Illus. Mathias Kollros
Rarity: Common
Set Number: #22/165
Name: Ornitharch
Cost: 3ww
Type: Creature - Archon
Pow/Tgh: 3/3
Rules Text: Flying
Tribute 2 (As this creature enters the battlefield, an opponent of your choice may place two +1/+1 counters on it.)
When Ornitharch enters the battlefield, if tribute wasn't paid, put two 1/1 white Bird creature tokens with flying onto the battlefield.
Illus. Clint Cearley
Rarity: Uncommon
Set Number: #23/165
Name: Plea for Guidance
Cost: 5W
Type: Sorcery
Rules Text: Search your library for up to two enchantment cards, reveal them, and put them into your hand. Then shuffle your library.
Illus. Terese Nielsen
Rarity: Rare
Set Number: #24/165
Name: Revoke Existence
Cost: 1W
Type: Sorcery
Rules Text: Exile target artifact or enchantment.
Flavor Text: "There will come a time when the gods will look at mortals and shudder."
—Urimedes the philosopher
Illus. Adam Paquette
Rarity: Common
Set Number: #25/165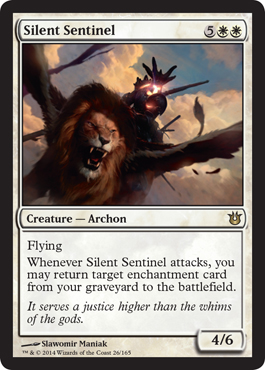 Name: Silent Sentinel
Cost: 5ww
Type: Creature - Archon
Pow/Tgh: 4/6
Rules Text: Flying
Whenever (spelling?) attacks, you may return target enchantment card from your graveyard to the battlefield.
Flavor Text: It serves a higher justice than the whims of the gods.
Rarity: Rare
Set Number: #26/165
Name: Spirit of the Labyrinth
Cost: 1W
Type: Enchantment Creature — Spirit
Pow/Tgh: 3/1
Rules Text: Each player can't draw more than one card each turn.
Flavor Text: Students at the Dekatia Academy learn that being sent to study with her is a lesson in itself.
Illus. Jason Chan
Rarity: Rare
Set Number: #27/165
Name: Sunbond
Cost: 3W
Type: Enchantment — Aura
Rules Text: Enchant creature
Enchanted creature has "Whenever you gain life, put that many +1/+1 counters on this creature."
Flavor Text: "I was not chosen for my faith in the gods. Sometimes the gods must put their faith in us."
—Elspeth
Illus. Noah Bradley
Rarity: Uncommon
Set Number: #28/165
Name: Vanguard of Brimaz
Cost: WW
Type: Creature - Cat Soldier
Pow/Tgh: 2/2
Rules Text: Vigilance
Heroic - Whenever you cast a spell that targets Vanguard of Brimaz, put a 1/1 white Cat Soldier creature token with vigilance onto the battlefield.
Flavor Text: "The humans and their gods never blessed me. Only the pride deserves my allegiance."
Illus. Mark Zug
Rarity: Uncommon
Set Number: #29/165
Blue (28/28)
Name: Aerie Worshippers
Cost: 3U
Type: Creature - Human Cleric
Pow/Tgh: 2/4
Rules Text: Inspired - Whenever Aerie Worshipers becomes untapped, you may pay {2}{U}. If you do, put a 2/2 blue Bird enchantment creature token with flying onto the battlefield.
Flavor Text: They can conjure stars from a clear sky.
Illus. Mike Sass
Rarity: Uncommon
Set Number: #30/165
Name: Arbiter of the Ideal
Cost: 4uu
Type: Creature - Sphinx
Pow/Tgh: 4/5
Rules Text: Flying
Inspired - Whenever (spelling?) becomes untapped, reveal the top card of your library. If it's an artifact, creature, or land card, you may put it onto the battlefield with a manifestation counter on it. It's an enchantment in addition to its other types.
Rarity: Rare
Set Number: #31/165

Name: Archetype of Imagination
Cost: 4UU
Type: Enchantment Creature - Human Wizard
Pow/Tgh: 3/2
Rules Text: Creatures you control have flying.
Creatures your opponents control lose flying and can't have or gain flying.
Flavor Text: "Is it not the embodiment of our aspirations?"
-Prokopios, astronomer of Meletis
Illus. Robie Trevino
Rarity: Uncommon
Set Number: #32/165
Name: Archetype of Imagination
Cost: 4UU
Type: Enchantment Creature — Human Wizard
Pow/Tgh: 3/2
Rules Text: Creatures you control have flying.
Creatures your opponents control lose flying and can't have or gain flying.
Flavor Text: "Is it not the embodiment of our aspirations?"
—Prokopios, astronomer of Meletis
Illus. Robie Trevino
Rarity: Uncommon
Set Number: #32/165

Name: Chorus of the Tides
Cost: 3u
Type: Creature - Siren
Pow/Tgh: 3/2
Rules Text: Flying
Heroic — Whenever you cast a spell that targets Chorus of the Tides, scry 1.
Illus. Steve Prescott
Rarity: Common
Set Number: #33/165
Name: Crypsis
Cost: 1u
Type: Instant
Rules Text: Target creature you control gains protection from creatures your opponents control until end of turn. Untap it.
Flavor Text: Tritons borrow the camouflage of their oceanic prey to become predators on land.
Illus. Daarken
Rarity: Common
Set Number: #34/165
Name: Deepwater Hypnotist
Cost: 1u
Type: Creature - Merfolk Wizard
Pow/Tgh: 2/1
Rules Text: Inspired - Whenever Deepwater Hypnotist becomes untapped, target creature an opponent controls gets -3/-0 until end of turn.
Flavor Text: "Watch the waves too long, and you may never look away."
—Meletian proverb
Illus. Christopher Moeller
Rarity: Common
Set Number: #35/165

Name: Divination
Cost: 2U
Type: Sorcery
Rules Text: Draw two cards.
Flavor Text: "Ask of Keranos that you may understand the stars that mark your destiny. Implore Erebos that you may accept the fate thus divulged."
Illus. Willian Murai
Rarity: Common
Set Number: #36/165

Name: Eternity Snare
Cost: 5u
Type: Enchantment - Aura
Rules Text: Enchant creature
When Eternity Snare enters the battlefield, draw a card.
Enchanted creature doesn't untap during its controller's untap step.
Illus. Min Yum
Rarity: Uncommon
Set Number: #37/165

Name: Evanescent Intellect
Cost: u
Type: Enchantment - Aura
Rules Text: Enchant creature
Enchanted creature has "{1}{U}, {T}: Target player puts the top three cards of his or her library into his or her graveyard."
Flavor Text: The mind is a vessel that may be emptied like any other.
Illus. Dan Scott
Rarity: Common
Set Number: #38/165
Name: Fated Infatuation
Cost: UUU
Type: Instant
Rules Text: Put a token onto the battlefield that's a copy of target creature you control. If it's your turn, scry 2.
Illus. Winona Nelson
Rarity: Rare
Set Number: #39/165
Name: Flitterstep Eidolon
Cost: 1u
Type: Enchantment Creature - Spirit
Pow/Tgh: 1/1
Rules Text: Bestow {5}{U}
Flitterstep Eidolon can't be blocked.
Enchanted creature gets +1/+1 and can't be blocked.
Illus. Chase Stone
Rarity: Uncommon
Set Number: #40/165
Name: Floodtide Serpent
Cost: 4u
Type: Creature

-

Serpent
Pow/Tgh: 4/4
Rules Text: Floodtide Serpent can't attack unless you return an enchantment you control to its owner's hand. (This cost is paid as attackers are declared.)
Flavor Text: "Pray to Thassa for what? A bigger monster to eat it? A wave that can wash it away? What then?"
—Lindos, merchant of Meletis
Illus. Steven Belledin
Rarity: Common
Set Number: #41/165

Name: Kraken of the Straits
Cost: 5UU
Type: Creature

-

Kraken
Pow/Tgh: 6/6
Rules Text: Creatures with power less than the number of Islands you control can't block Kraken of the Straits.
Flavor Text: Thassa felt no need to punish the sailors for their folly in crossing the straits. The kraken would do it for her.
Illus. Richard Wright
Rarity: Uncommon
Set Number: #42/165
Name: Meletis Astronomer
Cost: 1u
Type: Creature - Human Wizard
Pow/Tgh: 1/3
Rules Text: Heroic - Whenever you cast a spell that targets Meletis Astronomer, look at the top three cards of your library. You may reveal an enchantment card from among them and put it into your hand. Put the rest on the bottom of your library in any order.
Illus. Dan Scott
Rarity: Uncommon
Set Number: #43/165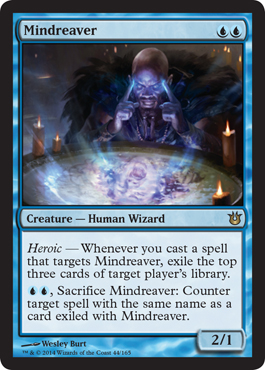 Name: Mindreaver
Cost: uu
Type: Creature - Human Wizard
Pow/Tgh: 2/1
Rules Text: Heroic - Whenever you cast a spell that targets Mindreaver, exile the top three cards of target player's library.
{U}{U}, Sacrifice Mindreaver: Counter target spell with the same name as a card exiled with mindreaver.
Illus. Wesley Burt
Rarity: Rare
Set Number: #44/165
Name: Nullify
Cost: UU
Type: Instant
Rules Text: Counter target creature or Aura spell.
Flavor Text: "Those who incur Thassa's anger will be swallowed whole by her waves, or torn asunder by her bident."
—Thrasios, triton hero
Illus. Adam Paquette
Rarity: Common

Name: Nyxborn Triton
Cost: 2u
Type: Enchantment Creature - Merfolk
Pow/Tgh: 2/3
Rules Text: Bestow {4}{U}
Enchanted creature gets +2/+3.
Flavor Text: "He is Thassa's. I could not sway him." - Kiora
Illus. Clint Cearley
Rarity: Common
Set Number: #46/165
Name: Oracle's Insight
Cost: 3u
Type: Enchantment - Aura
Rules Text: Enchant creature
Enchanted creature has "{T}: Scry 1, then draw a card."
Illus. Raymond Swanland
Rarity: Uncommon
Set Number: #47/165

Name: Perplexing Chimera
Cost: 4u
Type: Enchantment Creature — Chimera
Pow/Tgh: 3/3
Rules Text: Whenever an opponent casts a spell, you may exchange control of Perplexing Chimera and that spell. If you do, you may choose new targets for the spell. (If the spell becomes a permanent, you control that permanent.)
Illus. Tyler Jacobson
Rarity: Rare
Set Number: #48/165

Name: Retraction Helix
Cost: u
Type: Instant
Rules Text: Until end of turn, target creature gains "{T}: Return target nonland permanent to its owner's hand."
Flavor Text: Where the geometries of the world collapse, a master of the Æther can harvest power beyond comprehending.
Illus. Phill Simmer
Rarity: Common
Set Number: #49/165

Name: Siren of the Fanged Coast
Cost: 3uu
Type: Creature - Siren
Pow/Tgh: 1/1
Rules Text: Flying
Tribute 3 (As this creature enters the battlefield, an opponent of your choice may place three +1/+1 counters on it.)
When Siren of the Fanged Coast enters the battlefield, if tribute wasn't paid, gain control of target creature.
Illus. Michael C. Hayes
Rarity: Uncommon
Set Number: #50/165

Name: Sphinx's Disciple
Cost: 3uu
Type: Creature - Human Wizard
Pow/Tgh: 2/2
Rules Text: Flying
Inspired — Whenever Sphinx's Disciple becomes untapped, draw a card.
Flavor Text: Few dare to brave the Dakra Isles. Those who return are forever changed.
Illus. Ryan Alexander Lee
Rarity: Common
Set Number: #51/165

Name: Stratus Walk
Cost: 1u
Type: Enchantment - Aura
Rules Text: Enchant creature
When Stratus Walk enters the battlefield, draw a card.
Enchanted creature has flying.
Enchanted creature can block only creatures with flying.
Illus. Aaron Miller
Rarity: Common
Set Number: #52/165
Name: Sudden Storm
Cost: 3U
Type: Instant
Rules Text: Tap up to two target creatures. Those creatures don't untap during their controllers' next untap steps. Scry 1.
Flavor Text: Now matter how big and strong you are, the sea is bigger and stronger.
Illus. Adam Paquette
Rarity: Common
Set Number: #53/165

Name: Thassa's Rebuff
Cost: 1U
Type: Instant
Rules Text: Counter target spell unless its controller pays {X}, where X is your devotion to blue.
Flavor Text: To resist Thassa is to deny the rising tide.
Illus. Lucas Graciano
Rarity: Uncommon
Set Number: #54/165
Name: Tromokratis
Cost: 5uu
Type: Legendary Creature — Kraken
Pow/Tgh: 8/8
Rules Text: Tromokratis has hexproof unless it's attacking or blocking.
Tromokratis can't be blocked unless all creatures defending player controls block it. (If any creature that player controls doesn't block this creature, it can't be blocked.)
Illus. Matt Stewart
Rarity: Rare
Set Number: #55/165
Name: Vortex Elemental
Cost: U
Type: Creature — Elemental
Pow/Tgh: 0/1
Rules Text: {U}: Put Vortex Elemental and each creature blocking or blocked by it on top of their owners' libraries, then those players shuffle their libraries.
{3}{U}{U}: Target creature blocks Vortex Elemental this turn if able.
Flavor Text: The sea is always hungry.
Illus. Jack Wang
Rarity: Uncommon
Set Number: #56/165
Name: Whelming Wave
Cost: 2uu
Type: Sorcery
Rules Text: Return all creatures to their owners' hands except for Krakens, Leviathans, Octopuses and Serpents.
Flavor Text: "I can see why this appeals to Thassa." - Kiora
Illus. Slawomir Maniak
Rarity: Rare
Set Number: #57/165
Black (

2

9/29)
Name: Archetype of Finality
Cost: 4bb
Type: Enchantment Creature - Gorgon
Pow/Tgh: 2/3
Rules Text: Creatures you control have deathtouch.
Creatures your opponents control lose deathtouch and can't have or gain deathtouch.
Flavor Text: She sees mortals not as they wish to be, but as what they will become.
Illus. Chris Rahn
Rarity: Uncommon
Set Number: #58/165
Name: Ashiok's Adept
Cost: 2B
Type: Creature - Human Wizard
Pow/Tgh: 1/3
Rules Text: Heroic - Whenever you cast a spell that targets Ashiok's Adept, each opponent discards a card.
Flavor Text: "Every nightmare is a caged bird that yearns to be set free."
-Ashiok, Nightmare Weaver
Illus. Karla Ortiz
Rarity: Uncommon
Set Number: #59/165
Name: Asphyxiate
Cost: 1bb
Type: Sorcery
Rules Text: Destroy target untapped creature.
Flavor Text: "Some poisons enter through the blood. Some are ingested. Some are inhaled. All ways through which mortals draw strength are paths for poison."
—Agathe, priest of Pharika
Illus. Kev Walker
Rarity: Common
Set Number: #60/165
Name: Bile Blight
Cost: BB
Type: Instant
Rules Text: Target creature and all creatures with the same name as that creature get -3/-3 until end of turn.
Flavor Text: Not an arrow loosed, javelin thrown, nor sword raised. None were needed.
Illus. Vincent Proce
Rarity: Uncommon
Set Number: #61/165
Name: Black Oak of Odunos
Cost: 2B
Type: Creature — Zombie Treefolk
Pow/Tgh: 0/5
Rules Text: Defender
{B}, Tap another untapped creature you control: Black Oak of Odunos gets +1/+1 until end of turn.
Flavor Text: Phenax promised the newly dead souls they would be spared from Erebos. In this, he did not lie.
Illus. Chris Rahn
Rarity: Uncommon
Set Number: #62/165
Name: Champion of Stray Souls
Cost: 4BB
Type: Creature - Skeleton Warrior
Pow/Tgh: 4/4
Rules Text: {3}{B}{B}, {T}, Sacrifice X other cratures: Return X target creatures from your graveyard to the battlefield.
{5}{B}{B}: Put Champion of Stray Souls on top of your library from your graveyard.
Illus. Aleksi Briclot
Rarity: Mythic Rare
Set Number: #63/165

Name: Claim of Erebos
Cost: 1b
Type: Enchantment - Aura
Rules Text: Enchant creature
Enchanted creature has "{1}{B}, {T}: Target player loses 2 life."
Flavor Text: Priests of Erebos give an occasional reminder to mortals who have forgotten their mortality.
Illus. Zack Stella
Rarity: Common
Set Number: #64/165

Name: Drown in Sorrow
Cost: 1BB
Type: Sorcery
Rules Text: All creatures get -2/-2 until end of turn. Scry 1.
Flavor Text: "The sad truth is that the whip of Erebos is long enough to wrap around all our throats."
—Perisophia the philosopher
Illus. Noah Bradley
Rarity: Uncommon
Set Number: #65/165
Name: Eater of Hope
Cost: 5bb
Type: Creature - Demon
Pow/Tgh: 6/4
Rules Text: Flying
{B}, Sacrifice another creature: Regenerate Eater of Hope.
{2}{B}, Sacrifice two other creatures: Destroy target creature.
Flavor Text: The gods can be appeased. Demons, however...
Illus. Peter Mohrbacher
Rarity: Rare
Set Number: #66/165
Name: Eye Gouge
Cost: B
Type: Instant
Rules Text: Target creature gets -1/-1 until end of turn. If it's a Cyclops, destroy it.
Flavor Text: One chance. One throw. One perfect hit.
Illus. Tyler Jacobson
Rarity: Common
Set Number: #67/165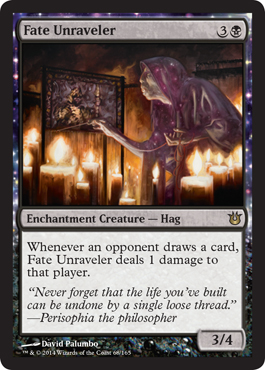 Name: Fate Unraveler
Cost: 3B
Type: Enchantment Creature - Hag
Pow/Tgh: 3/4
Rules Text: Whenever an opponent draws a card, Fate Unreveler deals 1 damage to that player.
Illus. David Palumbo
Rarity: Rare
Name: Fated Return
Cost: 4bbb
Type: Instant
Rules Text: Put target creature card from a graveyard onto the battlefield under your control. It gains indestructible. If it's your turn, scry 2.
Illus. Peter Mohrbacher
Rarity: Rare
Set Number: #69/165

Name: Felhide Brawler
Cost: 1b
Type: Creature

-

Minotaur
Pow/Tgh: 2/2
Rules Text: Felhide Brawler can't block unless you control another Minotaur.
Flavor Text: Burial rites among the Felhide minotaurs involve devouring those who fell in battle, to remove their shame from memory and to fuel the survivors' revenge.
Illus. Nils Hamm
Rarity: Common
Set Number: #70/165
Name: Forlorn Pseudamma
Cost: 3B
Type: Creature - Zombie
Pow/Tgh: 2/1
Rules Text: Intimidate
Inspired — Whenever Forlorn Pseudamma becomes untapped, you may pay {2}{B}. If you do, put a 2/2 black Zombie enchantment creature token onto the battlefield.
Flavor Text: "More children taken. This is an evil we will track without mercy."
—Anthousa of Setessa
Illus. Winona Nelson
Rarity: Uncommon
Set Number: #71/165
Name: Forsaken Drifters
Cost: 3b
Type: Creature - Zombie
Pow/Tgh: 4/2
Rules Text: When Forsaken Drifters dies, put the top four cards of your library into your graveyard.
Flavor Text: It is a terrible thing when the path of the Returned leads them back to the Underworld.
Illus. Min Yum
Rarity: Common
Set Number: #72/165
Name: Gild
Cost: 3b
Type: Sorcery
Rules Text: Exile target creature. Put a colorless artifact token named Gold onto the battlefield. It has "Sacrifice this artifact: Add one mana of any color to your mana pool."
Flavor Text: Merchants of the Underworld trade in coins of clay. Gold serves another purpose.
Illus. Richard Wright
Rarity: Rare
Set Number: #73/165
Name: Grisly Transformation
Cost: 2b
Type: Enchantment - Aura
Rules Text: Enchant creature
When Grisly Transformation enters the battlefield, draw a card.
Enchanted creature has intimidate.
Illus. Tyler Jacobson
Rarity: Common
Set Number: #74/165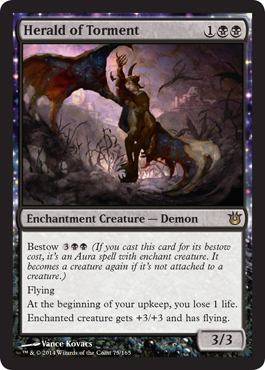 Name: Herald of Torment
Cost: 1BB
Type: Enchantment Creature - Demon
Pow/Tgh: 3/3
Rules Text: Bestow {3}{B}{B}
Flying
At the beginning of your upkeep, you lose 1 life.
Enchanted creature gets +3/+3 and has flying.
Illus. Vance Kovacs
Rarity: Rare
Set Number: #75/165
Name: Marshmist Titan
Cost: 6b
Type: Creature - Giant
Pow/Tgh: 4/5
Rules Text: Marshmist Titan costs {X} less to cast, where X is your devotion to black.
Flavor Text: A favorite of Erebos, for it has sent many to the Underworld.
Illus. Volkan Baga
Rarity: Common
Set Number: #76/165

Name: Necrobite
Cost: 2b
Type: Instant
Rules Text: Target creature gains deathtouch until end of turn. Regenerate it.
Flavor Text: A servant of Pharika must know countless balms that heal and soothe-and countless more that do the opposite.
Illus. Igor Kieryluk
Rarity: Common
Set Number: #77/165
Name: Marshmist Titan
Cost: 6b
Type: Creature — Giant
Pow/Tgh: 4/5
Rules Text: Marshmist Titan costs {X} less to cast, where X is your devotion to black.
Flavor Text: A favorite of Erebos, for it has sent many to the Underworld.
Illus. Volkan Baga
Rarity: Common
Set Number: #76/165
Name: Nyxborn Eidolon
Cost: 1b
Type: Enchantment Creature - Spirit
Pow/Tgh: 2/1
Rules Text: Bestow {4}{b}
Enchanted creature gets +2/+1.
Flavor Text: A body Returned, a soul still lost.
Illus. Nils Hamm
Rarity: Common
Set Number: #76/165
Name: Odunos River Trawler
Cost: 2b
Type: Creature - Zombie
Pow/Tgh: 2/2
Rules Text: When Odunos River Trawler enters the battlefield, return target enchantment creature card from your graveyard to your hand.
{W}, Sacrifice Odunos River Trawler: Return target enchantment creature card from your graveyard to your hand.
Illus. Seb McKinnon
Rarity: Uncommon
Set Number: #79/165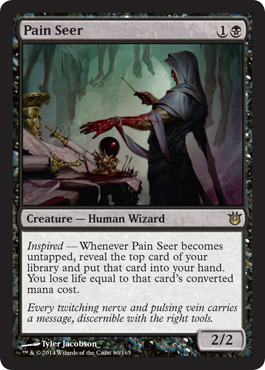 Name: Pain Seer
Cost: 1B
Type: Creature - Human Wizard
Pow/Tgh: 2/2
Rules Text: Inspired - Whenever Pain Seer becomes untapped, reveal the top card of your library and put that card into your hand. You lose life equal to that card's converted mana cost.
Flavor Text: Every twitching nerve and pulsing vein carries a message, discernible with the right tools.
Illus. Tyler Jacobson
Rarity: Rare
Set Number: #80/165
Name: Sanguimancy
Cost: 4b
Type: Sorcery
Rules Text: You draw X cards and you lose X life, where X is your devotion to black.
Illus. Dave Kendall
Rarity: Uncommon
Set Number: #81/165
Name: Servant of Tymaret
Cost: 2B
Type: Creature — Zombie
Pow/Tgh: 1/3
Rules Text: Inspired — Whenever Servant of Tymaret becomes untapped, each opponent loses 1 life. You gain life equal to the life lost this way.
{2}{B}: Regenerate Servant of Tymaret.
Flavor Text: Life is most precious to those who have already lost it.
Illus. Karl Kopinski
Rarity: Common
Set Number: #82/165

Name: Shrike Harpy
Cost: 3BB
Type: Creature — Harpy
Pow/Tgh: 2/2
Rules Text: Flying
Tribute 2 (As this creature enters the battlefield, an opponent of your choice may place two +1/+1 counters on it.)
When Shrike Harpy enters the battlefield, if tribute wasn't paid, target opponent sacrifices a creature.
Illus. Christopher Moeller
Rarity: Uncommon
Set Number: #83/165
Name: Spiteful Returned
Cost: 1B
Type: Enchantment Creature - Zombie
Pow/Tgh: 1/1
Rules Text: Bestow {3}{B}
Whenever Spiteful Returned or enchanted creature attacks, defending player loses 2 life.
Enchanted creature gets +1/+1.
Illus. Raymond Swanland
Rarity: Uncommon
Name: Warchanter of Mogis
Cost: 3BB
Type: Creature - Minotaur Shaman
Pow/Tgh: 3/3
Rules Text: Inspired — Whenever Warchanter of Mogis becomes untapped, target creature you control gains intimidate until end of turn.
Illus. Mike Bierek
Rarity: Common
Set Number: #85/165

Name: Weight of the Underworld
Cost: 3B
Type: Enchantment - Aura
Rules Text: Enchant creature
Enchanted creature gets -3/-2.
Flavor Text: Proud Alkmenos, who would not bow to Erebos in death, is now bowed by his own hubris for all eternity.
Illus. Wesley Burt
Rarity: Common
Set Number: #86/165
Red (29/29)
Name: Akroan Conscriptor
Cost: 4r
Type: Creature

-

Human Shaman
Pow/Tgh: 3/2
Rules Text: Heroic

-

Whenever you cast a spell that targets Akroan Conscriptor, gain control of another target creature until end of turn. Untap that creature. It gains haste until end of turn.
Flavor Text: "The time to serve is now."
Illus. James Ryman
Rarity: Uncommon
Set Number: #87/165
Name: Archetype of Aggression
Cost: 1RR
Type: Enchantment Creature - Human Warrior
Pow/Tgh: 3/2
Rules Text: Creatures you control have trample.
Creatures your opponents control lose trample and can't have or gain trample.
Flavor Text: "Did Purphoros bless Maikal because of his rage? Or did Maikal's rage blossom after he'd been blessed? Only the gods know."
—Eocles, oracle of Purphoros
Illus. Mathias Kollros
Rarity: Uncommon
Set Number: #88/165

Name: Bolt of Keranos
Cost: 1RR
Type: Sorcery
Rules Text: Bolt of Keranos deals 3 damage to target creature or player. Scry 1.
Flavor Text: The breakthroughs granted by Keranos, god of epiphany, can be surprisingly literal.
Illus. Karl Kopinski
Rarity: Common
Set Number: #89/165

Name: Cyclops of One-Eyed Pass
Cost: 2RR
Type: Creature - Cyclops
Pow/Tgh: 5/2
Flavor Text: The champion armed herself to face the cyclops, heedless of her companions' despair. "How will you defeat it with only one spear?" asked young Althemone.
The Champion raised her weapon. "It has but one eye."
—The Theriad
Illus. Kev Walker
Rarity: Common
Set Number: #90/165
Name: Epiphany Storm
Cost: R
Type: Enchantment - Aura
Rules Text: Enchant creature
Enchanted creature has "{R}, {T}, Discard a card: Draw a card."
Flavor Text: In Meletis, certain oracles are trained to be divine lightning rods, receiving countless visions in an instant.
Illus. Clint Clearly
Rarity: Common
Set Number: #91/165
Name: Everflame Eidolon
Cost: 1R
Type: Enchantment Creature - Spirit
Pow/Tgh: 1/1
Rules Text: Bestow {2}{R}
{R}: Everflame Eidolon gets +1/+0 until end of turn. If it's an Aura, enchanted creature gets +1/+0 until end of turn instead.
Enchanted creature gets +1/+1.
Illus. Daarken
Rarity: Uncommon
Set Number: #92/165
Name: Fall of the Hammer
Cost: 1r
Type: Instant
Rules Text: Target creature you control deals damage equal to its power to another target creature.
Flavor Text: It is unwise to insult the god of the forge. It is also unwise to stand near anyone else who has insulted him.
Illus. Adam Paquette
Rarity: Common
Set Number: #93/165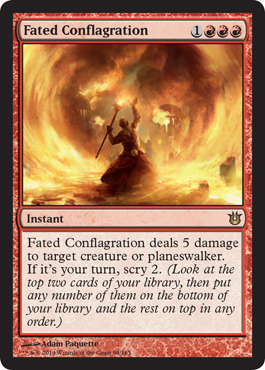 Name: Fated Conflagration
Cost: 1RRR
Type: Instant
Rules Text: Fated Conflagration deals 5 damage to target creature or planewalker. If it's your turn, scry 2.
Illus. Clint Cearley
Rarity: Rare
Set Number: #94/165
Name: Fearsome Temper
Cost: 2r
Type: Enchantment — Aura
Rules Text: Enchant creature
Enchanted creature gets +2/+2 and has "{2}{R}: Target creature can't block this turn."
Flavor Text: Purphoros is god of creation and destruction, which makes him the most creatively destructive god in the pantheon.
Illus. Seb McKinnon
Rarity: Common
Set Number: #95/165
Name: Felhide Spiritbinder
Cost: 3r
Type: Creature - Minotaur Shaman
Pow/Tgh: 3/4
Rules Text: Inspired - Whenever Felhide Spiritbinder becomes untapped, you may pay {1}{R}. If you do, put a token onto the battlefield that's a copy of another target creature except it's an enchantment in addition to its other types. It gains haste. Exile it at the beginning of the next end step.
Illus. Mathias Kollros
Rarity: Rare
Set Number: #96/165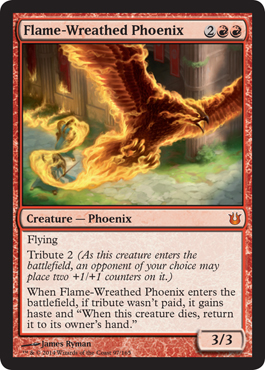 Name: Flame-Wreathed Phoenix
Cost: 2RR
Type: Creature - Phoenix
Pow/Tgh: 3/3
Rules Text: Flying
Tribute 2 (As this creature enters the battlefield, an opponent of your choice may put 2 +1/+1 counter on it.)
When Flame-Wreathed Phoenix enters the battlefield, if its tribute wasn't paid, it gains haste and "When this creature dies, return it to its owner's hand."
Illus. James Ryman
Rarity: Mythic Rare
Set Number: #97/165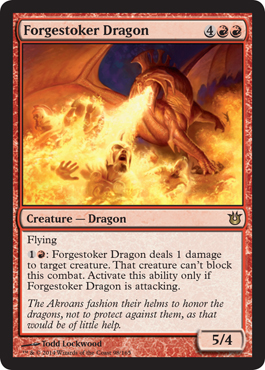 Name: Forgestoker Dragon
Cost: 4rr
Type: Creature - Dragon
Pow/Tgh: 5/4
Rules Text: Flying
{1}{R}: Forgestoker Dragon deals 1 damage to target creature. That creature can't block this combat. Activate this ability only if Forgestoker Dragon is attacking.
Flavor Text: The Akroans fashion their helms to honor the dragons, not to protect against them, as that would be of little help.
Illus. Todd Lockwood
Rarity: Rare
Set Number: #98/165
Name: Impetuous Sunchaser
Cost: 1r
Type: Creature - Human Soldier
Pow/Tgh: 1/1
Rules Text: Flying, haste
Impetuous Sunchaser attacks each turn if able.
Flavor Text: "I will soar higher than the walls of Akros! Higher than the clouds! Higher than Heliod himself!"
Illus. Cynthia Sheppard
Rarity: Common
Set Number: #99/165
Name: Kragma Butcher
Cost: 2R
Type: Creature - Minotaur Warrior
Pow/Tgh: 2/3
Rules Text: Inspired â- Whenever Kragma Butcher becomes untapped, it gets +2/+0 until end of turn.
Flavor Text: Minotaurs go into battle hungry. The first sight of their enemies' blood sends them into a flesh-eating rage.
Illus. Daarken
Rarity: Common
Set Number: #100/165

Name: Lightning Volley
Cost: 3R
Type: Instant
Rules Text: Until end of turn, creatures you control gain "{T}: This creature deals 1 damage to target creature or player."
Flavor Text: "We are the motes of rain that join to make the thundercloud. The power of the storm god surges through us!"
Illus. John Avon
Rarity: Uncommon
Set Number: #101/165
Name: Nyxborn Rollicker
Cost: r
Type: Enchantment Creature - Satyr
Pow/Tgh: 1/1
Rules Text: Bestow {1}{R}
Enchanted creature gets +1/+1.
Illus. Seb McKinnon
Rarity: Common
Set Number: #102/165

Name: Oracle of Bones
Cost: 2rr
Type: Creature - Minotaur Shaman
Pow/Tgh: 3/1
Rules Text: Haste
Tribute 2 (As this creature enters the battlefield, an opponent of your choice may place two +1/+1 counters on it.)
When Oracle of Bones enters the battlefield, if tribute wasn't paid, you may cast an instant or sorcery card from your hand without paying its mana cost.
Illus. Greg Staples
Rarity: Rare
Set Number: #103/165

Name: Pharagax Giant
Cost: 4R
Type: Creature - Giant
Pow/Tgh: 3/3
Rules Text: Tribute 2 (As this creature enters the battlefield, an opponent of your choice may put 2 +1/+1 counter on it.)
When Pharagax Giant enters the battlefield, if tribute wasn't paid, Pharagax Giant deals 5 damage to each opponent.
Illus. Ryan Pancoast
Rarity: Common
Set Number: #104/165
Name: Pinnacle of Rage
Cost: 4RR
Type: Sorcery
Rules Text: Pinnacle of Rage deals 3 damage to each of two target creatures and/or players.
Flavor Text: Mount Sulano erupted not in magma but in anger.
Illus. Noah Bradley
Rarity: Uncommon
Set Number: #105/165
Name: Reckless Reveler
Cost: 1R
Type: Creature - Satyr
Pow/Tgh: 2/1
Rules Text: {R}, Sacrifice Reckless Reveler: Destroy target artifact.
Flavor Text: "The gods of Theros are born of the expectations and beliefs of mortals. If I have found godhood, what does that say about their true desires?"
—Xenagos, god of revels
Illus. Mike Sass
Rarity: Common
Set Number: #106/165

Name: Rise to the Challenge
Cost: 1R
Type: Instant
Rules Text: Target creature gets +2/+0 and gains first strike until end of turn.
Flavor Text: Plidius wagered that Arissa couldn't kill a chimera with her javelins alone. She proved him wrong in a way everyone could see for days to come.
Illus. Anthony Palumbo
Rarity: Common
Set Number: #107/165
Name: Satyr Firedancer
Cost: 1R
Type: Enchantment Creature — Satyr
Pow/Tgh: 1/1
Rules Text: Whenever an instant or sorcery spell you control deals damage to an opponent, Satyr Firedancer deals that much damage to target creature that player controls.
Flavor Text: His heart, the coal; his eye, the spark; his hand, the whirling flame.
Illus. Chris Rahn
Rarity: Rare
Set Number: #108/165
Name: Satyr Nyx-Smith
Cost: 2R
Type: Creature - Satyr Shaman
Pow/Tgh: 2/1
Rules Text: Haste
Inspired - Whenever Satyr Nyx-Smith becomes untapped, you may pay {2}{R}. If you do, put a 3/1 red Elemental enchantment creature token with haste onto the battlefield.
Illus. Greg Staples
Rarity: Uncommon
Set Number: #109/165
Name: Scouring Sands
Cost: 1R
Type: Sorcery
Rules Text: Scouring Sands deals 1 damage to each creature your opponents control. Scry 1.
Flavor Text: When Purphoros cleans the ashes from his forge, entire cities vanish.
Illus. Jonas De Ro
Rarity: Common
Set Number: #110/165
Name: Searing Blood
Cost: RR
Type: Instant
Rules Text: Searing Blood deals 2 damage to target creature. When that creature dies this turn, Searing Blood deals 3 damage to that creature's controller.
Flavor Text: Purphoros' blessing: sometimes a boon, sometimes a bane. Always ablaze.
Illus. Daniel Ljunggren
Rarity: Uncommon
Set Number: #111/165
Name: Thunder Brute
Cost: 4RR
Type: Creature - Cyclops
Pow/Tgh: 5/5
Rules Text: Trample
Tribute 3 (As this creature enters the battlefield, an opponent of your choice may place three +1/+1 counters on it.)
When Thunder Brute enters the battlefield, if tribute wasn't paid, it gains haste until end of turn.
Illus. Phill Simmer
Rarity: Uncommon
Set Number: #113/165

Name: Thunderous Might
Cost: 1R
Type: Enchantment - Aura
Rules Text: Enchant creature
Whenever enchanted creature attacks, it gets +X/+0 until end of turn, where X is your devotion to red.
Illus. Jaime Jones
Rarity: Uncommon
Set Number: #114/165
Name: Whims of the Fates
Cost: 5R
Type: Sorcery
Rules Text: Starting with you, each player separates all permanents he or she controls into three piles. Then each player chooses one of his or her piles at random and sacrifices those permanents. (Piles can be empty.)
Illus. Seb McKinnon
Rarity: Rare
Set Number: #115/165
Green (28/28)
Name: Archetype of Endurance
Cost: 6GG
Type: Enchantment Creature - Boar
Pow/Tgh: 6/5
Rules Text: Creatures you control have hexproof.
Creatures your opponents control lose hexproof and can't have or gain hexproof.
Flavor Text: Despite its fearsome stature, it is as elusive as a shadow, circling round to stalk those who presume to hunt it.
Illus. Slawomir Maniak
Rarity: Uncommon
Set Number: #116/165
Name: Aspect of Hydra
Cost: G
Type: Instant
Rules Text: Target creature gets +X/+X until end of turn, where X is your devotion to green.
Flavor Text: "Even alone I outnumber you."
Illus. Mark Winters
Rarity: Common
Set Number: #117/165
Name: Charging Badger
Cost: G
Type: Creature - Badger
Pow/Tgh: 1/1
Rules Text: Trample
Flavor Text: "If the hierarchies of nature were determined by ferocity alone, the badger would be lord of the beasts."
- "Anthousa of Setessa
Illus. Raoul Vitale
Rarity: Common
Set Number: #118/165

Name: Courser of Kruphix
Cost: 1gg
Type: Enchantment Creature — Centaur
Pow/Tgh: 2/4
Rules Text: Play with the top card of your library revealed.
You may play the top card of your library if it's a land card.
Whenever a land enters the battlefield under your control, you gain 1 life.
Illus. Eric Deschamps
Rarity: Rare
Set Number: #119/165

Name: Culling Mark
Cost: 2g
Type: Sorcery
Rules Text: Target creature blocks this turn if able.
Flavor Text: Hunt without Nylea's leave and you may find yourself the next quarry.
Illus. Tomasz Jedruszek
Rarity: Common
Set Number: #120/165
Name: Fated Intervention
Cost: 2GGG
Type: Instant
Rules Text: Put two 3/3 green Centaur enchantment creature tokens onto the battlefield. If it's your turn, scry 2.
Illus. Svetlin Velinov
Rarity: Rare
Set Number: #121/165
Name: Graverobber Spider
Cost: 3g
Type: Creature — Spider
Pow/Tgh: 2/4
Rules Text: Reach
{3}{B}: Graverobber Spider gets +X/+X until end of turn, where X is the number of creature cards in your graveyard. Activate this ability only once each turn.
Flavor Text: Cloaks woven from its web are durable and waterproof but said to bring on nightmares.
Illus. Richard Wright
Rarity: Uncommon
Set Number: #122/165
Name: Hero of Leina Tower
Cost: G
Type: Creature - Human Warrior
Pow/Tgh: 1/1
Rules Text: Heroic - Whenever you cast a spell that targets Hero of Leina Tower, you may pay {X}. If you do, put X +1/+1 counters on Hero of Leina Tower.
Flavor Text: "You cannot achieve greatness if its seed has not already been planted in your heart."
Illus. Aaron Miller
Rarity: Rare
Set Number: #123/165
Name: Hunter's Prowess
Cost: 4G
Type: Sorcery
Rules Text: Until end of turn, target creature gets +3/+3 and gains trample and "Whenever this creature deals combat damage to a player, draw that many cards."
Flavor Text: To be counted among the warriors of Setessa's Leina Tower, you must not fear death, only failure.
Illus. Greg Staples
Rarity: Rare
Set Number: #124/165
Name: Karametra's Favor
Cost: 1G
Type: Enchantment - Aura
Rules Text: Enchant creature
When Karametra's Favor enters the battlefield, draw a card.
Enchanted creature has "{T}: Add one mana of any color to your mana pool."
Flavor Text: The harvest god's cornucopia contains the fruit of the fields, the forest, and beyond.
Illus. Chase Stone
Rarity: Common
Set Number: #125/165

Name: Mischief and Mayhem
Cost: 4G
Type: Sorcery
Rules Text: Up to two target creatures each get +4/+4 until end of turn.
Flavor Text: "The false god Xenagos treats the whole world as his rollick site. If his whims are left unchecked, Theros will be reduced to rubble and ashes."
—Elspeth
Illus. Zack Stella
Rarity: Uncommon
Set Number: #126/165

Name: Mortal's Resolve
Cost: 1G
Type: Instant
Rules Text: Target creature gets +1/+1 and gains indestructible until end of turn.
Flavor Text: The Fates tried to cut her string but found the thread had turned to iron.
Illus. Svetlin Velinov
Rarity: Common
Set Number: #127/165
Name: Nessian Demlock
Cost: 3GG
Type: Creature - Beast
Pow/Tgh: 3/3
Rules Text: Tribute 3 (As this creature enters the battlefield, an opponent of your choice may put three +1/+1 counters on it.)
When Nessian Demlock enters the battlefield, if its tribute wasn't paid, destroy target noncreature permanent.
Illus. Daarken
Rarity: Uncommon
Set Number: #128/165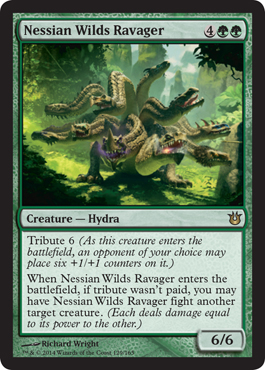 Name: Nessian Wilds Devastator
Cost: 4gg
Type: Creature - Hydra
Pow/Tgh: 6/6
Rules Text: Tribute 6 (As this creature enters the battlefield, an opponent of your choice may put 6 +1/+1 counter on it.)
When
Nessian Wilds Devastator

enters the battlefield, if its tribute wasn't paid, you may have (spelling?) fight another target creature.
Rarity: Rare
Set Number: #129/165
Name: Noble Quarry
Cost: 2G
Type: Enchantment Creature - Unicorn
Pow/Tgh: 1/1
Rules Text: Bestow {5}{G}
All creatures able to block Noble Quarry or enchanted creature do so.
Enchanted creature gets +1/+1.
Illus. Michael C. Hayes
Rarity: Uncommon
Set Number: #130/165
Name: Nyxborn Wolf
Cost: 2g
Type: Enchantment Creature - Wolf
Pow/Tgh: 3/1
Rules Text: Bestow {4}{G}
Enchanted creature gets +3/+1.
Illus. Lucas Graciano
Rarity: Common
Set Number: #131/165
Name: Peregrination
Cost: 3g
Type: Sorcery
Rules Text: Seach your library for up to two basic land cards, reveal those cards, and put one onto the battlefield tapped and the other into your hand. Shuffle your library, then scry 1.
Illus. Jonas De Ro
Rarity: Uncommon
Set Number: #132/165
Name: Pheres-Band Raiders
Cost: 5G
Type: Creature - Centaur Warrior
Pow/Tgh: 5/5
Rules Text: Inspired - Whenever Pheres-Band Raiders becomes untapped, you may pay {2}{G}. If you do, put a 3/3 green Centaur enchantment creature token onto the battlefield.
Flavor Text: "Who can deny the call to battle when it sings in our blood?"
Illus. Ryan Barger
Rarity: Uncommon
Set Number: #133/165
Name: Pheres-Band Tromper
Cost: 3G
Type: Creature - Centaur Warrior
Pow/Tgh: 3/3
Rules Text: Inspired - Whenever Pheres-Band Tromper becomes untapped, put a +1/+1 counter on it.
Flavor Text: Trompers are the most feared warriors of the Pheres Band. Anger is their lifeblood. It sustains them and gives them purpose.
Illus. Volkan Baga
Rarity: Common
Set Number: #134/165
Name: Raised by Wolves
Cost: 3gg
Type: Enchantment - Aura
Rules Text: Enchant creature
When Raised by Wolves enters the battlefield, put two 2/2 green Wolf creature tokens onto the battlefield.
Enchanted creature gets +1/+1 for each Wolf you control.
Illus. Raymond Swanland
Rarity: Uncommon
Set Number: #135/165
Name: Satyr Wayfinder
Cost: 1G
Type: Creature - Satyr
Pow/Tgh: 1/1
Rules Text: When Satyr Wayfinder enters the battlefield, reveal the top four cards of your library. You may put a land card from among them into your hand. Put the rest into your graveyard.
Flavor Text: The first satyr to wake after a revel must search for the site of the next one.
Illus. Steve Prescott
Rarity: Common
Set Number: #136/165
Name: Scourge of Skola Vale
Cost: 2G
Type: Creature — Hydra
Pow/Tgh: 0/0
Rules Text: Trample
Scourge of Skola Vale enters the battlefield with two +1/+1 counters on it.
{T}, Sacrifice another creature: Put a number of +1/+1 counters on Scourge of Skola Vale equal to the sacrificed creature's toughness.
Illus. Dave Kendall
Rarity: Rare
Set Number: #137/165
Name: Setessan Oathsworn
Cost: 1GG
Type: Creature - Satyr Warrior
Pow/Tgh: 1/1
Rules Text: Heroic — Whenever you cast a spell that targets Setessan Oathsworn, put two +1/+1 counters on Setessan Oathsworn.
Flavor Text: "Setessa is not the city of my birth, but it is the place I fight for, and the place I'm willing to die for. Does that not make it my home?"
Illus. Scott Murphy
Rarity: Common
Set Number: #138/165

Name: Setessan Starbreaker
Cost: 3G
Type: Creature - Human Warrior
Pow/Tgh: 2/1
Rules Text: When Setessa Starbreaker enters the battlefield, you may destroy target Aura.
Flavor Text: "Who says you cannot touch the stars?"
Illus. Chase Stone
Rarity: Common
Set Number: #139/165
Name: Skyreaping
Cost: 1G
Type: Sorcery
Rules Text: Skyreaping deals damage to each creature with flying equal to your devotion to green.
Illus. SebMcKinnon
Rarity: Uncommon
Set Number: #140/165
Name: Snake of the Golden Grove
Cost: 4G
Type: Creature - Snake
Pow/Tgh: 4/4
Rules Text: Tribute 3 (As this creature enters the battlefield, an opponent of your choice may place three +1/+1 counters on it.)
When Snake of the Golden Grove enters the battlefield, if tribute wasn't paid, you gain 4 life.
Flavor Text: Some fruits are best left ungathered.
Illus. Mathias Kollros
Rarity: Common
Set Number: #141/165

Name: Swordwise Centaur
Cost: GG
Type: Creature - Centaur Warrior
Pow/Tgh: 3/2
Flavor Text: The girl who would become the Champion of the Sun hacked furiously at the practice dummy. At last she stopped, breathing heavily, and looked up at her instructor. "So much anger," said the centaur. "I will teach you the ways of war, child. But first you must make peace with yourself."
—The Theriad
Illus. Slawomir Maniak
Rarity: Common
Set Number: #142/165
Name: Unravel the Aether
Cost: 1G
Type: Instant
Rules Text: Choose target artifact or enchantment. Its owner shuffles it into his or her library.
Flavor Text: Thaumaturges of Theros have learned to weave their magic into the world around them, but it can be pulled apart strand by strand.
Illus. Jung Park
Rarity: Uncommon
Set Number: #143/165
Multicolor (

13

/13)
Name: Chromanticore
Cost: WUBRG
Type: Enchantment Creature — Manticore
Pow/Tgh: 4/4
Rules Text: Bestow {2}{W}{U}{B}{R}{G}
Flying, first strike, vigilance, trample, lifelink
Enchanted creature gets +4/+4 and has flying, first strike, vigilance, trample and lifelink.
Illus. Min Yum
Rarity: Mythic Rare
Set Number: #144/165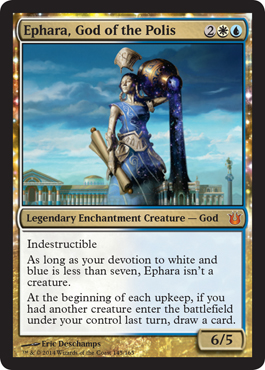 Name: Ephara, God of the Polis
Cost: 2WU
Type: Legendary Enchantment Creture - God
Pow/Tgh: 6/5
Rules Text: Indestructible
As long as your devotion to white and blue is less than seven, Ephara isn't a creature.
At the beginning of each upkeep, if you had another creature enter the battlefield under your control last turn, draw a card.
Illus. Eric Deschamps
Rarity: Mythic Rare
Set Number: #145/16
Name: Ephara's Enlightenment
Cost: 1WU
Type: Enchantment - Aura
Rules Text: Enchant creature
When Ephara's Enlightenment enters the battlefield, put a +1/+1 counter on enchanted creature.
Enchanted creature has flying.
Whenever a creature enters the battlefield under your control, you may return Ephara's Enlightenment to its owner's hand.
Illus. Wesley Burt
Rarity: Uncommon
Set Number: #146/165

Name: Fanatic of Xenagos
Cost: 1rg
Type: Creature - Centaur Warrior
Pow/Tgh: 3/3
Rules Text: Trample
Tribute 1 (As this creature enters the battlefield, an opponent of your choice may put a +1/+1 counter on it.)
When Fanatic of Xenagos enters the battlefield, if its tribute wasn't paid, it gets +1/+1 and gains haste until end of turn.
Illus. Volkan Baga
Rarity: Uncommon
Set Number: #147/165
Name: Karametra, God of Harvests
Cost: 3GW
Type: Legendary Enchantment Creature - God
Pow/Tgh: 6/7
Rules Text: Indestructible
As long as your devotion to green and white is less than seven, Karametra isn't a creature.
Whenever you cast a creature spell, you may search your library for a Forest or Plains card, put it onto the battlefield tapped, then shuffle your library.
Illus. Eric Deschamps
Rarity: Mythic Rare
Set Number: #148/165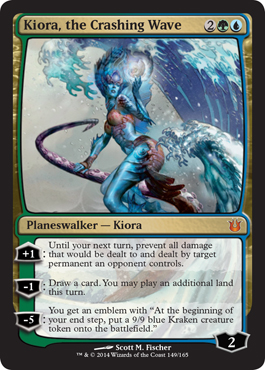 M
ame: Kiora, the Crashing Wave
Cost: 2GU
Type: Planeswalker - Kiora
Pow/Tgh: 2
Rules Text: +1: Until your next turn, prevent all damage that would be dealt to and dealt by target permanent an opponent controls.
-1: Draw a card. You may play an additional land this turn.
-5: You get an emblem with "At the beginning of your end step, put a 9/9 blue Kraken creature token onto the battlefield."
Illus. Scott M. Fischer
Rarity: Mythic Rare
Set Number: #149/165
Name: Kiora's Follower
Cost: GU
Type: Creature - Merfolk
Pow/Tgh: 2/2
Rules Text: {T}: Untap another target permanent.
Flavor Text: "She may call herself Kiora but I believe she is Thassa, the embodiment of the sea and empress of the depths."
Illus. Eric Deschamps
Rarity: Uncommon
Set Number: #150/165

Name: Mogis, God of Slaughter
Cost: 2BR
Type: Legendary Enchantment Creature — God
Pow/Tgh: 7/5
Rules Text: Indestructible
As long as your devotion to black and red is less than seven, Mogis isn't a creature.
At the beginning of each opponent's upkeep, Mogis deals 2 damage to that player unless he or she sacrifices a creature.
Illus. Peter Mohrbacher
Rarity: Mythic Rare
Set Number: #151/165
Name: Phenax, God of Deception
Cost: 3ub
Type: Legendary Enchantment Creature - God
Pow/Tgh: 4/7
Rules Text: Indestructible
As long as your devotion to blue and black is less than seven, Phenax isn't a creature.
Creatures you control have "{T}: Target player puts the top X cards of his or her library into his or her graveyard, where X is this creature's toughness."
Illus. Ryan Barger
Rarity: Mythic Rare
Set Number: #152/165

Name: Ragemonger
Cost: 1BR
Type: Creature - Minotaur Shaman
Pow/Tgh: 2/3
Rules Text: Minotaur spells you cast cost {B}{R} less to cast. This effect reduces only the amount of colored mana you pay. (For example, if you cast a Minotaur spell with mana cost {2}{R}, it costs {2} to cast.)
Illus. Karl Kopinski
Rarity: Uncommon
Set Number: #153/165
Name: Reap What Is Sown
Cost: 1gw
Type: Instant
Rules Text: Put a +1/+1 counter on each of up to three target creatures.
Flavor Text: The strength of the people comes from the land. And the bounty of the land comes from Karametra.
Illus. Cynthia Sheppard
Rarity: Uncommon
Set Number: #154/165
Name: Siren of Silent Song
Cost: 1UB
Type: Creature — Zombie Siren
Pow/Tgh: 2/1
Rules Text: Flying
Inspired — Whenever Siren of Silent Song becomes untapped, each opponent discards a card and puts the top card of his or her library into his or her graveyard.
Illus. Anthony Palumbo
Rarity: Uncommon
Set Number: #155/165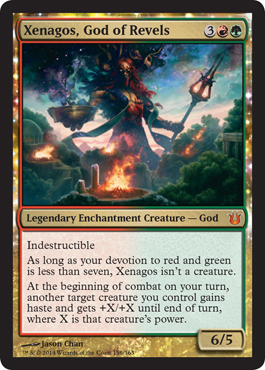 Name: Xenagos, God of Revels
Cost: 3rg
Type: Legendary Enchantment Creature - God
Pow/Tgh: 6/5
Rules Text: Indestructible
As long as your devotion to red and green is less than seven, Xenagos isn't a creature.
At the beginning of combat on your turn, another target creature you control gains haste and gets +X/+X until end of turn, where X is that creature's power.
Illus. Jason Chan
Rarity: Mythic Rare
Set Number: #156/165
Artifact (

6/6

)
Name: Astral Cornucopia
Cost: XXX
Type: Artifact
Rules Text: Astral Cornucopia enters the battlefield with X charge counters on it.
{T}: Choose a color. Add one mana of that color to your mana pool for each charge counter on Astral Cornucopia.
Illus. Aleksi Briclot
Rarity: Rare
Set Number: #157/165
Name: Gorgon's Head
Cost: 1
Type: Artifact - Equipment
Rules Text: Equipped creature has deathtouch.
Equip {2}
Flavor Text: "You slew the gorgon? Show me."
—King Igalus, last words
Illus. Michael C. Hayes
Rarity: Uncommon
Set Number: #158/165
Name: Heroes' Podium
Cost: 5
Type: Legendary Artifact
Rules Text: Each legendary creature you control gets +1/+1 for each other legendary creature you control.
{X}, {T}: Look at the top X cards of your library. You may reveal a legendary creature card from among them and put it into your hand. Put the rest on the bottom of your library in a random order.
Illus. Willian Murai
Rarity: Rare
Set Number: #159/165
Name: Pillar of War
Cost: 3
Type: Artifact Creature

-

Golem
Pow/Tgh: 3/3
Rules Text: Defender
As long as Pillar of War is enchanted, it can attack as though it didn't have defender.
Flavor Text: Just because a temple has no guards doesn't mean it's undefended.
Illus. Aleksi Briclot
Rarity: Uncommon
Set Number: #160/165

Name: Siren Song Lyre
Cost: 2
Type: Artifact - Equipment
Rules Text: Equipped creature has "{2}, {T}: Tap target creature."
Equip {2}
Flavor Text: A siren once tried to steal it out of jealousy but was caught by the song of its strings.
Illus. James Paick
Rarity: Uncommon
Set Number: #161/165
Name: Springleaf Drum
Cost: 1
Type: Artifact
Rules Text: {t}, Tap an untapped creature you control: Add one mana of any color to your mana pool.
Flavor Text: "The music is in the drum. I simply coax it out to be heard."
Illus. Seb McKinnon
Rarity: Uncommon
Set Number: #162/165
Land (3/3)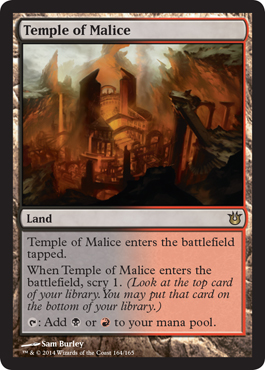 Name: Temple of Enlightenment
Type: Land
Rules Text: Temple of Enlightenment enters the battlefield tapped.
When Temple of Enlightenment enters the battlefield, scry 1.
{T}: Add {W} or {U} to your mana pool.
Illus. Svetlin Velinov
Rarity: Rare
Set Number: #163/165

Name: Temple of Malice
Type: Land
Rules Text: Temple of Malice enters the battlefield tapped.
When Temple of Malice enters the battlefield, scry 1.
{T}: Add {B} or {R} to your mana pool.
Illus. Sam Burley
Rarity: Rare
Set Number: #164/165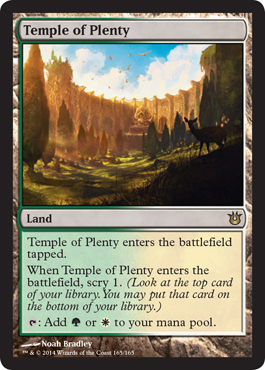 Name: Temple of Plenty
Type: Land
Rules Text: Temple of Plenty enters the battlefield tapped.
When Temple of Plenty enters the battlefield, scry 1.
{T}: Add {G} or {W} to your mana pool.
Illus. Noah Bradley
Rarity: Rare
Set Number: #165/165
~