~
Happy Wednesday MTG peeps,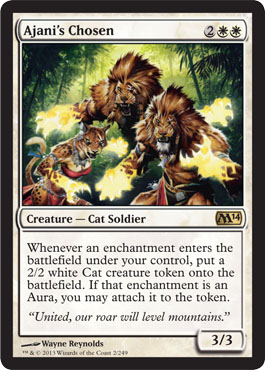 We've just updated our Magic 2014 core set spoiler list page which now sits at 153 of 249 cards now revealed. One such card which got our attention is Ajani's Chosen, we don't know why we love janky cards like this but we do know we're definitely getting a few copies from MTG Mint Card for our EDH / Commander Enchantress build as well as a derpy 'n' fun

stack for our kitchen table.
Any

whoos -

We had wanted to get out a daily post yesterday but got distracted. So here's our Tumblr Tuesday post now presented for you on Wednesday. This is a collection of MTG randomness from our sister site, MTG Realm on Tumblr.
~
Magic: the Gathering -
Planeswalker Points
Readers may note that I've dropped the PWP score card into the margin of my
Tumblr MTG Realm
page. I've done this as a reminder to myself to get out of my basement lair to my local Friday Night Magic event. Planeswalker Points has been given a minor facelift by Wizards just recently and you can read about it
here
.
What is Planeswalker Points?
Planeswalker Points is the program where Magic players earn points by playing in sanctioned Magic events. These points rank you against your friends and Magic players around the world.
~
~
~
Magic: the Gathering - Top Decking
~
~