~
Happy Monday MTG peeps,
Magic: the Gathering players who love the Modern format will be rather happy today to know that the full Modern Masters list has now been previewed. This special MTG set contains a total of 229 cards (101 commons, 60 uncommons, 53 rares and 15 mythic rares) and will be hitting your local gaming store this Friday (7th June, 2013). This set contains cards from

Eighth

Edition to Alara Reborn and contains many notable cards from MTG's recent past perfect for Modern format. We'll be sure to draft with this set at our local shop, OMG! Games as well as picking up singles from MTG Mint Card to finish off some Modern builds we have on our back burner. Anywhoos

- here's the list from the mothersite.
~
Modern Masters Spoiler 229/229
White (35)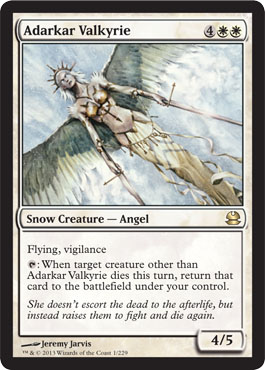 Name: Adarkar Valkyrie
Cost: 4WW
Type: Snow Creature Angel
Pow/Tgh: 4/5
Rules Text: Flying, vigilance
{T}: When target creature other than Adarkar Valkyrie dies this turn, return that card to the battlefield under your control.
Rarity: Rare
Set Number: #1/229

Name: Amrou Scout
Cost: 1w
Type: Creature Kithkin Rebel Scout
Pow/Tgh: 2/1
Rules Text: {4}, {t}: Search your library for a Rebel permanent card with converted mana cost 3 or less and put it onto the battlefield. Then shuffle your library.
Flavor Text: The people of Amrou were scattered by war and driven into hiding. Scouts maintain the beacon fires that signal "return" and "home"
Illus. Quinton Hoover
Rarity: Common
Set Number: #2/229

Name: Amrou Seekers
Cost: 2W
Type: Creature Kithkin Rebel
Pow/Tgh: 2/2
Rules Text: Amrou Seekers can't be blocked except by artifact creatures and/or white creatures.
Rarity: Common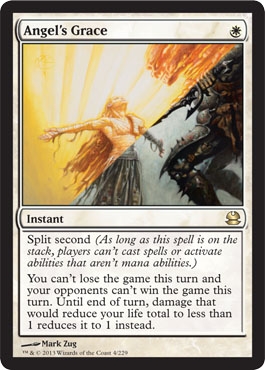 Name: Angel's Grace
Cost: W
Type: Instant
Rules Text: Split second
You can't lose the game this turn and your opponents can't win the game this turn. Until end of turn, damage that would reduce your life total to less than 1 reduces it to 1 instead.
Rarity: Rare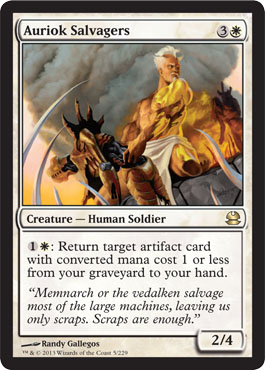 Name: Auriok Salvagers
Cost: 3W
Type: Creature Human Soldier
Pow/Tgh: 2/4
Rules Text: {1}{W}: Return target artifact card with converted mana cost 1 or less from your graveyard to your hand.
Flavor Text: "Memnarch or the vedalken salvage most of the large machines, leaving us only scraps. Scraps are enough."
Illus. Randy Gallegos
Rarity: Rare
Set Number: #5/229

Name: Avian Changeling
Cost: 2w
Type: Creature Shapeshifter
Pow/Tgh: 2/2
Rules Text: Changeling
Flying
Flavor Text: Today it flies with the flock. Tomorrow it may wake to find them gone, its body in an unfamiliar form.
Illus. Heather Hudson
Rarity: Common
Set Number: #6/229

Name: Blinding Beam
Cost: 2w
Type: Instant
Rules Text: Choose one - Tap two target creatures; or creatures don't untap during target player's next untap step.
Entwine {1}
Illus. Doug Chaffee
Rarity: Common

Name: Bound in Silence
Cost: 2w
Type: Tribal Enchantment - Rebel Aura
Rules Text: Enchant creature
Enchanted creature can't attack or block.
Flavor Text: A fight put off forever is already won.
Illus. William Simpson
Rarity: Common

Name: Cenn's Enlistment
Cost: 3w
Type: Sorcery
Rules Text: Put two 1/1 white Kithkin Soldier creature tokens onto the battlfield.
Retrace
Flavor Text: The more the scarier.
Illus. Matt Cavotta
Rarity: Common

Name: Cloudgoat Ranger
Cost: 3WW
Type: Creature Giant Warrior
Pow/Tgh: 3/3
Rules Text: When Cloudgoat Ranger enters the battlefield, put three 1/1 white Kithkin Soldier creature tokens onto the battlefield.
Tap three untapped Kithkin you control: Cloudgoat Ranger gets +2/+0 and gains flying until end of turn.
Illus. Adam Rex
Rarity: Uncommon
Set Number: #10/229

Name: Court Homunculus
Cost: {W}
Type: Artifact Creature Homunculus
Pow/Tgh: 1/1
Rules Text: Court Homunculus gets +1/+1 as long as you control another artifact.
Rarity: Common

Name: Dispeller's Capsule
Cost: {W}
Type: Artifact
Rules Text: {2}{W},{T}, Sacrifice Dispeller's Capsule: Destroy target artifact or enchantment.
Rarity: Common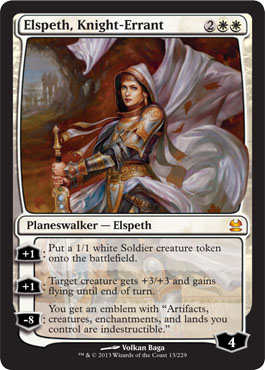 Name: Elspeth, Knight Errant
Cost: 2{W}{W}
Type: Planeswalker Elspeth
Pow/Tgh: 4
Rules Text: +1: Put a 1/1 white Soldier creature token onto the battlefield.
+1: Target creature gets +3/+3 and gains flying until end of turn.
-8: You get an emblem with "Artifacts, creatures, enchantments, and lands you control are indestructible."
Rarity: Mythic Rare
Set Number: #13/229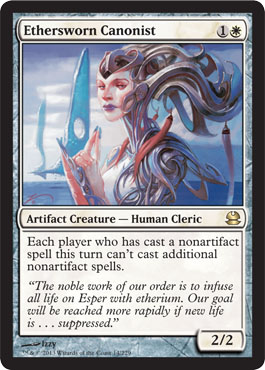 Name: Ethersworn Canonist
Cost: 1W
Type: Artifact Creature Human Cleric
Pow/Tgh: 2/2
Rules Text: Each player who has cast a nonartifact spell this turn can't cast additional nonartifact spells.
Rarity: Rare
Set Number: #14/229

Name: Feudkiller's Verdict
Cost: 4WW
Type: Tribal Sorcery Giant
Rules Text: You gain 10 life. Then if you have more life than an opponent, put a 5/5 white Giant Warrior creature token onto the battlefield.
Flavor Text: "There are all kinds of strengths, but if you have strength of soul, the others will follow."
Galanda Feudkiller
Illus. Dan Scott
Rarity: Uncommon
Set Number: #15/229

Name: Flickerwisp
Cost: 1WW
Type: Creature Elemental
Pow/Tgh: 3/1
Rules Text: Flying
When Flickerwisp enters the battlefield, exile another target permanent. Return that card to the battlefield under its owner's control at the beginning of the next end step.
Rarity: Uncommon

Name: Gleam of Resistance
Cost: 4w
Type: Instant
Rules Text: Creatures you control get +1/+2 until end of turn. Untap those creatures.
Basic landcycling {1}{w}
Illus. Matt Stewart
Rarity: Common

Name: Hillcomber Giant
Cost: 2WW
Type: Creature Giant Scout
Pow/Tgh: 3/3
Rules Text: Mountainwalk
Rarity: Common

Name: Ivory Giant
Cost: 5ww
Type: Creature - Giant
Pow/Tgh: 3/4
Rules Text: When Ivory Giant enters the battlefield, tap all nonwhite creatures.
Suspend 5-{w}
Illus. Zack Stella
Rarity: Common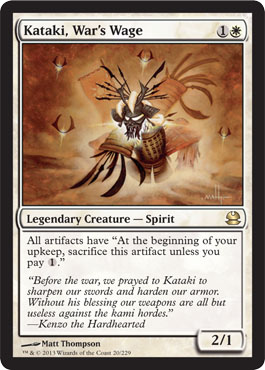 Name: Kataki, War's Wage
Cost: 1{W}
Type: Legendary Creature Spirit
Pow/Tgh: 2/1
Rules Text: All artifacts have "At the beginning of your upkeep, sacrifice this artifact unless you pay {1}."
Rarity: Rare

Name: Kithkin Greatheart
Cost: 1W
Type: Creature Kithkin Soldier
Pow/Tgh: 2/1
Rules Text: As long as you control a Giant, Kithkin Greatheart gets +1/+1 and has first strike.
Flavor Text: Sometimes a curious giant singles out a "little one" to follow for a few days, never realizing the effect it will have on the little one's life.
Illus. Greg Staples
Rarity: Common
Set Number: #21/229

Name: Meadowboon
Cost: 2WW
Type: Creature Elemental
Pow/Tgh: 3/3
Rules Text: When Meadowboon leaves the battlefield, put a +1/+1 counter on each creature target player controls.
Evoke {3}{W}
Rarity: Uncommon

Name: Otherworldly Journey
Cost: 1w
Type: Instant - Arcane
Rules Text: Exile target creature. At the beginning of the next end step, return that card to the battlefield under its owner's control with a +1/+1 counter on it.
Flavor Text: "The landscape shimmered and I felt a chill breeze. When my vision cleared, I found myself alone among the corpses of my fallen friends."
-Journal found in Numai
Illus. Vance Kovacs
Rarity: Common

Name: Pallid Mycoderm
Cost: 3w
Type: Creature - Fungus
Pow/Tgh: 2/4
Rules Text: At the beginning of your upkeep, put a spore counter on Pallid Mycoderm.
Remove three spore counters from Pallid Mycoderm: Put a 1/1 green Saproling creature token onto the battlefield.
Sacrifice a Saproling: Each creature you control that's a Fungus or a Saproling gets +1/+1 until end of turn.
Illus. Jim Nelson
Rarity: Common

Name: Path to Exile
Cost: {W}
Type: Instant
Rules Text: Exile target creature. Its controller may search his or her library for a basic land card, put that card onto the battlefield tapped, then shuffle his or her library.
Rarity: Uncommon
Set Number: #25/229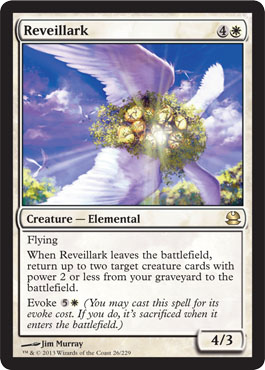 Name: Reveillark
Cost: 4W
Type: Creature Elemental
Pow/Tgh: 4/3
Rules Text: Flying
When Reveillark leaves the battlefield, return up to two target creature cards with power 2 or less from your graveyard to the battlefield.
Evoke {5}{W}
Rarity: Rare
Set Number: #26/229

Name: Saltfield Recluse
Cost: 2{W}
Type: Creature Human Rebel Cleric
Pow/Tgh: 1/2
Rules Text: {t}: Target creature gets -2/-0 until end of turn.
Rarity: Common

Name: Sanctum Gargoyle
Cost: 3W
Type: Artifact Creature Gargoyle
Pow/Tgh: 2/3
Rules Text: Flying
When Sanctum Gargoyle enters the battlefield, you may return target artifact card from your graveyard to your hand.
Flavor Text: As their supplies of etherium dwindled, mechanists sent gargoyles farther and farther afield in search of salvage.
Illus. Shelley Wan
Rarity: Common
Set Number: #28/229

Name: Sandsower
Cost: 3W
Type: Creature Spirit
Pow/Tgh: 1/3
Rules Text: Tap three untapped creatures you control: Tap target creature.
Rarity: Uncommon

Name: Stir the Pride
Cost: 4w
Type: Instant
Rules Text: Choose one Creatures you control get +2/+2 until end of turn; or until end of turn, creatures you control gain "Whenever this creature deals damage, you gain that much life."
Entwine {1}{w}
Illus. Matt Cavotta
Rarity: Uncommon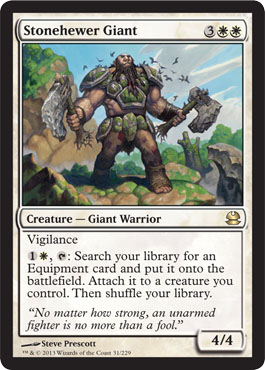 Name: Stonehewer Giant
Cost: 3ww
Type: Creature Giant Warrior
Pow/Tgh: 4/4
Rules Text: Vigilance
{1}{W}, {T}: Search your library for an Equipment card and put it onto the battlefield. Attach it to a creature you control. Then shuffle your library.
Rarity: Rare

Name: Terashi's Grasp
Cost: 2W
Type: Sorcery Arcande
Rules Text: Destroy target artifact or enchantment. You gain life equal to its converted mana cost.
Rarity: Uncommon

Name: Test of Faith
Cost: 1w
Type: Instant
Rules Text: Prevent the next 3 damage that would be dealt to target creature this turn, and put a +1/+1 counter on that creature for each 1 damage prevented this way.
Flavor Text: Those who survive the test bear a mark of power anyone can recognize.
Illus. Vance Kovacs
Rarity: Common

Name: Veteran Armorer
Cost: 1W
Type: Creature Human Soldier
Pow/Tgh: 2/2
Rules Text: Other creatures you control get +0/+1.
Rarity: Common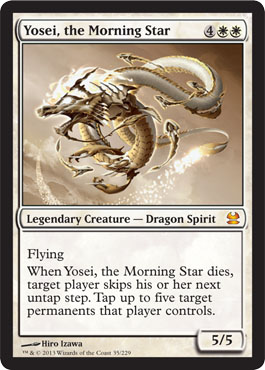 Name: Yosei, the Morning Star
Cost: 4ww
Type: Legendary Creature Dragon Spirit
Pow/Tgh: 5/5
Rules Text: Flying
When Yosei, the Morning Star dies, target player skips his or her next untap step. Tap up to five target permanents that player controls.
Illus. Hiro Izawa
Rarity: Mythic Rare



Blue (35)


Name: Aethersnipe
Cost: 5{U}
Type: Creature Elemental
Pow/Tgh: 4/4
Rules Text: When Æthersnipe enters the battlefield, return target nonland permanent to its owner's hand.
Evoke {1}{U}{U}
Illus. Zoltan Boros & Gabor Szikszai
Rarity: Common
Set Number: #36/229

Name: Careful Consideration
Cost: 2UU
Type: Instant
Rules Text: Target player draws four cards, then discards three cards. If you cast this spell during your main phase, instead that player draws four cards, then discards two cards.
Rarity: Uncommon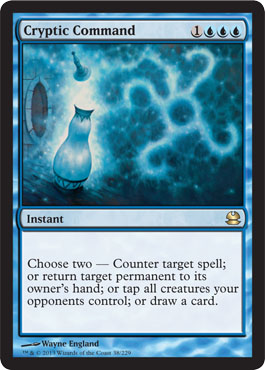 Name: Cryptic Command
Cost: 1uuu
Type: Instant
Rules Text: Choose two Counter target spell; or return target permanent to its owner's hand; or tap all creatures your opponents control; or draw a card.
Rarity: Rare

Name: Dampen Thought
Cost: 1u
Type: Instant Arcane
Rules Text: Target player puts the top four cards of his or her library into his or her graveyard.
Splice onto Arcane {1}{U}
Illus. Arnie Swekel
Rarity: Common
Set Number: #39/229

Name: Echoing Truth
Cost: 1{u}
Type: Instant
Rules Text: Return target nonland permanent and all other permanents with the same name as that permanent to their owners' hands.
Rarity: Common

Name: Errant Ephemeron
Cost: 6u
Type: Creature - Illusion
Pow/Tgh: 4/4
Rules Text: Flying
Suspend 4-{1}{u}
Illus. Luca Zontini
Rarity: Common

Name: Erratic Mutation
Cost: 2U
Type: Instant
Rules Text: Choose target creature. Reveal cards from the top of your library until you reveal a nonland card. That creature gets +X/-X until end of turn, where X is that card's converted mana cost. Put all cards revealed this way on the bottom of your library in any order.
Rarity: Common

Name: Esperzoa
Cost: 2U
Type: Artifact Creature Jellyfish
Pow/Tgh: 4/3
Rules Text: Flying
At the beginning of your upkeep, return an artifact you control to its owner's hand.
Rarity: Uncommon

Name: Etherium Sculptor
Cost: 1U
Type: Artifact Creature Vedalken Artificer
Pow/Tgh: 1/2
Rules Text: Artifact spells you cast cost {1} less to cast.
Flavor Text: The greatest masters of the craft abandon tools altogether, shaping metal with hand and mind alone.
Illus. Steven Belledin
Rarity: Common

Name: Faerie Mechanist
Cost: 3u
Type: Artifact Creature Faerie Artificer
Pow/Tgh: 2/2
Rules Text: Flying
When Faerie Mechanist enters the battlefield, look at the top three cards of your library. You may reveal an artifact card from among them and put it into your hand. Put the rest on the bottom of your library in any order.
Illus. Matt Cavotta
Rarity: Common
Set Number: #45/229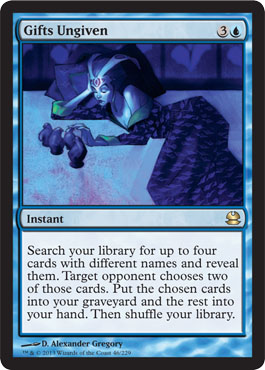 Name: Gifts Ungiven
Cost: 3u
Type: Instant
Rules Text: Search your library for up to four cards with different names and reveal them. Target opponent chooses two of those cards. Put the chosen cards into your graveyard and the rest into your hand. Then shuffle your library.
Rarity: Rare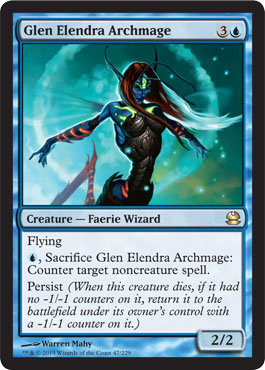 Name: Glen Elendra Archmage
Cost: 3{U}
Type: Creature Faerie Wizard
Pow/Tgh: 2/2
Rules Text: Flying
{U}, Sacrifice Glen Elendra Archmage: Counter target noncreature spell.
Persist
Illus. Warren Mahy
Rarity: Rare
Set Number: #47/229

Name: Keiga, the Tide Star
Cost: 5U
Type: Legendary Creature Dragon Spirit
Pow/Tgh: 5/5
Rules Text: Flying
When Keiga, the Tide Star dies, gain control of target creature.
Illus. Ittoku
Rarity: Mythic Rare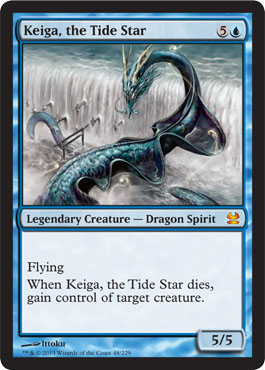 Name: Kira, Great Glass-Spinner
Cost: 1uu
Type: Legendary Creature Spirit
Pow/Tgh: 2/2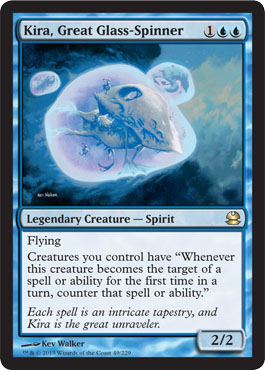 Rules Text: Flying
Creatures you control have "Whenever this creature becomes the target of a spell or ability for the first time in a turn, counter that spell or ability."
Rarity: Rare

Name: Latchkey Faerie
Cost: 3U
Type: Creature Faerie Rogue
Pow/Tgh: 3/1
Rules Text: Flying
Prowl {2}{U}
When Latchkey Faerie enters the battlefield, if its prowl cost was paid, draw a card.
Illus. Warren Mahy
Rarity: Common
Set Number: #50/229

Name: Logic Knot
Cost: {X}{U}{U}
Type: Instant
Rules Text: Delve (You may exile any number of cards from your graveyard as you cast this spell. It costs less to cast for each card exiled this way.)
Counter target spell unless its controller pays {X}.
Rarity: Common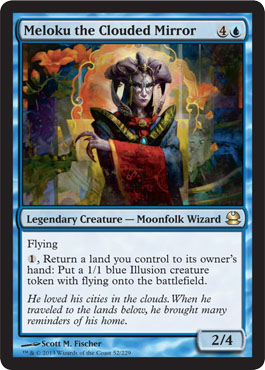 Name: Meloku the Clouded Mirror
Cost: 4u
Type: Legendary Creature Moonfolk Wizard
Pow/Tgh: 2/4
Rules Text: Flying
{1}, Return a land you control to its owner's hand: Put a 1/1 blue Illusion creature token with flying onto the battlefield.
Rarity: Rare

Name: Mothdust Changeling
Cost: u
Type: Creature - Shapeshifter
Pow/Tgh: 1/1
Rules Text: Changeling
Tap an untapped creature you control: Mothdust Changeling gains flying until end of turn.
Flavor Text: "Ever seen a changeling fly into a lantern?"
-Calydd, kithkin farmer
Illus. Shelly Wan
Rarity: Common

Name: Mulldrifter
Cost: 4{U}
Type: Creature Elemental
Pow/Tgh: 2/2
Rules Text: Flying
When Mulldrifter enters the battlefield, draw two cards.
Evoke {2}{U}
Illus. Eric Fortune
Rarity: Uncommon
Set Number: #54/229

Name: Narcomoeba
Cost: 1{U}
Type: Creature Illusion
Pow/Tgh: 1/1
Rules Text: Flying
When Narcomoeba is put into your graveyard from your library, you may put it onto the battlefield.
Rarity: Uncommon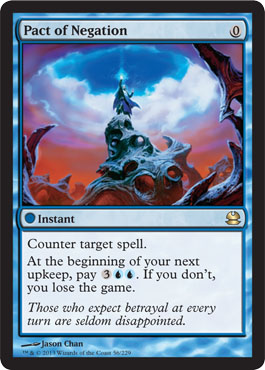 Name: Pact of Negation
Cost: 0
Type: Instant
Rules Text: Counter target spell.
At the beginning of your next upkeep, pay {3}{U}{U}. If you don't, you lose the game.
Rarity: Rare

Name: Peer Through Depths
Cost: 1u
Type: Instant - Arcane
Rules Text: Look at the top five cards of your library. You may reveal an instant or sorcery card from among them and put it into your hand. Put the rest on the bottom of your library in any order.
Illus. Anthony S. Waters
Rarity: Common

Name: Perilous Research
Cost: 1u
Type: Instant
Rules Text: Draw two cards, then sacrifice a permanent.
Flavor Text: When the School of the Unseen fell, so many magical treasures lay abandoned that no amount of death could deter the stream of thieves and desperate scholars.
Illus. Donato Giancola
Rarity: Common
Set Number: #58/229

Name: Pestermite
Cost: 2{U}
Type: Creature Faerie Rogue
Pow/Tgh: 2/1
Rules Text: Flash
Flying
When Pestermite enters the battlefield, you may tap or untap target permanent.
Rarity: Common

Name: Petals of Insight
Cost: 4{U}
Type: Sorcery Arcane
Rules Text: Look at the top three cards of your library. You may put those cards on the bottom of your library in any order. If you do, return Petals of Insight to its owner's hand. Otherwise, draw three cards.
Illus. Anthony S. Waters
Rarity: Common
Set Number: #60/229

Name: Reach Through Mists
Cost: U
Type: Instant Arcane
Rules Text: Draw a card.
Rarity: Common

Name: Riftwing Cloudskate
Cost: 3uu
Type: Creature - Illusion
Pow/Tgh: 2/2
Rules Text: Flying
When Riftwing Cloudskate enters the battlefield, return target permanent to its owner's hand.
Suspend 3-{1}{U}
Illus. Carl Critchlow
Rarity: Uncommon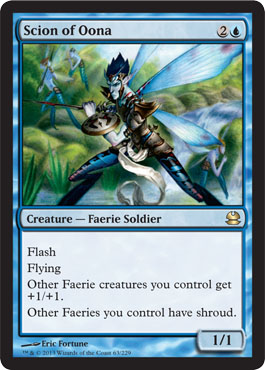 Name: Scion of Oona
Cost: 2u
Type: Creature Faerie Soldier
Pow/Tgh: 1/1
Rules Text: Flash
Flying
Other Faerie creatures you control get +1/+1.
Other Faeries you control have shroud.
Rarity: Rare

Name: Spell Snare
Cost: U
Type: Instant
Rules Text: Counter target spell with converted mana cost 2.
Rarity: Uncommon

Name: Spellstutter Sprite
Cost: 1{U}
Type: Creature Faerie Wizard
Pow/Tgh: 1/1
Rules Text: Flash
Flying
When Spellstutter Sprite enters the battlefield, counter target spell with converted mana cost X or less, where X is the number of Faeries you control.
Rarity: Common

Name: Take Possession
Cost: 5UU
Type: Enchantment Aura
Rules Text: Split second
Enchant permanent
You control enchanted permanent.
Rarity: Uncommon

Name: Thirst for Knowledge
Cost: 2U
Type: Instant
Rules Text: Draw three cards. Then discard two cards unless you discard an artifact card.
Rarity: Uncommon

Name: Traumatic Visions
Cost: 3uu
Type: Instant
Rules Text: Counter target spell.
Basic landcycling {1}{u}
Illus. Cyril Van Der Haegen
Rarity: Common

Name: Vedalken Dismisser
Cost: 5u
Type: Creature - Vedalken Wizard
Pow/Tgh: 2/2
Rules Text: When Vedalken Dismisser enters the battlefield, put target creature on top of its owner's library.
Flavor Text: "I crept up on him, quiet as a guttermouse. And then suddenly, I found myself facedown in a latrine pit behind Tin Street Market."
-Sirislav, Dimir spy
Illus. Dan Scott
Rarity: Common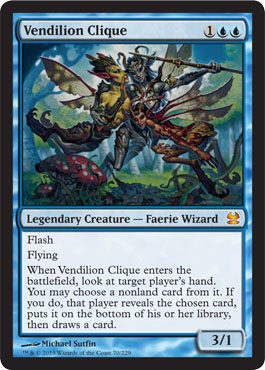 Name: Vendilion Clique
Cost: 1uu
Type: Legendary Creature Faerie Wizard
Pow/Tgh: 3/1
Rules Text: Flash
Flying
When Vendilion Clique enters the battlefield, look at target player's hand. You may choose a nonland card from it. If you do, that player reveals the chosen card, puts it on the bottom of his or her library, then draws a card.
Illus. Michael Sutfin
Rarity: Mythic Rare



Black (34)


Name: Absorb Vis
Cost: 6b
Type: Sorcery
Rules Text: Target player loses 4 life and you gain 4 life.
Basic landcycling {1}{b}
Illus. Brandon kitkowski
Rarity: Common

Name: Auntie's Snitch
Cost: 2b
Type: Creature - Goblin Rogue
Pow/Tgh: 3/1
Rules Text: Auntie's Snitch can't block.
Prowl {1}{b}
Whenever a Goblin or Rogue you control deals combat damage to a player, if Auntie's Snitch is in your graveyard, you may return Auntie's Snitch to your hand.
Illus. Warren Mahy
Rarity: Uncommon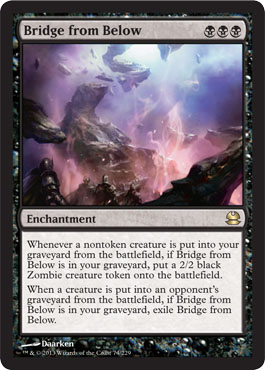 Name: Bridge from Below
Cost: BBB
Type: Enchantment
Rules Text: Whenever a nontoken creature is put into your graveyard from the battlefield, if Bridge from Below is in your graveyard, put a 2/2 black Zombie creature token onto the battlefield.
When a creature is put into an opponent's graveyard from the battlefield, if Bridge from Below is in your graveyard, exile Bridge from Below.
Illus. Daarken
Rarity: Rare
Set Number: #74/229

Name: Blightspeaker
Cost: 1b
Type: Creature Human Rebel Cleric
Pow/Tgh: 1/1
Rules Text: {t}: Target player loses 1 life.
{4}, {t}: Search your library for a Rebel permanent card with converted mana cost 3 or less and put it onto the battlefield. Then shuffle your library.
Flavor Text: One croaked sermon spreads propaganda and plague.
Illus. Ron Spears
Rarity: Common
Set Number: #74/229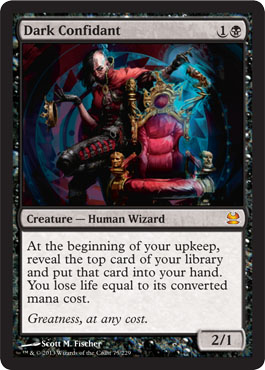 Name: Dark Confidant
Cost: 1{B}
Type: Creature Human Wizard
Pow/Tgh: 2/1
Rules Text: At the beginning of your upkeep, reveal the top card of your library and put that card into your hand. You lose life equal to its converted mana cost.
Flavor Text: Greatness, at any cost.
Illus. Scott M. Fisher
Rarity: Mythic Rare
Set Number: #74/229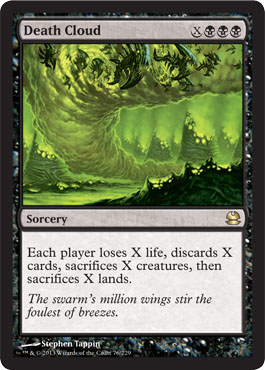 Name: Death Cloud
Cost: xbbb
Type: Sorcery
Rules Text: Each player loses X life, discards X cards, sacrifices X creatures, then sacrifices X lands.
Rarity: Rare

Name: Death Denied
Cost: xbb
Type: Instant - Arcane
Rules Text: Return X target creature cards from your graveyard to your hand.
Flavor Text: Takenuma was filled with a chorus of moans, shrieks, and wails. Some came from the living, some from the dying, and some, most horribly, from the dead.
Illus. James Paick
Rarity: Common

Name: Death Rattle
Cost: 5B
Type: Instant
Rules Text: Delve
Destroy target nongreen creature. It can't be regenerated.
Rarity: Uncommon

Name: Deepcavern Imp
Cost: 2{B}
Type: Creature Imp Rebel
Pow/Tgh: 2/2
Rules Text: Flying, haste
EchoDiscard a card. (At the beginning of your upkeep, if this came under your control since the beginning of your last upkeep, sacrifice it unless you pay its echo cost.)
Rarity: Common

Name: Drag Down
Cost: 2b
Type: Instant
Rules Text: Domain - Target creature gets -1/-1 until end of turn for each basic land type among lands you control.
Flavor Text: The barbarians of Jund believe the bottomless tar pits extend forever into other, darker worlds.
Illus. Trevor Claxton
Rarity: Common

Name: Dreamspoiler Witches
Cost: 3b
Type: Creature Faerie Wizard
Pow/Tgh: 2/2
Rules Text: Flying
Whenever you cast a spell during an opponent's turn, you may have target creature get -1/-1 until end of turn.
Flavor Text: At night, the faeries steal dreamstuff for their queen. At daybreak, countless creatures wake weak and hollow.
Illus. Jeff Easley
Rarity: Common
Set Number: #81/229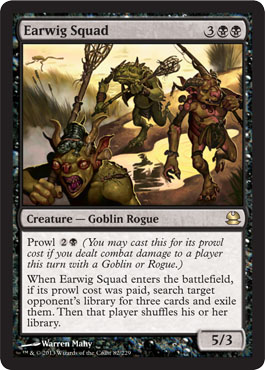 Name: Earwig Squad
Cost: 3BB
Type: Creature Goblin Rogue
Pow/Tgh: 5/3
Rules Text: Prowl {2}{B}
When Earwig Squad enters the battlefield, if its prowl cost was paid, search target opponent's library for three cards and exile them. Then that player shuffles his or her library.
Rarity: Rare

Name: Executioner's Capsule
Cost: {B}
Type: Artifact
Rules Text: {1}{B},{T},Sacrifice Executioner's Capsule: Destroy target nonblack creature.
Rarity: Uncommon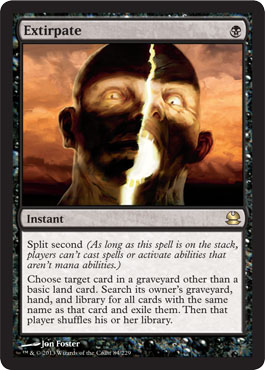 Name: Extirpate
Cost: b
Type: Instant
Rules Text: Split second
Choose target card in a graveyard other than a basic land card. Search its owner's graveyard, hand, and library for all cards with the same name as that card and exile them. Then that player shuffles his or her library.
Rarity: Rare

Name: Facevaulter
Cost: b
Type: Creature Goblin Warrior
Pow/Tgh: 1/1
Rules Text: {B}, Sacrifice a Goblin: Facevaulter gets +2/+2 until end of turn.
Flavor Text: Boggarts get so excited when they find something new to smash that they really don't notice who gets underfoot.
Illus. Wayne Reynolds
Rarity: Common

Name: Faerie Macabre
Cost: 1bb
Type: Creature - Faerie Rogue
Pow/Tgh: 2/2
Rules Text: Flying
Discard Faerie Macabre: Exile up to two target cards from graveyards.
Flavor Text: The line between dream and death is gauzy and fragile. She leads those too near it from one side to the other.
Illus. rk post
Rarity: Common

Name: Festering Goblin
Cost: {B}
Type: Creature Zombie Goblin
Pow/Tgh: 1/1
Rules Text: When Festering Goblin dies, target creature gets -1/-1 until end of turn.
Rarity: Common

Name: Horobi's Whisper
Cost: 1BB
Type: Instant Arcane
Rules Text: If you control a Swamp, destroy target nonblack creature.
Splice onto ArcaneExile four cards from your graveyard.
Rarity: Uncommon

Name: Kokusho, the Evening Star

Cost: 4bb
Type: Legendary Creature Dragon Spirit
Pow/Tgh: 5/5
Rules Text: Flying
When Kokusho, the Evening Star dies, each opponent loses 5 life. You gain life equal to the life lost this way.
Illus. Tsutomu Kawade
Rarity: Mythic Rare

Name: Mad Auntie
Cost: 2b
Type: Creature Goblin Shaman
Pow/Tgh: 2/2
Rules Text: Other Goblin creatures you control get +1/+1.
{t}: Regenerate another target Goblin.
Flavor Text: One part cunning, one part wise, and many, many parts demented.
Illus. Wayne Reynolds
Rarity: Uncommon

Name: Marsh Flitter
Cost: 3B
Type: Creature Faerie Rogue
Pow/Tgh: 1/1
Rules Text: Flying
When Marsh Flitter enters the battlefield, put two 1/1 black Goblin Rogue creature tokens onto the battlefield.
Sacrifice a Goblin: Marsh Flitter becomes 3/3 until end of turn.
Rarity: Uncommon
Set Number: #91/229

Name: Peppersmoke
Cost: {B}
Type: Tribal Instant Faerie
Rules Text: Target creature gets -1/-1 until end of turn. If you control a Faerie, draw a card.
Rarity: Common

Name: Phthisis
Cost: 3{B}{B}{B}{B}
Type: Sorcery
Rules Text: Destroy target creature. Its controller loses life equal to its power plus its toughness.
Suspend 5{1}{B}
Rarity: Uncommon

Name: Rathi Trapper
Cost: 1b
Type: Creature Human Rebel Rogue
Pow/Tgh: 1/2
Rules Text: {b}, {t}: Tap target creature.
Flavor Text: Tangling vines, fetid murk, paralyzing poisons, and crawling dead. The swamp is nature's trap waiting to be exploited by unnatural minds.
Illus. Pete Venters
Rarity: Common
Set Number: #94/229

Name: Raven's Crime
Cost: B
Type: Sorcery
Rules Text: Target player discards a card.
Retrace
Rarity: Common

Name: Skeletal Vampire
Cost: 4bb
Type: Creature Vampire Skeleton
Pow/Tgh: 3/3
Rules Text: Flying
When Skeletal Vampire enters the battlefield, put two 1/1 black Bat creature tokens with flying onto the battlefield.
{3}{B}{B}, Sacrifice a Bat: Put two 1/1 black Bat creature tokens with flying onto the battlefield.
Sacrifice a Bat: Regenerate Skeletal Vampire.
Rarity: Rare

Name: Slaughter Pact
Cost: 0
Type: Instant
Rules Text: Destroy target nonblack creature.
At the beginning of your next upkeep, pay {2}{b}. If you don't, you lose the game.
Flavor Text: Death is only the beginning of the end.
Illus. Kev Walker
Rarity: Rare

Name: Stinkweed Imp
Cost: 2B
Type: Creature Imp
Pow/Tgh: 1/2
Rules Text: Flying
Whenever Stinkweed Imp deals combat damage to a creature, destroy that creature.
Dredge 5
Illus. Nils Hamm
Rarity: Common

Name: Street Wraith
Cost: 3bb
Type: Creature Wraith
Pow/Tgh: 3/4
Rules Text: Swampwalk
CyclingPay 2 life.
Flavor Text: The lamps on Wyndmoor street snuff themselves at midnight and refuse to relight, afraid to illuminate what lies in the darkness.
Illus. Cyril Van Der Haegen
Rarity: Common
Set Number: #99/229

Name: Syphon Life
Cost: 1bb
Type: Sorcery
Rules Text: Target player loses 2 life and you gain 2 life.
Retrace
Flavor Text: Leeches never tire of feeding.
Illus. Dan Seagrave
Rarity: Common

Name: Thieving Sprite
Cost: 2B
Type: Creature Faerie Rogue
Pow/Tgh: 1/1
Rules Text: Flying
When Thieving Sprite enters the battlefield, target player reveals X cards from his or her hand, where X is the number of Faeries you control. You choose one of those cards. That player discards that card.
Rarity: Common

Name: Tombstalker
Cost: 6BB
Type: Creature Demon
Pow/Tgh: 5/5
Rules Text: Flying
Delve (You may exile any number of cards from your graveyard as you cast this spell. It costs less to cast for each card exiled this way.)
Rarity: Rare

Name: Warren Pilferers
Cost: 4b
Type: Creature - Goblin Rogue
Pow/Tgh: 3/3
Rules Text: When Warren Pilferers enters the battlefield, return target creature card from your graveyard to your hand. If that card is a Goblin card, Warren Pilferers gains haste until end of turn.
Flavor Text: "What do they need all this stuff for? They're dead. We're alive. Simple enough."
Illus. Wayne Reynolds
Rarity: Common

Name: Warren Weirding
Cost: 1b
Type: Tribal Sorcery - Goblin
Rules Text: Target player sacrifices a creature. If a Goblin is sacrificed this way, that player puts two 1/1 black Goblin Rogue creature tokens onto the battlefield, and those tokens gain haste until end of turn.
Flavor Text: "And that's when it was discovered that boggarts have just half a brain."
-The Book of Other Folk
Illus. Matt Cavotta
Rarity: Common



Red (35)


Name: Blind-Spot Giant
Cost: 2{R}
Type: Creature Giant Warrior
Pow/Tgh: 4/3
Rules Text: Blind-Spot Giant can't attack or block unless you control another Giant.
Rarity: Common

Name: Blood Moon
Cost: 2r
Type: Enchantment
Rules Text: Nonbasic lands are Mountains.
Rarity: Rare

Name: Brute Force
Cost: r
Type: Instant
Rules Text: Target creature gets +3/+3 until end of turn.
Flavor Text: Blood, bone, and sinew are magnified, as is the rage that drives them. The brain, however, remains unchanged-a little bean, swinging by a strand in a cavernous, raving head.
Illus. Wayne Reynolds
Rarity: Common

Name: Countryside Crusher
Cost: 1RR
Type: Creature Giant Warrior
Pow/Tgh: 3/3
Rules Text: At the beginning of your upkeep, reveal the top card of your library. If it's a land card, put it into your graveyard and repeat this process.
Whenever a land card is put into your graveyard from anywhere, put a +1/+1 counter on Countryside Crusher.
Illus. Volkan Baga
Rarity: Rare

Name: Crush Underfoot
Cost: 1{R}
Type: Tribal Instant Giant
Rules Text: Choose a Giant creature you control. It deals damage equal to its power to target creature.
Rarity: Common

Name: Desperate Ritual
Cost: 1{R}
Type: Instant Arcane
Rules Text: Add {R}{R}{R} to your mana pool.
Splice onto Arcane {1}{R}
Rarity: Uncommon

Name: Dragonstorm
Cost: 8r
Type: Sorcery
Rules Text: Search your library for a Dragon permanent card and put it onto the battlefield. Then shuffle your library.
Storm
Rarity: Rare

Name: Empty the Warrens
Cost: 3{R}
Type: Sorcery
Rules Text: Put two 1/1 red Goblin creature tokens onto the battlefield.
Storm
Rarity: Common

Name: Fiery Fall
Cost: 5r
Type: Instant
Rules Text: Fiery Fall deals 5 damage to target creature.
Basic landcycling {1}{r}
Flavor Text: Jund feasts on the unprepared
Illus. Daarken
Rarity: Common

Name: Fury Charm
Cost: 1r
Type: Instant
Rules Text: Choose one - Destroy target artifact; or target creature gets +1/+1 and gains trample until end of turn; or remove two time counters from target permanent or suspended card.
Illus. John Avon
Rarity: Common

Name: Glacial Ray
Cost: 1R
Type: Instant Arcane
Rules Text: Glacial Ray deals 2 damage to target creature or player.
Splice onto Arcane {1}{R}
Rarity: Common

Name: Grapeshot
Cost: 1r
Type: Sorcery
Rules Text: Grapeshot deals 1 damage to target creature or player.
Storm
Flavor Text: Mages often seek to emulate the powerful relics lost to time and apocalypse.
Illus. Clint Cearley
Rarity: Common
Set Number: #116/229

Name: Greater Gargadon
Cost: 9r
Type: Creature Beast
Pow/Tgh: 9/7
Rules Text: Suspend 10{R}
Sacrifice an artifact, creature, or land: Remove a time counter from Greater Gargadon. Activate this ability only if Greater Gargadon is suspended.
Rarity: Rare

Name: Grinning Ignus
Cost: 2R
Type: Creature Elemental
Pow/Tgh: 2/2
Rules Text: {R}, Return Grinning Ignus to its owner's hand: Add {2}{R} to your mana pool. Activate this ability only any time you could cast a sorcery.
Rarity: Uncommon

Name: Hammerheim Deadeye
Cost: 3R
Type: Creature Giant Warrior
Pow/Tgh: 3/3
Rules Text: Echo {5}{R}
When Hammerheim Deadeye enters the battlefield, destroy target creature with flying.
Rarity: Common

Name: Kiki-Jiki, Mirror Breaker
Cost: 2rrr
Type: Legendary Creature Goblin Shaman
Pow/Tgh: 2/2
Rules Text: Haste
{T}: Put a token that's a copy of target nonlegendary creature you control onto the battlefield. That token has haste. Sacrifice it at the beginning of the next end step.
Illus. Steven Belledin
Rarity: Mythic Rare

Name: Lava Spike
Cost: r
Type: Sorcery Arcane
Rules Text: Lava Spike deals 3 damage to target player.
Rarity: Common

Name: Mogg War Marshal
Cost: 1r
Type: Creature - Goblin Warrior
Pow/Tgh: 1/1
Rules Text: Echo {1}{R}
When Mogg War Marshal enters the battlefield or dies, put a 1/1 red Goblin creature token onto the battlefield.
Illus. Wayne England
Rarity: Common

Name: Molten Disaster
Cost: XRR
Type: Sorcery
Rules Text: Kicker {R}
If Molten Disaster was kicked, it has split second.
Molten Disaster deals X damage to each creature without flying and each player.
Rarity: Rare

Name: Pardic Dragon
Cost: 4{R}{R}
Type: Creature Dragon
Pow/Tgh: 4/4
Rules Text: Flying
{R}: Pardic Dragon gets +1/+0 until end of turn.
Suspend 2{R}{R}
Whenever an opponent casts a spell, if Pardic Dragon is suspended, that player may put a time counter on Pardic Dragon.
Rarity: Uncommon

Name: Pyromancer's Swath
Cost: 2r
Type: Enchantment
Rules Text: If an instant or sorcery source you control would deal damage to a creature or player, it deals that much damage plus 2 to that creature or player instead.
At the beginning of each end step, discard your hand.
Rarity: Rare

Name: Rift Bolt
Cost: 2r
Type: Sorcery
Rules Text: Rift Bolt deals 3 damage to target creature or player.
Suspend 1{R}
Rarity: Common

Name: Rift Elemental
Cost: r
Type: Creature - Elemental
Pow/Tgh: 1/1
Rules Text: {1}{r}, Remove a time counter from a permanent you control or suspended card you own: Rift Elemental gets +2/+0 until end of turn.
Flavor Text: "It's difficult to heal a rift after it begins wandering about on its own."
-Teferi
Illus. Ron Spears
Rarity: Common

Name: Ryusei, the Falling Star
Cost: 5{R}
Type: Legendary Creature Dragon Spirit
Pow/Tgh: 5/5
Rules Text: Flying
When Ryusei, the Falling Star dies, it deals 5 damage to each creature without flying.
Illus. Nottsuo
Rarity: Mythic Rare

Name: Shrapnel Blast
Cost: 1R
Type: Instant
Rules Text: As an additional cost to cast Shrapnel Blast, sacrifice an artifact.
Shrapnel Blast deals 5 damage to target creature or player.
Rarity: Uncommon

Name: Squee, Goblin Nabob
Cost: 2R
Type: Legendary Creature Goblin
Pow/Tgh: 1/1
Rules Text: At the beginning of your upkeep, you may return Squee, Goblin Nabob from your graveyard to your hand.
Rarity: Rare

Name: Stingscourger
Cost: 1r
Type: Creature - Goblin Warrior
Pow/Tgh: 2/2
Rules Text: Echo {3}{r}
When Stingscourger enters the battlefield, return target creature an opponent controls to its owner's hand.
Illus. Wayne Reynolds
Rarity: Common

Name: Stinkdrinker Daredevil
Cost: 2r
Type: Creature - Goblin Rogue
Pow/Tgh: 1/3
Rules Text: Giant spells you cast cost {2} less to cast.
Flavor Text: Boggarts constantly strive to outdo each other with the thing they bring back to the warren, each hoping the exploit will become as well-known as those of Auntie Grub.
Illus. Pete Venters
Rarity: Common

Name: Sudden Shock
Cost: 1R
Type: Instant
Rules Text: Split second
Sudden Shock deals 2 damage to target creature or player.
Rarity: Uncommon

Name: Tar Pitcher
Cost: 3R
Type: Creature Goblin Shaman
Pow/Tgh: 2/2
Rules Text: {T}, Sacrifice a Goblin: Tar Pitcher deals 2 damage to target creature or player.
Rarity: Uncommon

Name: Thundercloud Shaman
Cost: 3RR
Type: Creature Giant Shaman
Pow/Tgh: 4/4
Rules Text: When Thundercloud Shaman enters the battlefield, it deals damage equal to the number of Giants you control to each non-Giant creature.
Flavor Text: He cares not for the disasters his storm brings as long as his path ahead is clear.
Illus. Greg Staples
Rarity: Uncommon

Name: Thundering Giant
Cost: 3RR
Type: Creature Giant
Pow/Tgh: 4/3
Rules Text: Haste
Rarity: Common

Name: Torrent of Stone
Cost: 3r
Type: Instant - Arcane
Rules Text: Torrent of Stone deals 4 damage to target creature.
Splice onto Arcane-Sacrifice two Mountains.
Illus. Greg Staples
Rarity: Common

Name: Tribal Flames
Cost: 1{R}
Type: Sorcery
Rules Text: Domain Tribal Flames deals X damage to target creature or player, where X is the number of basic land types among lands you control.
Rarity: Uncommon

Name: War-Spike Changeling
Cost: 3r
Type: Creature - Shapeshifter
Pow/Tgh: 3/3
Rules Text: Changeling
{R}: War-Spike Changeling gains first strike until end of turn.
Flavor Text: "Aren't there boggarts enough in Lorwyn? Couldn't it turn into a sheep? Or a sunflower?"
-Olly of Goldmeadow
Illus. Mark Poole
Rarity: Common



Green (35)


Name: Citanul Woodreaders
Cost: 2g
Type: Creature - Human Druid
Pow/Tgh: 1/4
Rules Text: Kicker {2}{g}
When Citanul Woodreaders enters the battlefield, if it was kicked, draw two cards.
Flavor Text: They seek out living trees to glean age-old secrets from sap and wood.
Illus. Steven Belledin
Rarity: Common

Name: Doubling Season
Cost: 4g
Type: Enchantment
Rules Text: If an effect would put one or more tokens onto the battlefield under your control, it puts twice that many of those tokens onto the battlefield instead.
If an effect would place one or more counters on a permanent you control, it places twice that many of those counters on that permanent instead.
Rarity: Rare

Name: Durkwood Baloth
Cost: 4gg
Type: Creature Beast
Pow/Tgh: 5/5
Rules Text: Suspend 5{G}
Illus. Dan Frazier
Rarity: Common
Set Number: #142/229

Name: Echoing Courage
Cost: 1{g}
Type: Instant
Rules Text: Target creature and all other creatures with the same name as that creature get +2/+2 until end of turn.
Rarity: Common

Name: Eternal Witness
Cost: 1GG
Type: Creature Human Shaman
Pow/Tgh: 2/1
Rules Text: When Eternal Witness enters the battlefield, you may return target card from your graveyard to your hand.
Illus. Terese Nielsen
Rarity: Uncommon

Name: Giant Dustwasp
Cost: 3GG
Type: Creature Insect
Pow/Tgh: 3/3
Rules Text: Flying
Suspend 4{1}{G}
Rarity: Common

Name: Greater Mossdog
Cost: 3G
Type: Creature Plant Hound
Pow/Tgh: 3/3
Rules Text: Dredge 3
Rarity: Common

Name: Hana Kami
Cost: g
Type: Creature - Spirit
Pow/Tgh: 1/1
Rules Text: {1}{G}, Sacrifice Hana Kami: Return target Arcane card from your graveyard to your hand.
Flavor Text: It grew in lands lit by pride and watered by tears.
Illus. Rebecca Guay
Rarity: Common

Name: Imperiosaur
Cost: 2gg
Type: Creature Lizard
Pow/Tgh: 5/5
Rules Text: Spend only mana produced by basic lands to cast Imperiosaur.
Flavor Text: "An ancient, powerful force has overtaken the valley. I sympathize for its former inhabitants, but I rejoice for the land itself."
Olanti, Muraganda druid
Illus. Lars Grant-West
Rarity: Common
Set Number: #145/229

Name: Incremental Growth
Cost: 3GG
Type: Sorcery
Rules Text: Put a +1/+1 counter on target creature, two +1/+1 counters on another target creature, and three +1/+1 counters on a third target creature.
Rarity: Uncommon

Name: Jugan, The Rising Star
Cost: 3GGG
Type: Legendary Creature Dragon Spirit
Pow/Tgh: 5/5
Rules Text: Flying
When Jugan, the Rising Star dies, you may distribute five +1/+1 counters among any number of target creatures.
Illus. Shishizaru
Rarity: Mythic Rare

Name: Kodama's Reach
Cost: 2{G}
Type: Sorcery Arcane
Rules Text: Search your library for up to two basic land cards, reveal those cards, and put one onto the battlefield tapped and the other into your hand. Then shuffle your library.
Flavor Text: "The land grows only where the kami will it."
Dosan the Falling Leaf
Illus. Heather Hudson
Rarity: Common
Set Number: #151/229

Name: Krosan Grip
Cost: 2G
Type: Instant
Rules Text: Split second
Destroy target artifact or enchantment.
Rarity: Uncommon

Name: Life from the Loam
Cost: 1g
Type: Sorcery
Rules Text: Return up to three target land cards from your graveyard to your hand.
Dredge 3
Rarity: Rare

Name: Masked Admirers
Cost: 2GG
Type: Creature Elf Shaman
Pow/Tgh: 3/2
Rules Text: When Masked Admirers enters the battlefield, draw a card.
Whenever you cast a creature spell, you may pay {G}{G}. If you do, return Masked Admirers from your graveyard to your hand.
Flavor Text: "Beauty determines value, and we determine beauty."
Illus. Eric Fortune
Rarity: Uncommon

Name: Moldervine Cloak
Cost: 2g
Type: Enchantment Aura
Rules Text: Enchant creature
Enchanted creature gets +3/+3.
Dredge 2
Illus. Wayne England
Rarity: Common
Set Number: #155/229

Name: Nantuko Shaman
Cost: 2g
Type: Creature - Insect Shaman
Pow/Tgh: 3/2
Rules Text: When Nantuko Shaman enters the battlefield, if you control no tapped lands, draw a card.
Suspend 1-{2}{G}{G}
Illus. Daren Bader
Rarity: Common

Name: Penumbra Spider
Cost: 2gg
Type: Creature Spider
Pow/Tgh: 2/4
Rules Text: Reach
When Penumbra Spider dies, put a 2/4 black Spider creature token with reach onto the battlefield.
Rarity: Common

Name: Reach of Branches
Cost: 4g
Type: Tribal Instant Treefolk
Rules Text: Put a 2/5 green Treefolk Shaman creature token onto the battlefield.
Whenever a Forest enters the battlefield under your control, you may return Reach of Branches from your graveyard to your hand.
Rarity: Uncommon

Name: Riftsweeper
Cost: 1G
Type: Creature Elf Shaman
Pow/Tgh: 2/2
Rules Text: When Riftsweeper enters the battlefield, choose target face-up exiled card. Its owner shuffles it into his or her library.
Rarity: Uncommon

Name: Rude Awakening
Cost: 4g
Type: Sorcery
Rules Text: Choose one Untap all lands you control; or until end of turn, lands you control become 2/2 creatures that are still lands.
Entwine {2}{G}
Rarity: Rare

Name: Search for Tomorrow
Cost: 2g
Type: Sorcery
Rules Text: Search your library for a basic land card and put it onto the battlefield. Then shuffle your library.
Suspend 2{G}
Rarity: Common

Name: Sporesower Thallid
Cost: 2GG
Type: Creature Fungus
Pow/Tgh: 4/4
Rules Text: At the beginning of your upkeep, put a spore counter on each Fungus you control.
Remove three spore counters from Sporesower Thallid: Put a 1/1 green Saproling creature token onto the battlefield.
Rarity: Uncommon

Name: Sporoloth Ancient
Cost: 3GG
Type: Creature Fungus
Pow/Tgh: 4/4
Rules Text: At the beginning of your upkeep, put a spore counter on Sporoloth Ancient.
Creatures you control have "Remove two spore counters from this creature: Put a 1/1 green Saproling creature token onto the battlefield."
Rarity: Common

Name: Summoner's Pact
Cost: 0
Type: Instant
Rules Text: Search your library for a green creature card, reveal it, and put it into your hand. Then shuffle your library.
At the beginning of your next upkeep, pay {2}{G}{G}. If you don't, you lose the game.
Illus. Chippy
Rarity: Rare
Set Number: #164/229

Name: Sylvan Bounty
Cost: 5g
Type: Instant
Rules Text: Target player gains 8 life.
Basic landcycling {1}{G}
Flavor Text: Some who scouted new lands chose to stay.
Illus. Chris Rahn
Rarity: Common

Name: Tarmogoyf
Cost: 1G
Type: Creature Lhurgoyf
Pow/Tgh: */1+*
Rules Text: Tarmogoyf's power is equal to the number of card types among cards in all graveyards and its toughness is equal to that number plus 1.
Flavor Text: What doesn't grow, dies. And what dies grows the tarmogoyf.
Illus. Ryan Barger
Rarity: Mythic Rare
Set Number: #166/229

Name: Thallid
Cost: G
Type: Creature Fungus
Pow/Tgh: 1/1
Rules Text: At the beginning of your upkeep, put a spore counter on Thallid.
Remove three spore counters from Thallid: Put a 1/1 green Saproling creature token onto the battlefield.
Illus. Trevor Claxton
Rarity: Common

Name: Thallid Germinator
Cost: 2G
Type: Creature Fungus
Pow/Tgh: 2/2
Rules Text: At the beginning of your upkeep, put a spore counter on Thallid Germinator.
Remove three spore counters from Thallid Germinator: Put a 1/1 green Saproling creature token onto the battlefield.
Sacrifice a Saproling: Target creature gets +1/+1 until end of turn.
Illus. Marco Nelor
Rarity: Common

Name: Thallid Shell-Dweller
Cost: 1g
Type: Creature - Fungus
Pow/Tgh: 0/5
Rules Text: Defender
At the beginning of your upkeep, put a spore counter on Thallid Shell-Dweller.
Remove three spore counters from Thallid Shell-Dweller: Put a 1/1 green Saproling creature token onto the battlefield.
Illus. Carl Critchlow
Rarity: Common

Name: Tooth and Nail
Cost: 5{G}{G}
Type: Sorcery
Rules Text: Choose one Search your library for up to two creature cards, reveal them, put them into your hand, then shuffle your library; or put up to two creature cards from your hand onto the battlefield.
Entwine {2}
Illus. Jesper Ejsing
Rarity: Rare

Name: Tromp the Domains
Cost: 5{G}
Type: Sorcery
Rules Text: Domain Until end of turn, creatures you control gain trample and get +1/+1 for each basic land type among lands you control.
Flavor Text: Ground into the footprints of the ravaging herd were clumps of salt from Benalia, moss from Llanowar, dust from Hurloon, and ash from as far as Urborg.
Illus. Mike Dringenberg
Rarity: Uncommon
Set Number: #171/229

Name: Verdeloth the Ancient
Cost: 4gg
Type: Legendary Creature Treefolk
Pow/Tgh: 4/7
Rules Text: Kicker {X}
Saproling creatures and other Treefolk creatures get +1/+1.
When Verdeloth the Ancient enters the battlefield, if it was kicked, put X 1/1 green Saproling creature tokens onto the battlefield.
Rarity: Rare

Name: Walker of the Grove
Cost: 6gg
Type: Creature - Elemental
Pow/Tgh: 7/7
Rules Text: When Walker of the Grove leaves the battlefield, put a 4/4 green Elemental creature token onto the battlefield.
Evoke {4}{G}
Illus. Todd Lockwood
Rarity: Common

Name: Woodfall Primus
Cost: 5{G}{G}{G}
Type: Creature Treefolk Shaman
Pow/Tgh: 6/6
Rules Text: Trample
When Woodfall Primus enters the battlefield, destroy target noncreature permanent.
Persist
Illus. Adam Rex
Rarity: Rare
Set Number: #174/229



Multicolor (11)


Name: Electrolyze
Cost: 1ur
Type: Instant
Rules Text: Electrolyze deals 2 damage divided as you choose among one or two target creatures and/or players.
Draw a card.
Rarity: Uncommon

Name: Grand Arbiter Augustin IV
Cost: 2WU
Type: Legendary Creature Human Advisor
Rules Text: White spells you cast cost {1} less to cast.
Blue spells you cast cost {1} less to cast.
Spells your opponents cast cost {1} more to cast.
Rarity: Rare

Name: Jhoira of the Ghitu
Cost: 1UR
Type: Legendary Creature Human Wizard
Pow/Tgh: 2/2
Rules Text: {2}, Exile a nonland card from your hand: Put four time counters on the exiled card. If it doesn't have suspend, it gains suspend.
Illus. Kev Walker
Rarity: Rare

Name: Knight of the Reliquary
Cost: 1{G}{W}
Type: Creature Human Knight
Pow/Tgh: 2/2
Rules Text: Knight of the Reliquary gets +1/+1 for each land card in your graveyard.
{T}, Sacrifice a Forest or Plains: Search your library for a land card, put it onto the battlefield, then shuffle your library.
Illus. Michael Komark
Rarity: Rare

Name: Lightning Helix
Cost: RW
Type: Instant
Rules Text: Lightning Helix deals 3 damage to target creature or player and you gain 3 life.
Rarity: Uncommon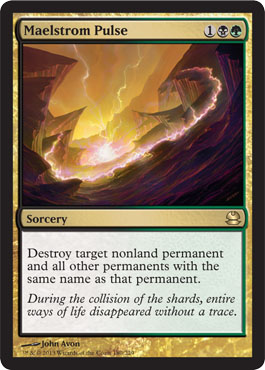 Name: Maelstrom Pulse
Cost: 1BG
Type: Sorcery
Rules Text: Destroy target nonland permanent and all other permanents with the same name as that permanent.
Illus. John Avon
Rarity: Rare

Name: Mind Funeral
Cost: 1ub
Type: Sorcery
Rules Text: Target opponent reveals cards from the top of his or her library until four land cards are revealed. That player puts all cards revealed this way into his or her graveyard.
Rarity: Uncommon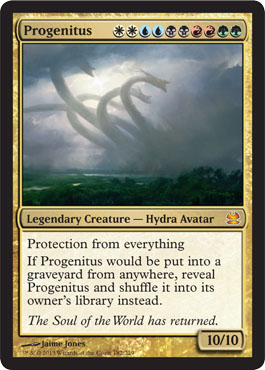 Name: Progenitus
Cost: wwuubbrrgg
Type: Legendary Creature Hydra Avatar
Pow/Tgh: 10/10
Rules Text: Protection from everything
If Progenitus would be put into a graveyard from anywhere, reveal Progenitus and shuffle it into its owner's library instead.
Illus. Jaime Jones
Rarity: Mythic Rare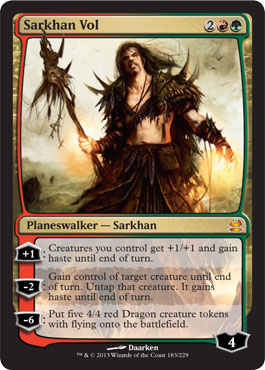 Name: Sarkhan Vol
Cost: 2RG
Type: Planeswalker Sarkhan
Pow/Tgh: 4
Rules Text: +1: Creatures you control get +1/+1 and gain haste until end of turn.
-2: Gain control of target creature until end of turn. Untap that creature. It gains haste until end of turn.
-6: Put five 4/4 red Dragon creature tokens with flying onto the battlefield.
Illus. Daarken
Rarity: Mythic Rare

Name: Tidehollow Sculler
Cost: {W}{B}
Type: Artifact Creature Zombie
Pow/Tgh: 2/2
Rules Text: When Tidehollow Sculler enters the battlefield, target opponent reveals his or her hand and you choose a nonland card from it. Exile that card.
When Tidehollow Sculler leaves the battlefield, return the exiled card to its owner's hand.
Rarity: Uncommon

Name: Trygon Predator
Cost: 1{G}{U}
Type: Creature Beast
Pow/Tgh: 2/3
Rules Text: Flying
Whenever Trygon Predator deals combat damage to a player, you may destroy target artifact or enchantment that player controls.
Flavor Text: Held aloft by metabolized magic, trygons are ravenous for sources of mystic fuel.
Rarity: Uncommon



Hybrid (10)


Name: Cold-Eyed Selkie
Cost: 1{gu}{gu}
Type: Creature Merfolk Rogue
Pow/Tgh: 1/1
Rules Text: Islandwalk
Whenever Cold-Eyed Selkie deals combat damage to a player, you may draw that many cards.
Rarity: Rare

Name: Demigod of Revenge
Cost: {br}{br}{br}{br}{br}
Type: Creature Spirit Avatar
Pow/Tgh: 5/4
Rules Text: Flying, haste
When you cast Demigod of Revenge, return all cards named Demigod of Revenge from your graveyard to the battlefield.
Rarity: Rare

Name: Divinity of Pride
Cost: {wb}{wb}{wb}{wb}{wb}
Type: Creature Spirit Avatar
Pow/Tgh: 4/4
Rules Text: Flying, lifelink
Divinity of Pride gets +4/+4 as long as you have 25 or more life.
Rarity: Rare

Name: Figure of Destiny
Cost: {rw}
Type: Creature Kithkin
Pow/Tgh: 1/1
Rules Text: {RW}: Figure of Destiny becomes a 2/2 Kithkin Spirit.
{RW}{RW}{RW}: If Figure of Destiny is a Spirit, it becomes a 4/4 Kithkin Spirit Warrior.
{RW}{RW}{RW}{RW}{RW}{RW}: If Figure of Destiny is a Warrior, it becomes an 8/8 Kithkin Spirit Warrior Avatar with flying and first strike.
Illus. Scott M. Fisher
Rarity: Rare
Set Number: #189/229

Name: Kitchen Finks
Cost: 1{gw}{gw}
Type: Creature Ouphe
Pow/Tgh: 3/2
Rules Text: When Kitchen Finks enters the battlefield, you gain 2 life.
Persist
Rarity: Uncommon

Name: Manamorphose
Cost: 1{rg}
Type: Instant
Rules Text: Add two mana in any combination of colors to your mana pool.
Draw a card.
Rarity: Uncommon

Name: Murderous Redcap
Cost: 2{br}{br}
Type: Creature Goblin Assassin
Pow/Tgh: 2/2
Rules Text: When Murderous Redcap enters the battlefield, it deals damage equal to its power to target creature or player.
Persist
Rarity: Uncommon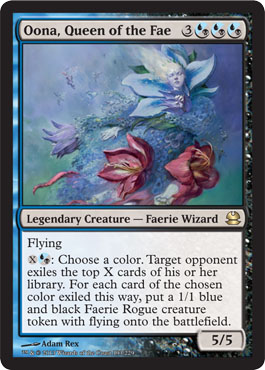 Name: Oona, Queen of the Fae
Cost: 3{ub}{ub}{ub}
Type: Legendary Creature Faerie Wizard
Pow/Tgh: 5/5
Rules Text: Flying
{X}{UB}: Choose a color. Target opponent exiles the top X cards of his or her library. For each card of the chosen color exiled this way, put a 1/1 blue and black Faerie Rogue creature token with flying onto the battlefield.
Rarity: Rare

Name: Plumeveil
Cost: {wu}{wu}{wu}
Type: Creature Elemental
Pow/Tgh: 4/4
Rules Text: Flash
Defender, flying
Rarity: Uncommon

Name: Worm Harvest
Cost: 2{bg}{bg}{bg}
Type: Sorcery
Rules Text: Put a 1/1 black and green Worm creature token onto the battlefield for each land card in your graveyard.
Retrace
Rarity: Uncommon



Artifact (23)


Name: Aether Spellbomb
Cost: 1
Type: Artifact
Rules Text: {u}, Sacrifice Aether Spellbomb: Return target creature to its owner's hand.
{1}, Sacrifice Aether Spellbomb: Draw a card.
Flavor Text: "Release that which was never caged."
Spellbomb inscription
Illus. Jim Nelson
Rarity: Common
Set Number: #196/229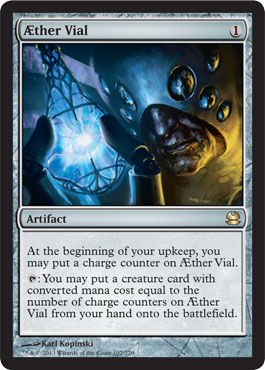 Name: Aether Vial
Cost: 1
Type: Artifact
Rules Text: At the beginning of your upkeep, you may put a charge counter on Æther Vial.
{T}: You may put a creature card with converted mana cost equal to the number of charge counters on Æther Vial from your hand onto the battlefield.
Rarity: Rare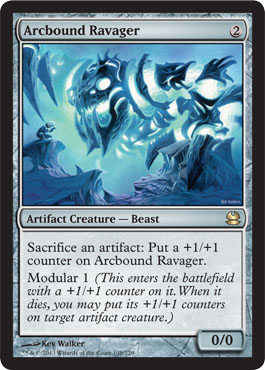 Name: Arcbound Ravager
Cost: 2
Type: Artifact Creature Beast
Pow/Tgh: 0/0
Rules Text: Sacrifice an artifact: Put a +1/+1 counter on Arcbound Ravager.
Modular 1
Illus. Kev Walker
Rarity: Rare

Name: Arcbound Stinger
Cost: 2
Type: Artifact Creature - Insect
Pow/Tgh: 0/0
Rules Text: Flying
Modular 1
Illus. Darrell Riche
Rarity: Common

Name: Arcbound Wanderer
Cost: 6
Type: Artifact Creature - Golem
Pow/Tgh: 0/0
Rules Text: Modular-Sunburst
Illus. Christpher Moeller
Rarity: Common

Name: Arcbound Worker
Cost: 1
Type: Artifact Creature - Construct
Pow/Tgh: 0/0
Rules Text: Modular 1
Flavor Text: The parts are as strong as the whole.
Illus. Darrell Riche
Rarity: Common

Name: Bonesplitter
Cost: 1
Type: Artifact - Equipment
Rules Text: Equipped creature gets +2/+0.
Equip {1}
Flavor Text: "It puts an end to what ails you."
-Jeorg, Valla battlemaster
Illus. Darrell Riche
Rarity: Common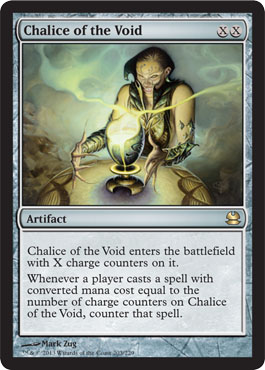 Name: Chalice of the Void
Cost: XX
Type: Artifact
Rules Text: Chalice of the Void enters the battlefield with X charge counters on it.
Whenever a player casts a spell with converted mana cost equal to the number of charge counters on Chalice of the Void, counter that spell.
Illus. Mark Zug
Rarity: Rare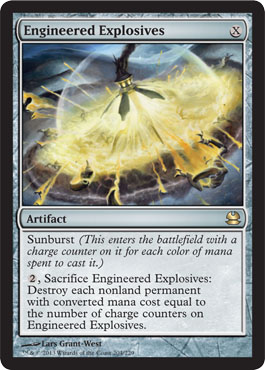 Name: Engineered Explosives
Cost: X
Type: Artifact
Rules Text: Sunburst
{2}, Sacrifice Engineered Explosives: Destroy each nonland permanent with converted mana cost equal to the number of charge counters on Engineered Explosives.
Rarity: Rare

Name: Epochrasite
Cost: 2
Type: Artifact Creature - Construct
Pow/Tgh: 1/1
Rules Text: Epochrasite enters the battlefield with three +1/+1 counters on it if you didn't cast it from your hand.
When Epochrasite dies, exile it with three time counters on it and it gains suspend.
Illus. Michael Bruinsma
Rarity: Uncommon

Name: Etched Oracle
Cost: 4
Type: Artifact Creature Wizard
Pow/Tgh: 0/0
Rules Text: Sunburst
{1}, Remove four +1/+1 counters from Etched Oracle: Target player draws three cards.
Illus. Matt Cavotta
Rarity: Uncommon
Set Number: #206/229

Name: Frogmite
Cost: {4}
Type: Artifact Creature Frog
Pow/Tgh: 2/2
Rules Text: Affinity for artifacts
Rarity: Common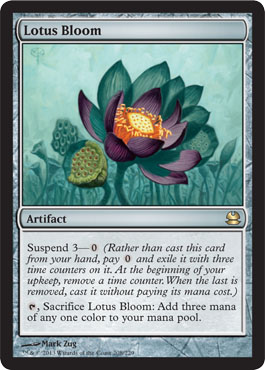 Name: Lotus Bloom
Type: Artifact
Rules Text: Suspend 3{0}
{T}, Sacrifice Lotus Bloom: Add three mana of any one color to your mana pool.
Rarity: Rare

Name: Myr Enforcer
Cost: 7
Type: Artifact Creature Myr
Pow/Tgh: 4/4
Rules Text: Affinity for artifacts
Flavor Text: Most myr monitor other species. Some myr monitor other myr.
Illus. Jim Murray
Rarity: Common

Name: Myr Retriever
Cost: 2
Type: Artifact Creature - Myr
Pow/Tgh: 1/1
Rules Text: When Myr Retriever dies, return another target artifact card from your graveyard to your hand.
Flavor Text: Mephidross gives up treasure easily . . . as long as you take its place.
Illus. Trevor Hairsine
Rarity: Uncommon

Name: Paradise Mantle
Cost: 0
Type: Artifact - Equipment
Rules Text: Equipped creature has "{T}: Add one mana of any color to your mana pool."
Equip {1}
Flavor Text: "It contains the wisdom of generations of our people. We permit only a chosen few to don the raiment."
-Imran, Viridian elder
Illus. Greg Hildebrandt
Rarity: Uncommon

Name: Pyrite Spellbomb
Cost: 1
Type: Artifact
Rules Text: {r}, Sacrifice Pyrite Spellbomb: Pyrite Spellbomb deals 2 damage to target creature or player.
{1}, Sacrifice Pyrite Spellbomb: Draw a card.
Flavor Text: "Melt that which was never frozen."
-Spellbomb inscription
Illus. Jim Nelson
Rarity: Common

Name: Relic of Progenitus
Cost: 1
Type: Artifact
Rules Text: {T}: Target player exiles a card from his or her graveyard.
{1}, Exile Relic of Progenitus: Exile all cards from all graveyards. Draw a card.
Rarity: Uncommon

Name: Runed Stalactite
Cost: 1
Type: Artifact - Equipment
Rules Text: Equipped creature gets +1/+1 and is ever creature type.
Equip {2}
Flavor Text: When a changeling adopts a form no other changeling has taken, a rune appears in the caverns of Velis Vel to mark the event.
Illus. Jim Pavelec
Rarity: Common

Name: Skyreach Manta
Cost: 5
Type: Artifact Creature - Fish
Pow/Tgh: 0/0
Rules Text: Sunburst
Flying
Flavor Text: As the dawns break, the manta soars.
Illus. Christopher Moeller
Rarity: Common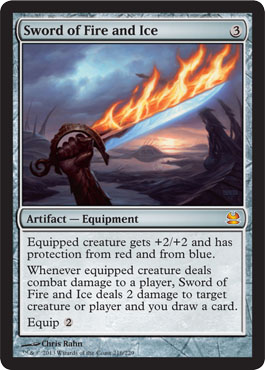 Name: Sword of Fire and Ice
Cost: 3
Type: Artifact Equipment
Rules Text: Equipped creature gets +2/+2 and has protection from red and from blue.
Whenever equipped creature deals combat damage to a player, Sword of Fire and Ice deals 2 damage to target creature or player and you draw a card.
Equip {2}
Rarity: Mythic Rare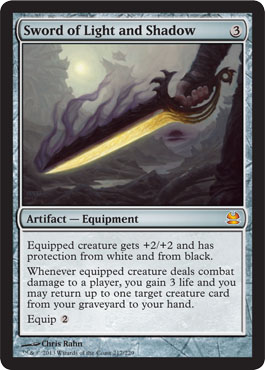 Name: Sword of Light and Shadow
Cost: 3
Type: Artifact Equipment
Rules Text: Equipped creature gets +2/+2 and has protection from white and from black.
Whenever equipped creature deals combat damage to a player, you gain 3 life and you may return up to one target creature card from your graveyard to your hand.
Equip {2}
Rarity: Mythic Rare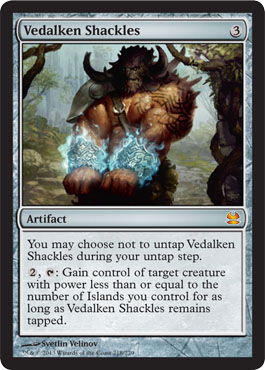 Name: Vedalken Shackles
Cost: {3}
Type: Artifact
Rules Text: You may choose not to untap Vedalken Shackles during your untap step.
{2}, {T}: Gain control of target creature with power less than or equal to the number of Islands you control for as long as Vedalken Shackles remains tapped.
Rarity: Mythic Rare



Land (11)


Name: Academy Ruins
Type: Legendary Land
Rules Text: {T}: Add {1} to your mana pool.
{1}{U}, {T}: Put target artifact card from your graveyard on top of your library.
Rarity: Rare

Name: Blinkmoth Nexus
Type: Land
Rules Text: {T}: Add {1} to your mana pool.
{1}: Blinkmoth Nexus becomes a 1/1 Blinkmoth artifact creature with flying until end of turn. It's still a land.
{1}, {T}: Target Blinkmoth creature gets +1/+1 until end of turn.
Rarity: Rare

Name: City of Brass
Type: Land
Rules Text: Whenever City of Brass becomes tapped, it deals 1 damage to you.
{t}: Add one mana of any color to your mana pool.
Flavor Text: "There is much to learn here, but few can endure the ringing of the spires."
Nulakam the Archivist
Illus. Jung Park
Rarity: Rare
Set Number: #221/229

Name: Dakmor Salvage
Type: Land
Rules Text: Dakmor Salvage enters the battlefield tapped.
{T}: Add {B} to your mana pool.
Dredge 2
Rarity: Uncommon

Name: Glimmervoid
Type: Land
Rules Text: At the beginning of the end step, if you control no artifacts, sacrifice Glimmervoid.
{T}: Add one mana of any color to your mana pool.
Rarity: Rare

Name: Terramorphic Expanse
Type: Land
Rules Text: {T}, Sacrifice Terramorphic Expanse: Search your library for a basic land card and put it onto the battlefield tapped. Then shuffle your library.
Rarity: Common

Name: Vivid Crag
Type: Land
Rules Text: Vivid Crag enters the battlefield tapped with two charge counters on it.
{T}: Add {R} to your mana pool.
{T}, Remove a charge counter from Vivid Crag: Add one mana of any color to your mana pool.
Rarity: Uncommon

Name: Vivid Creek
Type: Land
Rules Text: Vivid Creek enters the battlefield tapped with two charge counters on it.
{T}: Add {U} to your mana pool.
{T}, Remove a charge counter from Vivid Creek: Add one mana of any color to your mana pool.
Rarity: Uncommon

Name: Vivid Grove
Type: Land
Rules Text: Vivid Grove enters the battlefield tapped with two charge counters on it.
{T}: Add {G} to your mana pool.
{T}, Remove a charge counter from Vivid Grove: Add one mana of any color to your mana pool.
Rarity: Uncommon

Name: Vivid Marsh
Type: Land
Rules Text: Vivid Marsh enters the battlefield tapped with two charge counters on it.
{T}: Add {B} to your mana pool.
{T}, Remove a charge counter from Vivid Marsh: Add one mana of any color to your mana pool.
Rarity: Uncommon

Name: Vivid Meadow
Type: Land
Rules Text: Vivid Meadow enters the battlefield tapped with two charge counters on it.
{T}: Add {W} to your mana pool.
{T}, Remove a charge counter from Vivid Meadow: Add one mana of any color to your mana pool.
Rarity: Uncommon
~